For a long time, I have stuck by Samsung's excellent quality TVs. In fact, since 2005 I have only owned Samsung TVs apart from the one Sony TV which ended up being sent back twice within a few weeks before finally being replaced by a Samsung. But why do I keep going back to Samsung despite all the concerns around port-slashing that people like Sony hadn't quite done? Well, it's simple. The most important thing about buying a new display, is well, the display, right? And Samsung displays are miles ahead of the Sony competition. There's only one other brand that can really compete with the Samsung displays and that is LG. 
After my last Samsung TV acted as a stopgap prior to me moving out to my own house, I decided to go Samsung again. Seeing how far that TV had progressed since the one prior to it, helped me make my mind up to go for Samsung again. But it wasn't as simple as that and there were other reasons for picking this TV.
In this review, I will discuss what I love about the Samsung QN95A and what I don't love, as well as the reasons for choosing this particular TV. I specifically am reviewing the 65-inch model that I have myself and it should be noted that smaller models may not have the exact same feature set as this model.
Design
As many of my readers will know, I like to have all of my devices plugged into my TV at one time. This often involves a spaghetti junction of splitters, such as HDMI splitters (most of which work automatically or work with the Harmony Hub) and converters. One thing that wasn't great about the previous TV was the lack of HDMI ports, featuring only three where its predecessor had four. Anyway, during the (short) time of this TV, it went from my parents' house on a media unit to being wall-mounted in my new home. One of my main upsets with it was that I had so many cables running from the unit underneath to the TV and it just didn't look good. I thought about making an incision into the wall and running the cable through but it wasn't ideal because every time I needed to replace a cable I would have to figure out a good way of getting the cables out and through. Plus with so many cables going up, it was going to be a problem once again with the side of the TV being cluttered. 
I have wanted to get a new TV with the Samsung One Connect Box feature for a long time - in fact since the day it was announced. I have always thought of this as being the future of slim TVs and I'm so glad that Samsung has continued with this incredibly smart technology. This was the main reason for me choosing this TV after the display itself since I wanted to wall mount my TV and yet have all of my devices permanently connected without having to go into the wall to change them if I ever needed to in the future. 
The One Connect Box lets you connect all of your external devices to your TV with just one cable, keeping your space and the back of your Samsung Smart TV uncluttered and clean. You can even have all your external devices in a different room or a cupboard, giving you more possibilities than ever before.
As a result of the One Connect feature, just one cable runs from my TV to my unit. This cable then enters the One Connect Box, which acts as the kind of computer of the QN95A. The result of this is a very slim TV - so slim that when I was lifting it the first time both my father and I were concerned it was going to snap as it is so flexible! When I wall-mounted my QN95A in the living room, there was a huge difference compared with its predecessor in the exact same place. It sits so close to the wall (although this is partially down to Samsung's Slim Fit Wall Mount I also own) compared due to its very slim design and flat back.
If you don't intend to wall mount, the QN95A comes with a nice yet heavy and bulky stand. The stand features some clever cable routing features that help make the cable management around the QN95A easier. 
The TV isn't really designed to be lifted up and down too many times and is actually so slim coming in at just under 2.5cm that when I was picking it up from the back it was flexing, so be careful with this!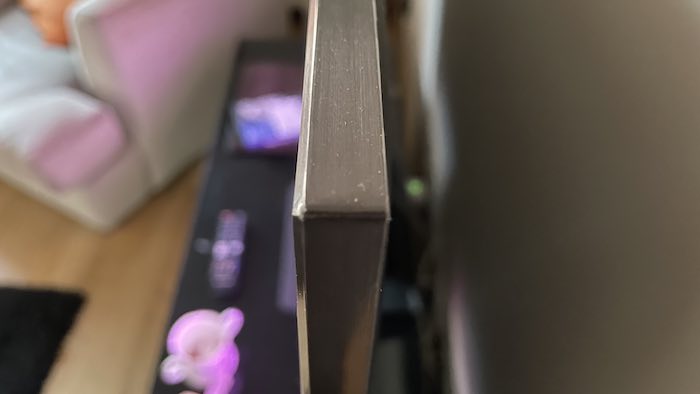 The slimness of the Samsung QN95A makes it easy to wall mount
Features
The Samsung QN95A is no pushover when it comes to features either, being one of the top-end 4K displays available on the market and representing Samsung's flagship TV as of 2021.
Whilst the QN95A is not an OLED TV, it uses a technology that competes with OLED to allow for a longer lifespan, faster response rates and better power consumption called QLED. QLED or Quantum LED is a Samsung technology that uses an array of small LEDs to light areas of the display matrix at different times. This allows for higher deep blacks and brighter whites than a conventional LED display would. OLED on the other hand means that the display element of the panel would actually be self-lighting. The QN95A uses deep learning to achieve better picture quality too, which works by identifying what is in the picture very quickly and processing it. This is then used to light certain areas of the display for a more accurate image. 
The QN95A also features HDR10+ which allows for deeper blacks than SDR. This works by adding to the RGB model a fourth property storing brightness, which allows the display to figure out how bright or dark each pixel is. Unfortunately, because of the addition of this new feature, older Blu-Ray players are incapable of actually providing HDR quality picture and so an Ultra HD Blu-Ray drive is needed. As a result, I have only been able to test this with Amazon Prime Video, Apple TV and Netflix. All three of these services now provide HDR content, which, particularly with Apple TV, is absolutely incredible. The QN95A is on par with my MacBook Pro's incredible display when displaying HDR content. 
As well as featuring HDR, it also features AMD's FreeSync Pro technology, which allows for a better gaming experience when using a PC with a graphics card capable of it, an Xbox Series X/S or Sony PS5. Also known as adaptive sync, FreeSync synchronises the refresh rate of the display with the output of the frames from the framebuffer of the graphics card to make the picture more consistent and less prone to screen tear. The Game Mode feature of the QN95A provides different options for gaming that make for a better gaming experience. 
The TV comes with two remotes which are standard for Samsung. You get the standard all-buttons remote and the simple elegant remote that is very similar to that of the Samsung NU7470 I reviewed previously but in black. The smart remote (the more elegant one) also features a microphone for calling on that virtual assistant or entering information using your voice. This remote features a built-in rechargeable battery (at last) that is charged via USB-C (again, at last) or by the solar cells on the back (again, at last!). The remote is nice and easy to use an I rarely have touched the standard remote since this remote features most of the stuff I want to do on it anyway.
Specifications
The Samsung QN95A is the flagship Samsung TV for 2021 and as you would expect has some of the highest specifications of any display out there (perhaps bar the 8K models offered). As a 4K display, its maximum resolution is 3840 by 2160 pixels and is powered by Samsung's Neo Quantum Processor 4K processor, which is lightning fast and very responsive when it comes to streaming services or watching 4K HDR content.
The QN95A runs on Samsung's Tizen operating system which has been under development for a long time. It is considered far superior to webOS and Android in the TV market (particularly Android which although has a large collection of apps available to it suffers from performance issues) as well as the most popular smart TV operating system (with 21% of the market). As a result of running on Tizen, the apps developed for any Samsung TV are also available for this TV. As well as that Bixby is available as the personal assistant (more later), it works with Samsung SmartThings and features a simple interface that (unlike Android, or even webOS which was developed for PDAs first) was designed for TVs first.
Featuring Samsung's Quantum HDR 2000 powered by HDR10+ using their QLED technology provides the best picture quality available at the price range by providing up to 2000 nits of brightness. This TV also features AMD's FreeSync Pro and a 120Hz refresh rate with low input lag, allowing for a smoother gaming experience when using a compatible device. 
As with most TVs today, the Samsung QN95A features built-in Freeview for UK viewers, as well as satellite connectors to use Freesat services. Both of these, of course, support the HD standards such as DVB-T2. 
Coming in at 30kg with the stand and just 23kg without the stand this TV is actually very light. The stand itself is one of the more bulky stands I have seen, but it's understandable since it needs to hold a large 65" display. The TV is 2.6cm in-depth, making it almost as slim as my Samsung B8000 from 2009.
Finally, the QN95A consumes a maximum of 180W and an average of 123W. In my tests, my model was consuming an average of 90W when streaming from Apple TV. This is actually one of the lowest power consumptions of a 55"+ TV I have seen.
Connectivity
The Samsung QN95A features a plethora of connectivity options, and since they are all in the One Connect Box you will not have to worry about having everything plugged in at once either! 
On the rear of the One Connect Box, you have three standard HDMI 2.1 ports (hooray!), one HDMI 2.1 eARC port, an RJ-45 Ethernet port, a power port, three USB ports (one of which is 5V and 1A for a hard disk drive), two satellite connectors, a single standard RF connector, an optical audio connector, a Common Interface slot and the One Connect port. This is a really kitted-out TV in terms of connectivity!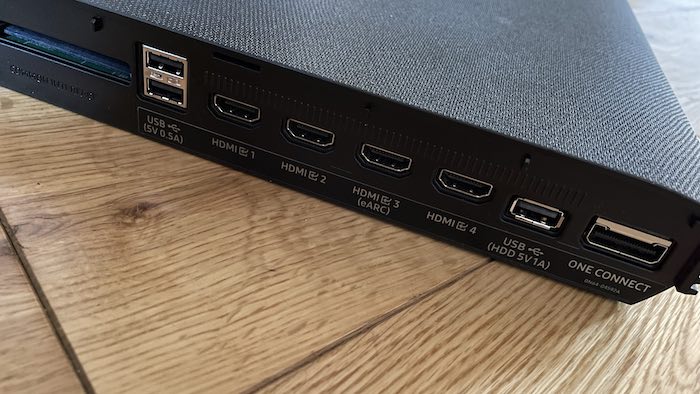 The right side of the One Connect Box features 3 USB ports, 4 HDMI 2.1 ports (including one with eARC), a Common Interface slot and the One Connect port to connect to the display
As well as all of that, the QN95A also features built-in WiFi and Bluetooth 4.2. It also sports the newer eARC connectivity for ensuring a strong and consistent connection to any external sound system such as a soundbar. Adding to this, it also features Samsung's Q-Symphony which means that if you also own a Samsung soundbar like the HW-Q900T I own the TV and the soundbar can work in tandem to produce better sound.
Since the TV features USB ports, it's also possible to connect a USB mouse and keyboard which can be used for entering information or browsing the web. Further to this, if you use Steam's Remote Play app you can use the USB mouse and keyboard (or games controller) to play a game streamed from your PC to the TV! I found this a useful feature with my old NU7470 TV. Of course, you can also connect a mouse and keyboard, as well as other accessories using the built-in Bluetooth. 
Whilst talking about connectivity, it is probably a good time to talk about how this TV is featured in a smart home. Since the TV features built-in SmartThings support, it's possible to control your entire smart home setup from here. For me, this means I can view all the security cameras around the house (since I have SmartThings and Ring), control the lighting in the house and much more. But what is so great is you can do this with your voice. I do have an Apple HomePod Mini in my living room too, but being able to view the security cameras around the house on my TV just using my voice is great! 
Conclusion
After having this TV for just over two months, I am happy to recommend this TV to anyone who wants the best 4K display available on the market just now. You really just cannot fault this TV. It does everything a good TV should, the picture quality is outstanding, smart features are (as always) absolutely the best and the TV is responsive. I got this TV for £2,250 so I think I got a very good deal on it, although I have seen it at much higher prices than that. 
I have to say though that perhaps the best feature is that of the One Connect Box, something I've wanted to own since it debuted in 2014 (and I actually envisioned since way before then). By having a TV as slim as the QN95A and having all the processing and connectivity away from the display, the TV doesn't get as hot, looks better on the wall and weighs less than its predecessors ever have.
The slimness and the design of the QN95A make it one of the nicest products I have ever owned. And let's not forget all those amazing features such as FreeSync, a 120Hz refresh rate, HDMI 2.1 (and four of them!) and the Tizen operating system.
The result of owning this TV now is that when people have visited me and noticed the new TV they have been blown away by the picture quality and the features of the display, particularly the One Connect Box and the neatness of the TV. My parents have also got themselves a smaller 55" QN95A as well for the same reasons mentioned before.
Well priced, you get what you pay for
QLED technology and HDR10+
4K resolution and picture quality
Viewing angles
FreeSync Pro and 120Hz refresh rate
4 HDMI 2.1 ports
Samsung's One Connect Box
Fast, responsive and reliable
Tizen operating system
Low power consumption for a 65" TV
Dual remotes, one with a rechargeable battery, solar cells and USB-C charging as well as a microphone
Smart features to integrate into a smart home using SmartThings
AI, deep learning and upscaling
The stand is very bulky and heavy
The TV is quite flexy when being lifted up
Scan and keep for the latest article or review every time!