I recently was a subject of some serious issues with my previous Sony Bravia Smart TV due to little corn flies (or thunder flies) managing to get inside the display and cause problems with the picture. Not good! I put a lot of that down to the fact that Sony has been known for building poor-quality hardware (and some say it about the PS4 too, including myself). It seemed that I was looking at getting a new TV quicker than I thought and I at first was swayed towards a webOS LG TV since webOS is pretty sound. But then I looked at my favourite and the only TV manufacturer I have ever used before now, Samsung. In my personal opinion, Samsung makes the best quality of TVs (not so sure about their phones, but they are decent) and they are the only company out there who I have had consistently good experiences in terms of TVs and AV equipment. In this review, I am reviewing my latest Samsung TV, my new Samsung NU7470. This is a 43" model which is a small upgrade from my previous 40" models that my past two TVs have been. 
Yes, another Samsung!
Samsung, the market leader in the television and AV industry, make a whole range of televisions, but their model numbering conventions make it easier to follow which models are designed for which group of people. My first TV, the M87 was what would have been today as Series 8 TV - the once top of the range series until the Series 9 models appeared. Samsung's naming conventions became even easier to understand in 2008 where they released the A range. My next TV, the LE40C750 was a Series 7, whereas my family TV, the B8000 was a Series 8. On top of that, A indicated a 2008 model, B a 2009 model, C a 2010 model etc. This makes it really easy to decipher what year and range the TV is from. The NU7400 is only slightly different. The year is the N year which would be 2018 (since Samsung seemed to have missed K and M) and the series it is from is the Series 7 (or now "7 Series" ). But what does the U stand for? Well, I'll leave that to you to find out as you read through this review (I will reveal it at the end of the review).
Design
The 7470 is one of those rare ones you can find in a silver aluminium design these days. More often than not, TVs and computers are black these days, and I personally like it that way. Having said that, the NU7470 manages to pull off the silver colour well and makes it look premium.
The obvious beauty of the display is the size, or should I say the lack of size, the bezels surrounding the display actually are. Modern displays are getting better and better at getting rid of it altogether, just look at my review of the Dell U2518d monitor to see what I mean. Samsung follows this pattern. And as a result, I managed to get a 43-inch display in my bedroom and yet it requires less room than my 40-inch C750 that it replaces.
The stand is one of Samsung's curved stands and whilst at first, I was a bit against its curved design, I have realised after a few days worth of having my TV it's actually one of the most functional stands I've owned. Not only do the cables route up the back of the stand, but the footprint of the TV on a unit like mine is actually quite small. The silver and grey stand in addition to the TV compliments it well and looks great. Overall, I prefer some of the other designs out there because it doesn't feel like it's cluttering up your TV table. I eventually did choose to wall mount my TV, however, and it complements the room well when wall mounted.
The TV also doesn't have any buttons on it except the single button under the word Samsung which does everything. Hold to activate the current function and press to move to the next function. This is very neat and adds to the design since it is quite well hidden.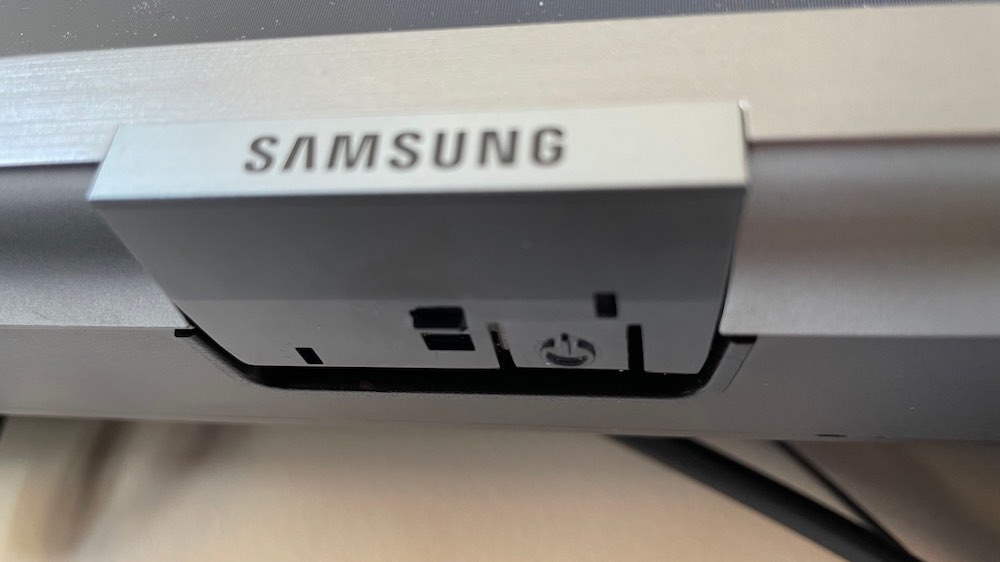 The only button on the design
The rear of the TV is quite basic, but unlike other manufacturers such as Sony or LG, Samsung goes as far as to make the back of the TV almost free from screws and inserts and attempts to make it as attractive as possible. Personally, I'm not fussed by this, but it's great to see the effort in doing so.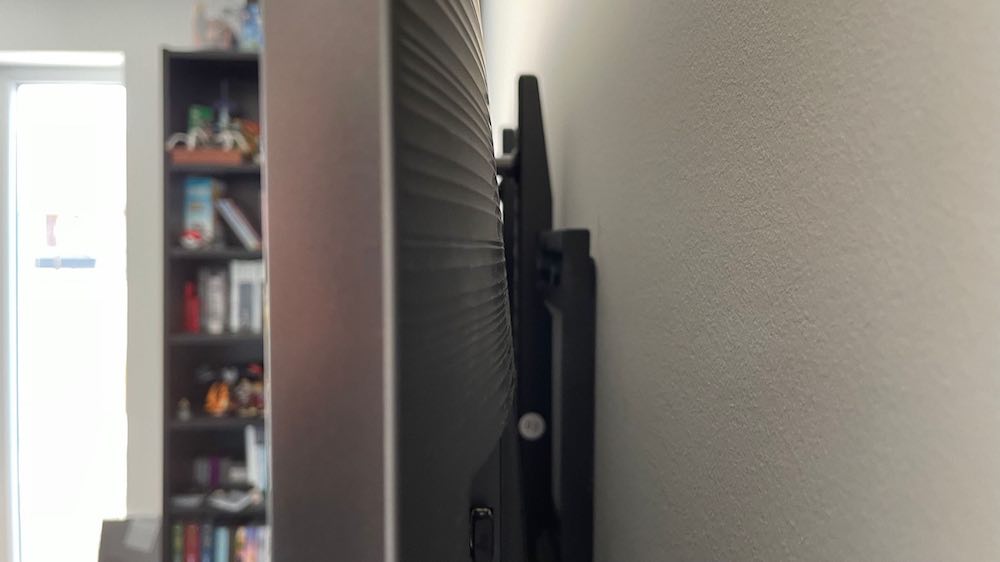 The back of the NU7470 is quite basic with very few screws on it - quite nice. Connectivity for the TV is all on the side which is good if you are wall mounting it like this
All connections are on the right-hand side. I really do not like this design choice since the right side of the TV is the side that is most visible in my room and because with the Sony, this TV replaces the zoning meant that connections that are less frequently accessed are hidden on the rear - somewhat the same way I don't like the fact that rear laptop connectors/ports have moved to the left and right sides.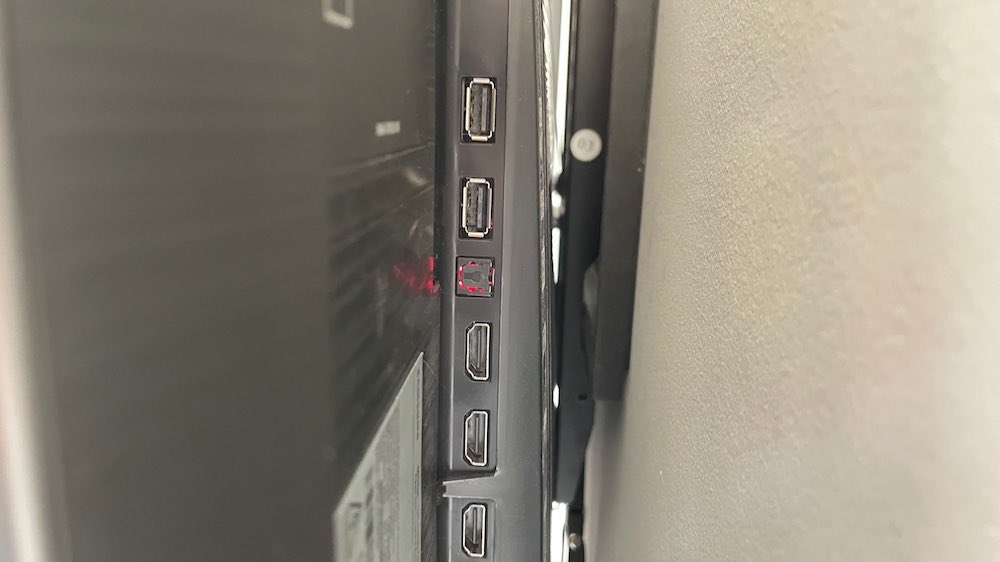 The TV features USB 3.0, including a connector with extra power delivery, three HDMI ports, one of which supports eARC and another supports DVI
There are two remotes (pictured next) that come standard with the unit; one is the smart remote that gives simple yet powerful control over the system whereas the other is the more conventional style of remote that is designed for fully-featured control. I don't use either as I use a Logitech Harmony Elite for my TV, which by the way, supports this TV very well.
Features
The NU7470 features a bunch of really exciting new technologies and updates, even when compared to the modern Sony it replaces. Let's start with the basics.
First off, the NU7470 features a UHD panel which I believe is an IPS (more information from here) display. However, IPS are visible from 178 degrees whereas this TV doesn't seem to have this. This means that this TV cannot actually be viewed from as wide an angle as a normal IPS display would have provided.
UHD or Ultra HD is also known as 4K TV these days. This allows you to get up to 2160p resolutions on the display or 3840 by 2160 in progressive scans. This has four times as many pixels as 1080p (1920 by 1080) and eight times that of 720p (1280 by 720). More and more 4K content is becoming available through services like Netflix and Amazon Prime, although you should note that you will have to have a really fast connection to be able to stream this kind of content.
The display features just three HDMI connections which is actually, believe it or not, the reason I chose the Sony over the Samsung in the first place. It also has just two USB ports, one of which is USB 3.0. This again is one less than the Sony. Next, it features those annoying combo 3.5mm jacks that allow you to access the composite or component video in the TV but not both at the same time. There is no VGA connector for your computer, but my old TV does the job of acting as my office TV so I don't use VGA downstairs. There is also a connection for the standard RF as well as one for satellite TV. Most disappointingly with this TV, there is no 3.5mm headphone jack so you cannot plug in wired headphones into the TV.
The smart TV features of this TV are well designed and extensive. There is a range of built-in apps that includes the standard roster (YouTube, iPlayer) but unlike some other smart TVs, it also features many others including Steam Link and Facebook Video. Further, Apple intends to bring Apple TV features (and possibly iTunes) to the TV.
Conclusion
The Samsung NU7470 doesn't disappoint in terms of features. However, one of the most crucial failings of this TV is the display panel itself. The display angle is so poor that means that this TV isn't quite perfect. 
Another failing for the TV is how many, or how few, connectivity options there are. There's no VGA, only 3 HDMI ports and also no headphone jack. The NU7470 does make up for a lot of these shortcomings by including Bluetooth and WiFi as well as HDMI 2.0.
The smart TV features on the NU7470 are one of its strongest points with apps such as Steam Link as well as all the standard apps. Apple also intends to bring its own Apple TV and possibly iTunes too on to this TV. 
Overall, the Samsung NU7470 is an amazing TV that would look good anywhere, but as a Series 7 TV, it has a few things that let it down. I would recommend it for its positives but just note that there are some issues that definitely hinder it.
Selection of apps
Smart TV features are very good
Build quality is really good
Bezels are quite small (especially when compared with other models I have tested)
Good performance
HDMI 2.0
4K resolution
Non-IPS display means viewing angles and colours aren't amazing
Lack of connections (only 3 HDMI, no VGA, no full-sized composite or component connectors)
Powered by DASH 2.0 (beta)
Scan and keep for the latest article or review every time!