Introduction
My history with Samsung roots back to 2006, when I purchased my Samsung SyncMaster 19 inch TV/Monitor combo for £320. It was a relatively decent TV with a high quality analogue tuner and was HD Ready. Back then HD wasn't too important but it was something that more expensive TVs had.
However, the TV didn't last as a decent enough TV to me. Oh no, that TV was too small for Jamie Balfour specifications. September 2007 saw the arrival of my new Samsung LE40M87 which was the start of my "Larger TV era". This TV was designed for the living rooms, as the advent of large TVs in bedrooms has only just arisen, and we can clearly see that this wasn't going in my living room. The TV was a monster. I still remember the day I got it and how it stood out as a beautiful device in the centre of my room. It was well priced as well when I got it at just £900, whilst most others were above the £1500 mark. The TV was 1920 x 1080 Full HD Ready, 100Hz, had a digital tuner and featured something that no TV I had owned had featured - HDMI or High Definition Multimedia Interface. So I thought to myself - "how can I make good use of this beautiful picture quality?" The answer was simple, go out and buy a Sony PlayStation 3 console. The Blu-Ray quality was marvellous to say the least! I was astounded that I had purchased such a good television. The buying didn't stop (well actually, they were both presents for doing well in school). Next it was the Xbox 360 Elite, which again astounded me with its picture quality. So this TV was one that I said should last 5 to 8 years.
However, nothing lasts that long with me I'm afraid. So when it came to June 2011, I decided it was time to buy a third TV. This TV is the one I am reviewing by the way.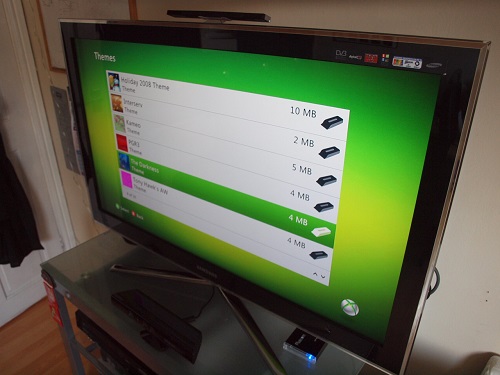 The 2010 C750 3D HDTV
A quick comparison
In terms of appearance, it is almost identical to the M87, as the two images previously show. But this is the case with most Samsung TVs. If I were to go downstairs and take a photo of our Samsung LED B8000 (which incidentally is also 40 inches), you could say that I have taken a photo of my Samsung M87. So I was pleased with that, as the M87 was also a beautiful television. There are distinct differences when you get close, but at a distance they look similar.
The stand is perhaps the most distinct difference, as the C750 has a chrome stand (very nice) whilst the M87 has a shiny black plastic stand (very nice also but difficult to keep free of dust). Also, perhaps a less notable feature, but the connections are on the right hand side rather than the left. It's sufficiently slimmer too.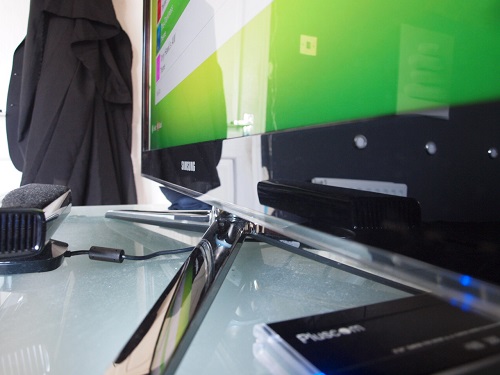 The chrome stand means wires such as those for Kinect for Xbox 360 can go under the TV whilst it looks incredibly modern.
Features of the C750
So I've been going a bit about my old TV. Well let's take a little look at the C750 now. The C750 boasts a few really good features. The first, this is not a TV. This TV has become something different. The menu on the M87 vs. the C750 shows this. It is also very well graphically rendered compared with the M87. This immediately sends out signs that Samsung has devised its menu system to one systematically design menu, that is widespread across their range. The first really good feature about the television is its inclusion of 4 HDMI ports. TVs until quite recently featured a measly three ports, which was not enough. Even with the four I still have to use a splitter, but it is more organised now; one HDMI for the computer, one for the AV Receiver, one for the DVD recorder and one for the splitter which connects to the games consoles. HDMI provides the best way of connecting HD devices and it really is amazing picture and sound quality that you get from these devices. The next really amazing feature (our other TVs; the Samsung LE40B6000 and LE40B8000 both also feature this) is USB. I'm not a fan or supporter of USB due to its lack of a tree topology, but for a TV doing what it's doing, it's a welcome feature. The USB port allows you to plug in an external USB flash drive or USB hard drive and watch the films, pictures or listen to the music on it. There are two USB ports featured on this device, on the right hand side. The most advantageous use of USB though is that you can connect an external hard drive (as I have done) and allow the TV to record on to it - something which is really useful. It can also use a feature called TimeShift which allows you to rewind, pause and fast forward (only to live TV obviously) live TV. As it features two ports, you can have a hard drive plugged in all the time and leave one free so you can plug in USB flash drives or even charge a phone using the other.
Another real plus to this TV is the digital Freeview HD or DVB-T2 tuner. HD TV came to my TV two days after I received it (how lucky was that) and now I enjoy ITV HD, BBC One HD, BBC HD and Channel 4 HD, and more are promised. BBC HD is also showing many different forms of programming in 3D. Many TVs these days are becoming "Internet TVs" and helping to soak up the remaining IP addresses left. But it's a welcomed feature by many, including myself. The Samsung C750 boasts a wide variety of apps that you can access by just plugging it into an Ethernet connection. The TV can also play videos, music and pictures from a computer which supports streaming. Windows 7 makes this really easy as well, and so you can have a home network of streaming devices that can link to this TV. So there is but one feature I have not yet mentioned. The most important selling point of the television is that of 3D. I don't use this very often for any reason other than the fact that very little broadcasts in 3D yet, but I have watched Wimbledon in 3D and loved every moment. The stereoscopy 3D effects created by the television and glasses are brilliant. Conversion back to 2D from 3D was excellent, boasting a tidy resolution of 960 by 1080 with Wimbledon.
Appreance is not just a pretty face
If you've ever owned a Samsung device, you should know that appearance is the prominent thing about buying a device from them. Well the C750 does not disappoint. Similar to the LED LE40B8000 that I have downstairs at the present time; the C750 is well designed. The rim is see-through plastic, designed to look elegant with a touch of Samsung in it (it also goes very well with my Microsoft Wireless Laser Desktop 6000 v3). The Samsung LE40B8000 downstairs also has this feature, hence why most who see both TVs think I have the same television downstairs. Here you can also see that the Nintendo Wii Sensor Bar fits rather nicely on the top of the TV (unfortunately it is too slim for the Microsoft Kinect Sensor Bar) - something that most LED TVs don't really support. The stand is chrome (as mentioned earlier), and it looks really good, despite my initial reason in not wanting to purchase this set was the stand.
The stand is also rather useful, as cabling can go underneath it, which allows me to neatly place my Kinect Sensor Bar at the front of the set. The back of the set looks like it is made of a thin metal, but in fact it is plastic (which is welcomed with me). Connections are found on the right hand side and the rear right. There is a wealth of connections and this is why I always choose the thicker LCD display lit by a CCFL (cold cathode fluorescent light) as opposed to an LED backlit display. Connectivity on these displays is always far higher. I must stress that when I purchased this television, it was £700, whilst the LED version was only £550.
The connections can utilise a cable tie system that runs down the back of the television to neaten the cables and prevent them from looking ugly behind the set. The tie itself is nothing more than a loop with a lockable design which means that the cables sit neatly behind the main part of the stand and therefore are not visible when the television is setup. One other really neat feature is the Samsung Swivel designed stand, which allows rotation of around 45 degrees either way.
Connectivity
I have always taken an interest in connectivity with computer systems and AV devices. I know every speed, every feature and every connector name on the market. This is my main area within my field of expertise. I could go on for hours about the connections featured on this device; but instead I will simplify the complex details into sizeable details.
The set features:
2x Universal Serial Bus (USB) 2.0
4x High Definition Multimedia Interface (HDMI) Version 1.4 (one with ARC or Audio Return Channel and one supporting DVI or Digital Visual Interface)
1x S/PDIF optical audio output connection
2x SCART
1x Composite video and audio connectors
1x Component video and audio connectors
1x RF connector (to allow television signals to be received)
1x RJ-45 (Registered Jack 45) LAN connector (to allow DLNA media streaming and Internet@TV)
1x Video Graphics Array (VGA) connector for PC Input
1x PC or DVI audio in (single stereo jack style)
1x Headphone Jack
1x Common Interface device reader
There is no S-Video connection, which seems a shame, as many devices still use this obsolete connector, but, let us not forget, the world is moving forward and times change.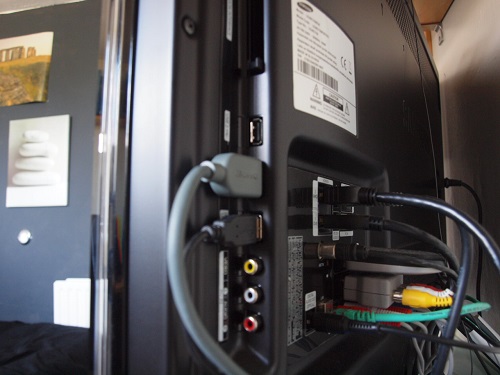 The C750 boasts more connections than the much slimmer LED backlit TVs but adds both weight and depth.
Stand-out features
Something which was mentioned earlier but not expanded on was the Internet TV function. Well its perhaps one of five reasons behind trading away a 3 year old TV for another new one - the others being the Freeview HD service, 3D TV, 4 HDMI ports and USB. The Internet TV function is known on Samsung TVs as Internet@TV - a good play of words. It does precisely that. Hundreds of apps such as the usual Facebook and Twitter have migrated onto the TV already - hundreds more in the US will probably come to the UK given time. The Internet@TV function really does make life easy. I no longer need to keep my computer on for Facebook updates (although typing using the keypad is rather difficult), or to update Twitter in a sudden realisation that I have forgotten to update my status with a new Tweet. No that's what the Internet@TV function does. Our Samsung B8000 downstairs also features this, and it uses a Samsung Wireless Link (SWL) to connect to the network, unfortunately using one of its two USB ports to do so. Yahoo also lets you get widgets on the display (although I still have not got this one working yet, despite a software upgrade).
Also another very welcomed feature of this device is the ability to upgrade software using the Internet. Once connected to the Internet, you can check for updates using the set. There is no need to use USB unless you cannot get on to the Internet from the set.
Something I really like is the stand. This was one of the factors that originally put me off the set, yet now I look at it and think that perhaps I misjudged the chrome design. I now even have a chrome designed office chair for my room, so things are all looking rather to one style in my room.
Conclusion
Simply put, this television is a marvel of technology. It stands out in any room as a centrepiece of elegance and in another way a media centre, linking all devices together. I have always been a strong supporter of Samsung, so you may call me biased, yet I can only say the reason I am this way is because I have never had a bad Samsung product. Having owned the set for just under one month, it comes to the point when one must express the love for this device through only writing an article to show this.
Perhaps one of the only flaws is that the backlight gets warm and therefore produces a lot of heat from the panel. I am no Samsung suck-up; I chose these words wisely to describe a beautiful, yet powerful device.
3D is eye dropping-ly good
A wealth of connections provide the required set for someone with loads of games consoles
The speakers are great
The chrome stand and swivel are a plus
Freeview HD/DVB T2
DLNA built in
Cheap
Cold cathode backlit - not LED
No S-Video
No satellite-in connector
Powered by DASH 2.0 (beta)
Scan and keep for the latest article or review every time!