From the introduction, you've probably guessed that this monitor ticks a lot of boxes for me already. I spent a lot of time researching monitors and couldn't find any that met of all my requirements but that's because I've always got such stringent requirements on what I need. That's why this is my 6th new desktop computer screen in 10 years!
It all started with a 23" Dell P2310h (I didn't really review on my website when the review linked was done, it was simply a short blog post review about it) monitor (non-IPS display) which was my first DisplayPort screen. It was also my first 1080p computer monitor. At that point, I didn't even know what DisplayPort was. I got a graphics card with DisplayPort on it but couldn't even use it because the monitor didn't have HDCP over DisplayPort and I couldn't even watch films on it. DisplayPort was in its infancy back then.
I then moved to an amazing Asus PA238Q ProArt monitor, my only non-Dell monitor in my past six monitors, which my brother now owns and it's still incredible display. My next display relates to the U341WE more than any of the others. 
The successor to the Asus was my Dell S2340T which was a 23" docking station monitor. It was actually a really good idea, let down by a fairly poor display. It was also my most expensive display at £650 (although I got mine for £450). Its ability to dock through the DisplayLink standard was awesome, albeit flawed. DisplayLink was USB 3.0 (a maximum of 5Gbps) which means that although the S2340T had USB 3.0 too, it wasn't enough to drive much more than USB signals such as mice, the webcam, Gigabit Ethernet and audio. Adding video to it was just too much and the refresh rate often suffered due to the connectivity of everything else.
The S2340T was succeeded by another screen designed for multimedia, the Dell UltraSharp UZ2315H. This one featured built-in speakers much like the S2340T, a webcam, DisplayPort and HDMI and generally was a really neat monitor. It was good apart from the built-in speakers.
By mid-2017 I was thinking about getting an upgrade from 1080p. It was one of my friends who mentioned that he used 2560 by 1440p and when I saw it in a screen share decided it was time for me to make the move too. I opted for another wonderful Dell screen, the Dell U2518D. This one had colour reproduction like none I had ever had, it did only get to stay as my primary monitor for the usual two years. After two years, it was time for a new model.
My requirements
So what were my requirements from my next monitor? Well, put simply, it was a culmination of all of the standout features of all the displays. 
My next screen had to have:
Upstanding quality such as that found on the Asus ProArt, the Dell UZ2315H and the U2518D. 
Be at least 25 inches or more like that of the Dell U2518D.
Have a resolution of at least 2560 by 1440 like the Dell U2518D.
Have decent speakers like those found in the Dell S2340T.
Allow me to dock my laptop with relative ease and few cables like the Dell S2340T.
I also wanted FreeSYNC on the screen
Docking needed to be a priority this time. Alas, with the introduction of USB Type C and Thunderbolt 3, this has become more possible than ever with the single connection that does everything. And since now most of my everyday computers, including my iPad Pro, feature USB Type C with DisplayPort Alternate Mode and Power Delivery, it's very possible to find what I need to dock with one connector.
When I did my research the Dell U3421WE met all of these requirements bar one, but it came at a hefty price. 
Design
The Dell U3421WE is my first curved display. I lied when I said I don't like curved screens. Well, maybe just didn't give enough detail. When it comes to TV screens, I'm not their biggest supporter simply because if they aren't large enough the curve just obscures the detail. Whereas with a 34" display like the U3421WE the curve is subtle and good. It works well with the resolution too, as the wider the screen becomes the more you'll need to slant your eyes, but with the curved design it's possible to avoid this pretty much altogether at a decent distance from the screen. 
The back of the display features a silver and white design which may not be to everyone's taste and may look a bit old fashioned, but somehow sits nicely in my room and doesn't seem to look cheap or like something from 2004.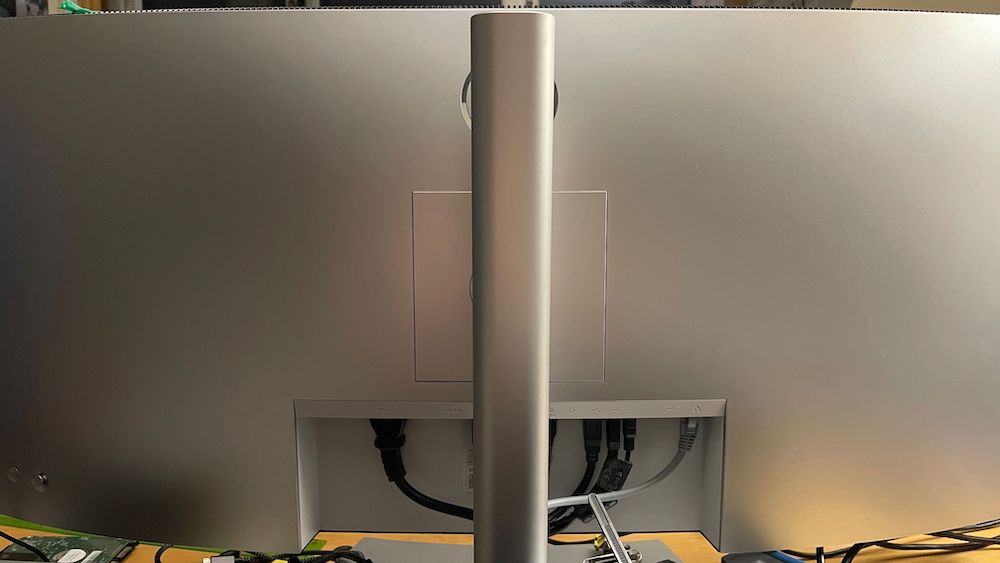 The back of the screen is silver, which although is often associated with computers of around 2004, but actually looks very smart
As always, Dell puts the connections on the back in a kind of inward part at the back of the screen that means that ports are set up vertically and cables go in pointing upwards. There is a simple cable management system on the stand that actually is very effective at keeping the cables organised. The cable management works well by allowing the cables to go upwards vertically without straining the cables. Compared with my previous display's single circular hole, the vertical design is really good and means that the cables do not really move when the monitor is raised or lowered. 
The back of the display features a joystick that acts as a control stick that allows easy navigation of the built-in menu and actually is better than the standard horrible buttons you get on the bottom of most displays.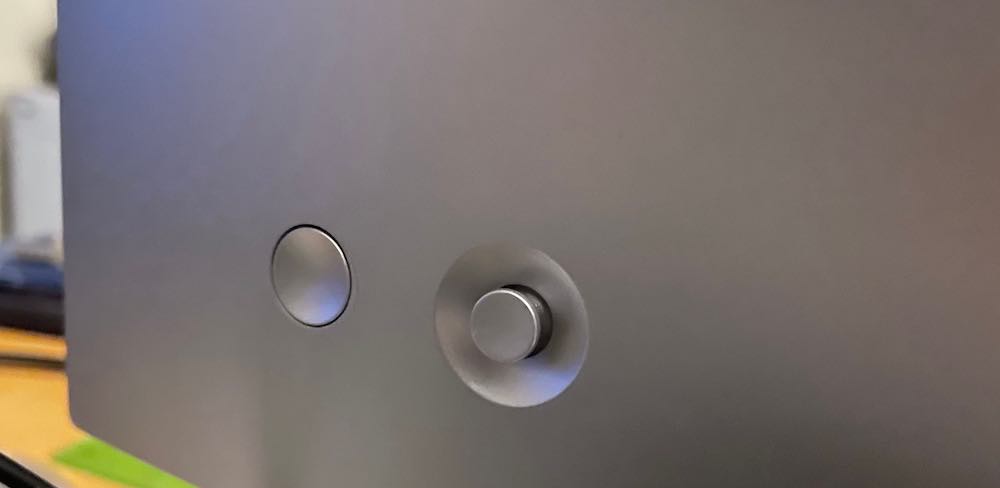 The joystick is a welcome change from the standard buttons on most monitors
Features
The Dell U3421WE is a 34-inch display. But it's not any old 34-inch display, it's an ultra-wide monitor. In fact, the main concern for me was how big I thought this monitor was going to be. Our first family LCD was a 32-inch display, and it felt huge. I was so amazed that this monitor fitted right into the same place as my 25-inch that it replaces and feels very similar. But that's where the similarities end. The WE in the monitors name suggests that it's a wide version, meaning it features a resolution of not just 2560 by 1440, but 3440 by 1440. This is the 21:9 aspect ratio compared with the standard 16:9 found on most displays. This is considerable if you do a lot of programming or work where you need two or three displays for your work since you could actually do what I did and merge them into one. 
The display features 30-bit colour too, as confirmed when connected to both my PC and my MacBook Pro. This means colour reproduction is as amazing as it was on the Dell U2518D. 
The speakers built-in are pretty decent too, and sound is definitely not the worst I've experienced. Music reproduction is good and for what this display is mainly going to be used for it's more than enough. If needs be, the display does feature an audio out jack which may come in useful when watching films.
Speaking of watching films, did you know that a lot of films are shot in 21:9 aspect ratio, meaning films look amazing on this display.
16:9 works great for TVs, since that is the aspect ratio used by the majority of today's TV shows, but unfortunately, most movies are made using the cinema standard, which is 21:9. 21:9 is much wider, so parts of the screen need to be filled with black bars above and below the image in order to fit most TVs. These horizontal bars are called "letterboxes."
Although this is the case, I cannot really foresee many people buying a 21:9 display simply to watch films on.
Nor would I imagine many people would by the U3421WE to game on. Especially considering the refresh rate is 60Hz and there is no FreeSYNC or GSYNC. Being clear, I do a lot of gaming on my PC, but it's mostly strategy games and not fast-moving games - I do not care for that stuff. But for the games I do play, the extra space on the screen is awesome. For example, a favourite of mine, Warcraft III Reforged, supports this wide resolution and I get so much more space than I did before. 
Connectivity
The monitor also features a plethora of connectivity. Much like its predecessors, it features a USB 3.0 Type B upstream port and four USB 3.0 downstream ports to allow connectivity to devices such as a keyboard and mouse. I was most happy that Dell opted to include three of the USB ports on the rear rather than just two that my previous displays have had.
However, the fun doesn't stop there. I did mention earlier that I wanted a docking station out of this monitor, much like the S2340T. So this monitor also features a Gigabit Ethernet port in the form of an RJ-45. This means that when a device is connected to the USB Type B port it also gains Ethernet. Audio and video are not streamed across USB as was the case with the previous S2340T. Instead, the USB-C connector featuring Alt-Mode allows a DisplayPort signal to be carried over one cable so there should be no issues with bandwidth there. Whilst the inclusion of Ethernet is nice, especially when I dock my laptop since the WiFi in my bedroom isn't as good as my Cat6 Ethernet connections in my house, I do sometimes wonder why Gigabit Ethernet is still such a big thing, and my house is wired with 10GBE now. Nonetheless, it's a nice addition. 
Once again, the problem with all my previous displays was that I need to have a USB switch to switch between my laptop and desktops. I still have this between my desktops, which is not needed all that often anyway. But not with my laptops any more. Docking my laptop involves connecting just one connection, a USB Type C connector. The USB Type C connector allows me to start charging my laptop, get my laptop on my display, use my desktop keyboard and mouse (plugged in through the USB ports on the back of the display), sound and Ethernet all in one go. What a connector eh? This kind of set up is something I've wanted for a while and it works with the five computers I currently use, my MacBook Pro, my iPad Pro, my Razer Blade Stealth and my Jambour Digital business HP ProBook G4 640 as well as my teaching Chromebook. All of these devices just connect seamlessly too. This USB Type C port can deliver up to 100W of power to laptops over the USB Power Delivery specification. 
Ultimately, this means that the U3421WE is a KVM switch too! This is something Dell has been slowly bringing to their larger displays for a few years and something I've wanted to get my hands on for a while. And when I say this I mean what happens is, one computer system is plugged in via USB Type B and another can be plugged in via USB Type C, the monitor will then switch the USB ports to the correct device. Further to this, since this is not a new technology, Dell has made this even more intuitive and allows the user to set up which video inputs (HDMI, DisplayPort or USB Type C) have access to which USB upstream port (USB Type B or USB Type C). This is really great when you do what I do in docking my laptop to my screen but predominantly use it with my desktop PC because when the laptop is docked the U3421WE automatically offers to switch to both USB Type C for video and for the data connections. 
Of course, the other interesting part about the connectivity is video connectivity. This monitor features four video connectors. There are two HDMI 2.0 ports, although more people will be interested in the DisplayPort 1.4 port if they are using this display or the USB Type C port. However, the HDMI ports are very useful for connecting secondary computers as I do with my Mac mini or a games console. 
Conclusion
My only real criticism of the Dell U3421WE is the price tag. As I said, I would never spend the amount I spent on it in a whim, it took me a few days to make the decision to spend £850 on a monitor but it can be justified by the simplicity of the docking system, the quality of the colour on the display, and the extra widescreen. As I mentioned previously, the 34-inch display isn't too big for most users, despite what I thought regarding my 32-inch TV which seemed massive.
Connectivity on the Dell is impressive too. Being able to dock a laptop and being able to switch very quickly to the other connected computers is one of the most useful features of this display.
One thing I do miss from my previous display is that of DisplayPort multi-stream transport (MST). Whilst it's not hugely common, I once saw it as being the future of display connectivity. Another thing that appears to be missing is mini DisplayPort, although this is not completely unexplainable since USB Type C appears to be overtaking mini DisplayPort. But still, I would have liked to have had one on it. 
Overall, as I say with every monitor I've owned, it's by far the best monitor I've owned. I can further this statement by pointing out it brings a lot of the features I've always wanted in a screen into one package. That's why it's taken me so long to find the perfect monitor - the requirements that I want are not easy to find in one product.
The ultra-wide display is amazing
Colour reproduction is incredible
The plethora of connectivity makes this monitor very future proof
The ability to dock with the USB Type C connector is seamless and very functional
Built-in speakers are actually really good
DisplayPort 1.4
USB KVM switch
PiP and PbP are really useful, especially with a large monitor like this
Lack of mini DisplayPort was a slight problem for me
The price tag is very high
Scan and keep for the latest article or review every time!