As a web developer, a new monitor doesn't often have a huge range of benefits for me, but the most important is colour. Web developers like myself often have to work with different colours across websites when developing them and therefore we need to make sure that the colour is accurately represented on multiple different displays. For instance, a low-quality netbook may sacrifice colour reproduction on the display to keep costs down. Conversely, on a really high-quality display, the colour may appear saturated or just too bright. As a web developer when using different colours for, say separation by colour, it needs to be properly checked on these displays. 
Web developers also need to cater for small screens such as smartphones and tablets, but also for larger screens such as high-resolution monitors and TVs. The main reason for me getting a new monitor this time was for the higher resolution - not only to help me test websites on the larger resolution but to help with development. 
Another new display
So this monitor is my fifth display in 8 years and replaces a two and a half-year-old display, the Dell UZ2315h. The UZ2315h was the perfect display in terms of features - it had USB 3.0, a built-in webcam, microphone and speakers coupled with great colour reproduction and a 1080p resolution. 
The main reason for the new display was really down to it's higher resolution, slimmer bezels and lack of built-in speakers. The speakers in the UZ2315h were definitely the biggest problem with it and whilst it was convenient to have them built-in, they were just not good enough quality when I watched films in my room. I could use external speakers with the display, but the whole idea seemed kind of ridiculous.
As a developer, I find that a larger display is definitely a plus. In the future, I aim to have my laptop display as my secondary display and my new monitor as the primary display. The bigger the better.
Dell has long been the favourite display manufacturer among professionals because of their colour reproduction as well as the build quality of these displays. It is often companies like LG who actually manufacture the panels for these displays for Dell who then assemble the actual display including the LG panel.
Personally, Dell has always been the one who ticks all of the boxes. The first display I got back in 2010 was the cheapest monitor I could find with the relatively new technology that was DisplayPort and I was eager to get my hands on one - it was just plagued with terrible TN technology. The second Dell display was an amazing touch display (and I still have it) and my current Dell monitor, the UZ2315h was the one that met every requirement in what a monitor should have. Things change. Requirements change. I no longer need a webcam built into my monitor as my laptop has one built-in and I'm no longer using my desktop as my main machine. External speakers are a pain but I can get better sound from external speakers than the ones built into the display being replaced.
Anyway, I digress. The Dell U2518d aims to possibly become my new display if I don't decide to stick with my UZ2315h. So let's take a look and see what's special about this monitor.
An introduction to the Dell U2518d
Dell has long been at the forefront of the production of exceptional quality displays and is particularly noted for their colour reproduction on them. As a result, you know you're getting a good quality monitor with Dell. Recent monitors by the company have become even more interesting by almost abolishing the bezel on the display whilst still maintaining the high quality of the panel. They've also moved from being very business like to being suitable where ever pleases you. So if you're looking for a new monitor to replace or compliment your existing monitor the U2518d aims to do just that.
Ultimately, Dell is aiming the U2518d display at the professional who requires the best in colour reproduction, resolution and features, not gamers.
This is not a gaming monitor and has no FreeSYNC or GSync technology in it! This is for people who need a better quality monitor in terms of colour reproduction and features - something gaming monitors do not feature.
Design
The Dell U2518d is an attractive display aesthetically. The main feature that stands out with this display is its bezel - or lack of for that matter. In my previous job, I had two Dell U2417h displays on my desk in my office. It was incredible. The bezel-less design on these displays is very similar to this display and it makes it incredible when you are working on two of these at the one time. Dell calls this InfinityEdge.
The front of the monitor is pretty simple since there is barely any bezel as pictured previously. The company name Dell is written down at the bottom of the display in very small silver coloured writing, just fitting on - a big change compared to the last monitor I had where the logo was rather large and padded. The rear of the U2518d is slightly different to the monitor it is replacing and, in fact, a whole ton of monitors that Dell has produced recently. I say this because it has more silver (or space grey as they call it these days) than the black that we are accustomed to with Dell (shown in the next picture). Finally, the bottom of the monitor is slightly bevelled and means that the buttons on the display don't really appear on the back of it and are kind of hidden from behind and are easier to access from the front (pictured).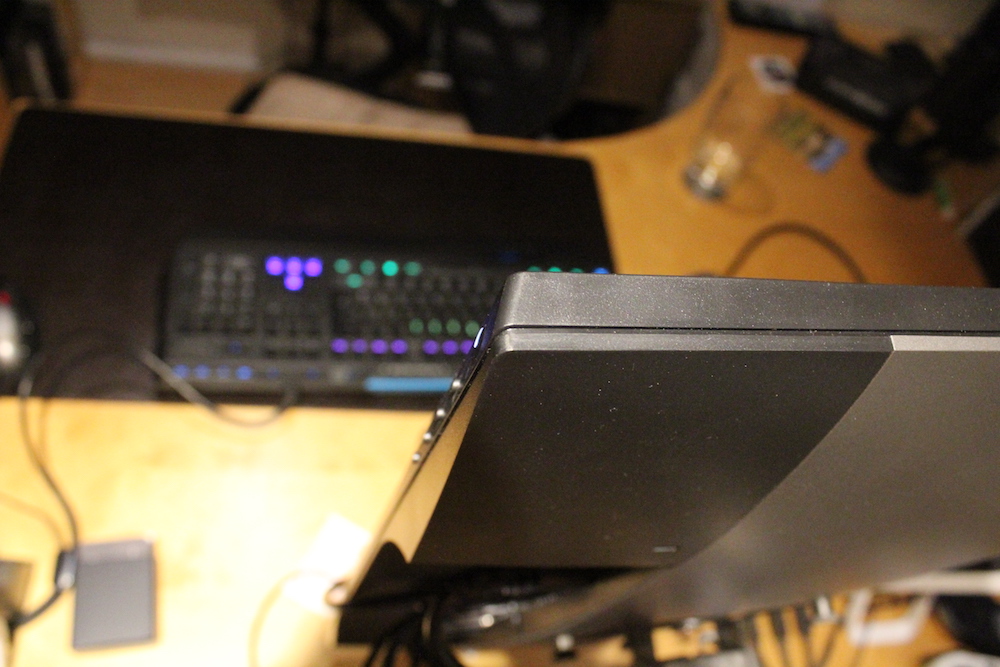 The bottom of the monitor is bevelled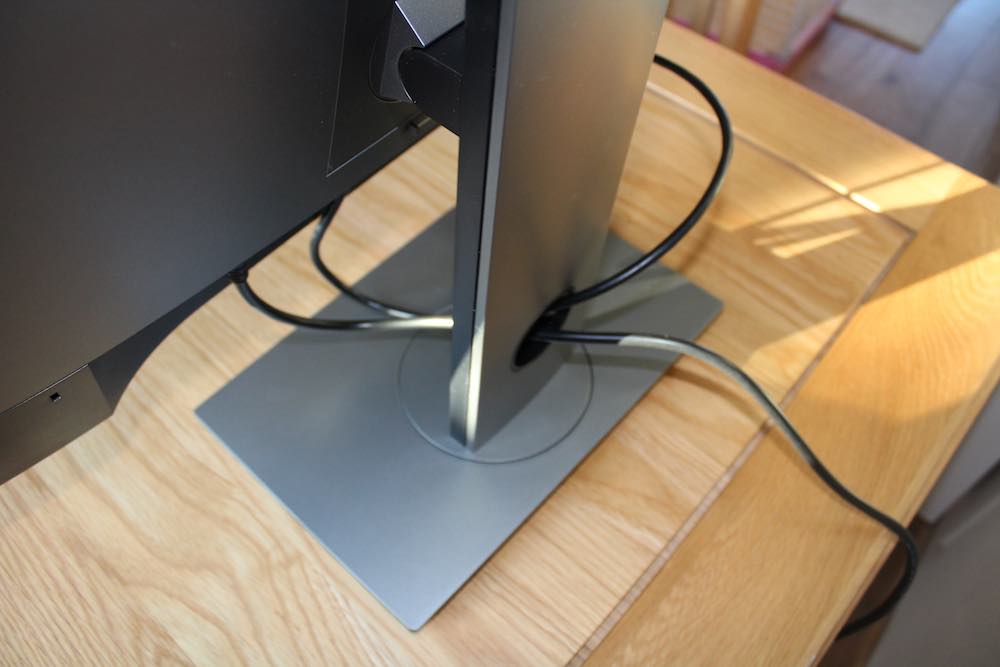 The bottom of the stand
The stand is silver and black and, as normal has a hole for cabling to enter and exit the monitor, keeping it neat and tidy. Just as with any Dell monitors, the stand is clipped to the VESA mount very easily and can be removed just as quickly. The stand can also be locked to the display using a small screw below. The base of the monitor can easily swivel and the display itself can be rotated 90 degrees into portrait mode. You can raise the height of the display quite considerably too.
The U2518d is reasonably slim too - at the slimmest point, I measured it to be around 17mm and the thickest point about 22mm - though it is difficult to get precise measurements in the thickest part of the display because it is in the very centre of it where the stand meets. This is quite incredible considering it has a built-in transformer.
Overall, the display will look great in any room or office but it's no Apple product by design.
The display
As previously mentioned, the U2518d is a 25-inch flat panel display. It uses the now almost ubiquitous in-plane switching (IPS) technology that once was limited only to expensive displays. The maximum resolution of this display is 2560x1440 which is termed as QHD or 1440p. Since this display is aimed at the professional market as well as the consumer market you won't find any high refresh rates of 120Hz or whatever, no instead the display focuses on colour and sacrifices the refresh rate. At the native resolution of 1440p, the monitor achieves 60Hz. 
This is not a monitor for gamers but for those who care about the best in colour reproduction.
The Dell features a 5ms response rate and a viewing angle of 178° / 178° - pretty standard for IPS displays. Admittedly, I've had no trouble with playing games on the U2518d and I don't see any screen tear. Having said that, I don't play fast-paced games and the point still stands - this is not a gaming display!
One of the other big features of the U2518d is that of HDR or High Dynamic Range. This is becoming more and more commonplace in professional displays these days. HDR is designed to allow the display to get brighter and darker than non-HDR displays. This means you get more powerful whites and darker blacks, this means that colours become more refined. HDR moves from 8 bits per colour (in RGB red, green and blue are each given 8-bit colour, this is more commonly known as 24-bit colour depth) to 10 bits per colour (this is basically 30-bit colour depth). This gives a lot more colour representation and is well worth it. Well, the Dell U2518d doesn't disappoint with its colour depth without HDR so I can imagine it's even more amazing and it's worth having, however, your computer hardware also needs to support it. I'm not going to comment on the Dell's Smart HDR feature as I've not really tested it (my GPU doesn't support HDR anyway). 
Features
The monitor has quite a few features and one of them really excites me as a tech-geek.
First off, the monitor features a USB 3.0 hub - something a lot of monitors have these days. This is particularly useful if you are using a computer under the desk or whatever as this means you have easily accessible USB ports. Two of the USB 3.0 ports are featured on the left-hand side whilst the other two are on the back. By having two on the back you can plug in devices that stay plugged in such as a keyboard and mouse, a set of speakers or a card reader. I use the former and have USB switch between my computers which the display is connected to.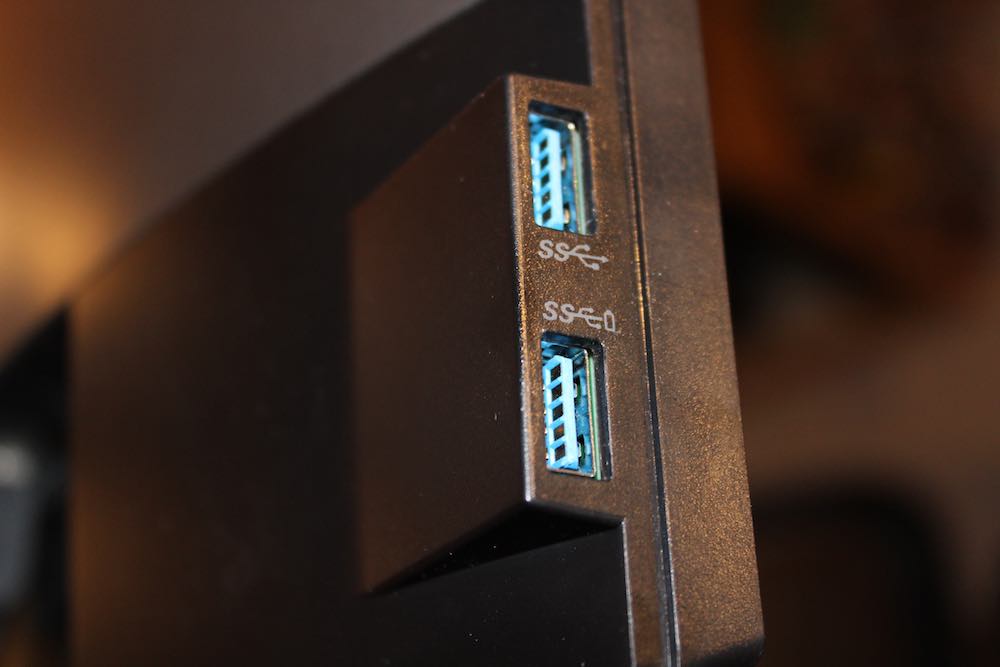 Two USB ports on the side make it easy to access USB ports on your computer. One of them also acts as a fast charger.
The display does not need an external transformer as it has this built-in (I do not know how they managed; I can't imagine how they fitted it into such a thin display). This means the only power lead you will need is one with an IEC C14 connector on it. This is my preference to external transformers as they can often clutter under or on top of your desk. 
As mentioned before, the InfinityEdge feature of this display is one of the main talking points about Dell monitors these days. It really is incredible when you see it up close. I've photographed it but I can't imagine you'll appreciate it as much as if you buy the display - you'll never want to go back once you've tried it!
However, the big feature I'm talking about is DisplayPort MST. If you haven't heard of MST or multi-stream transport, it's a feature of DisplayPort 1.2 that allows one DisplayPort connection to power multiple devices by sacrificing bandwidth across the port (21.6Gbps / number of devices). It's most useful because it means you only have to plug in one cable into the GPU that powers the display and multiple displays daisy chained from that display. With this display, it means that you only have one cable going to the computer and one going from that display to another with another DisplayPort 1.2 cable. Pretty neat, huh?
As well as featuring a full-sized DisplayPort 1.2 port and a DisplayPort 1.2 MST output port, it features a Mini DisplayPort. This is becoming more common these days and it's pretty nice if, like myself, you own a Mac, since Macs all feature this variation of DisplayPort since about 2009. It also makes up for the fact you only get one DisplayPort input on the U2518d.
The U2518d also features an HDMI 2.0 port which allows you to connect devices such as Blu-Ray players, games consoles and of course laptops with an HDMI port to the U2518d. This is, of course, the norm on computer displays but if you really want the best out of this display stick with DisplayPort. You can read my article on the differences between HDMI and DisplayPort here. As it happens, I don't use HDMI on my PC anymore at all. 
Finally, all three of the input connections, DisplayPort, Mini DisplayPort and HDMI, all feature audio over a single cable. However, since the display doesn't feature built-in speakers it features an audio line out to allow the audio to pass through the monitor to external speakers in the form of a 3.5mm jack.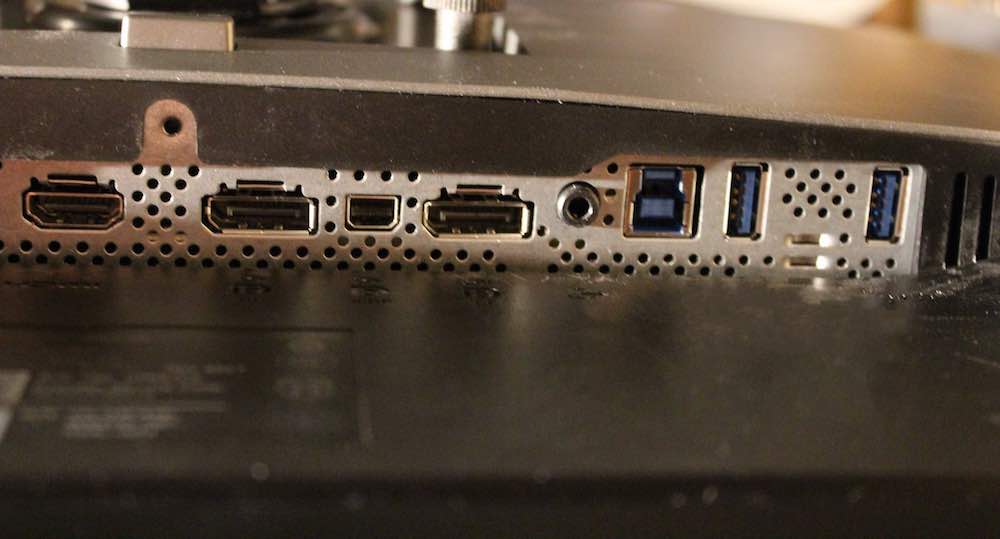 Connectivity on the Dell U2518d: HDMI, DisplayPort In, Mini DisplayPort, DisplayPort Out, 3.5mm audio output, USB 3.0 upstream port and two USB 3.0 downstream ports
Conclusion
The Dell U2518d is without a doubt the best quality display I've personally ever reviewed in terms of colour reproduction, but that's maybe just because as time goes on display technology just gets better and better. Nonetheless, the U2518d is a fantastic display that has amazing colour reproduction which is complemented by its QHD resolution. And, might I add, there are few 25-inch displays which feature QHD resolutions combined with such good colour reproduction.
In terms of connectivity, you won't get much better than this. Featuring three inputs and one output, the U2518d is more than equipped to deal with most situations. One feature that would have been nice is to have seen a USB switch built-in to the monitor, similar to the one found in the Dell UP2718Q. 
Another issue I have read about was the HDR being somewhat lackluster. I have been unable to test this myself.
Overall, the Dell U2518d is a great 25-inch QHD display with lots of good features, and for sub-£300 display you can't get much better. I'd definitely recommend it to anyone who is after a good display for a good price with exceptional colour reproduction. 
I definitely recommend the Dell U2518d to anyone who needs a new 25-inch display. 
Powered by DASH 2.0 (beta)
Scan and keep for the latest article or review every time!