Apple shook the world again when they announced their new range of CPUs was considerably faster than the Intel CPUs that they were gradually replacing, and rightly so, people were originally sceptical. In one word, this laptop is incredible. 
But results are now in and it appears that Apple's claims are justified and accurate and that their new CPUs outperform their Intel counterparts by quite a considerable margin.
As someone who loves technology and is enthused by new developments in it, as well as being a long-term Mac user, I decided to go ahead and be one of the first bunch of people to get my hands on Apple's new range of Macs, powered by their own silicon. I had been in the market for a new Mac for about 5 months but actually considered upgrading first about 3 years ago.
One of the main issues with me upgrading from the 2013 MacBook Pro was the butterfly keyboard that Apple had been using on their Macs and how it had so many issues worldwide. But alas, Apple announced their shift back to a more standard and durable design that meant that I considered buying a new MacBook again as my daily driver. However, I felt that I could simply hang on until my 2013 MacBook gave in. Ultimately, this happened first around 5 months ago when the battery started to deteriorate, and then around 2 or 3 months ago when it just turned 7 years old. I'm sure it's the SSD that's beginning to fail because it will just lock up from time to time. I didn't want to go down the route of replacing it with an Intel Mac in the case that the new Apple silicon Macs were announced. Indeed they were announced and I decided to wait until they were released. And what a good decision this has been indeed.
In this review, I aim to look at all aspects of the MacBook Pro but will not be looking at benchmarks at present. At the point of this review, I had been using this MacBook Pro for just under a month.
Design
The design of the MacBook Pro 2020 has not changed since last years model. In fact, the internals of the system appears the exact the same (but obviously now using Apple's own M1 chip). Even the fan and heat sink system is exactly the same as the ones used in Intel CPU-based Macs.
This Mac is incredibly lightweight, coming in at just 1.4KG in weight. In fact, it's so light it weighs less than any computer capable of running a desktop operating system I have ever owned (except my little netbook). 
This little MacBook Pro reminds me more of a 12-inch computer or my Razer Blade Stealth in terms of physical size and less of my original 13-inch MacBook Pro because of the small footprint of this little machine. Let's be clear though, there are still bezels surrounding the display of this dinky little laptop that Apple could look to get rid of at some point.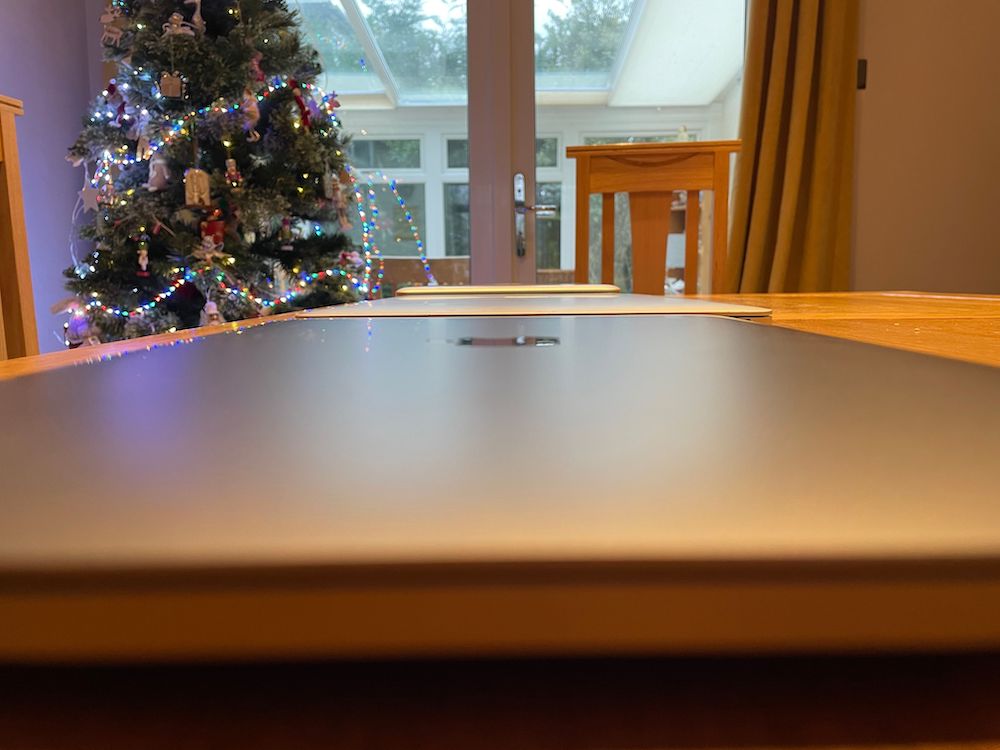 From furthest to closest, my MacBook Pro 13" late 2011, my MacBook Pro 15" late 2013, my MacBook Pro 13" M1 2020
Other things I like about the MacBook Pro with the M1 chip (and the later Intel chip-based MacBook Pros) is the inclusion of the words 'MacBook Pro' at the bottom of the display again, something my Retina Display MacBook Pro did not have.
I should also mention that the keyboard has moved away from Apple's own designed 'butterfly' mechanism and back to a more traditional scissor mechanism which is far more reliable. For years this has been one of the things that has hindered me from buying a new MacBook. The keyboard is very comfortable to type on, even after coming from a much larger 15" MacBook Pro I can definitely say this is the comfiest keyboard that I have even used. And it definitely has the feeling of pressing down like the previous MacBooks have all had despite a much smaller travel distance.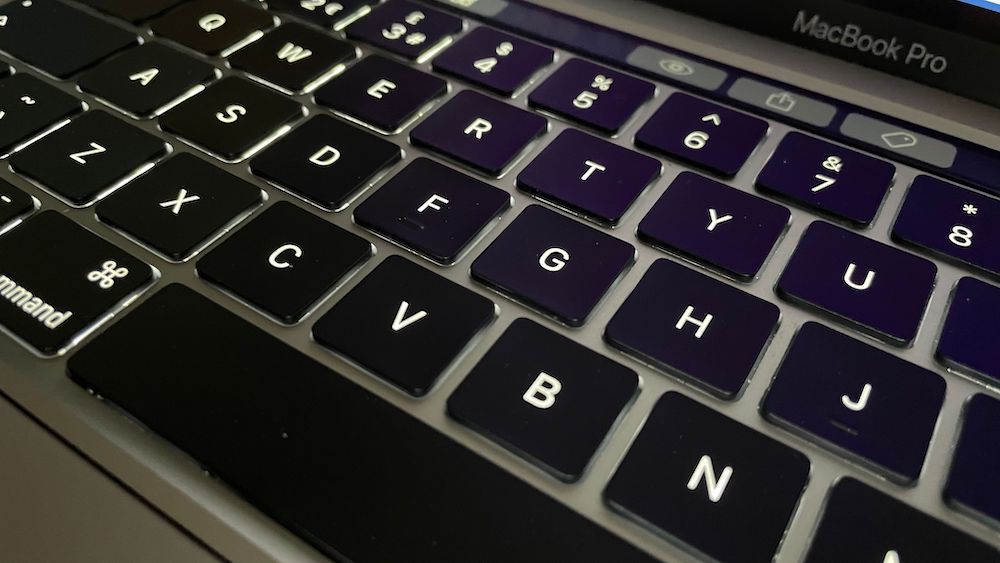 Apple's keyboard is a delight to type on
Specifications
According to benchmarks, Apple's new MacBooks well and truly outperform their Intel counterparts now that Apple has included its own in-house CPUs in them. According to Apple, the new M1 chip they have developed is up to 3 to 3.5 times faster than the Intel CPUs featured in the previous MacBooks. 
And boy is it fast. Not only is it fast but it's power efficient. In fact, after using this new MacBook Pro for just under a week I haven't heard the fans ramp up once and the laptop has been completely silent the whole time, even when I ran the GeekBench 5 on it to try and get the fans spinning. Below are the results of GeekBench 5 for this MacBook:

The model I selected features a 3.2GHz Apple M1 with 8 cores: four of which are high-performance cores whilst the other four are efficiency cores. It also features 16GB of LPDDR4 RAM and a 512GB SSD. The SSD is very fast and achieves 2700MB/s write speed and a read speed of 2800MB/s according to BlackMagic Disk Speed Test. 
As Apple has moved away from Intel-based processors, they have moved away from the x86 architecture. As a result, a lot of software applications that were written from Intel-based Macs will not work, at least not without some kind of translator program. Alas, Apple has thought of this too. Apple includes Rosetta 2 with Big Sur, which is similar to Rosetta which last appeared in Mac OS X Lion and allowed Intel Macs to run software designed for PowerPC Macs using translation software. The process appeared seamless to the end-user. Like its predecessor, Rosetta 2 once again provides this same seamless experience. When an application designed for an Intel Mac is run for the first time, the software translates the code into code suitable to be run on an Apple Silicon-based Mac and it just runs. Performance is great. Apple has once again done a fantastic job of this.
All M1 based MacBook Pros feature the TouchBar too. This is definitely a nice addition that definitely has its uses (I had planned to get a new MacBook Pro with a TouchBar prior to this but since my MacBook Pro was working fine saw no reason to upgrade).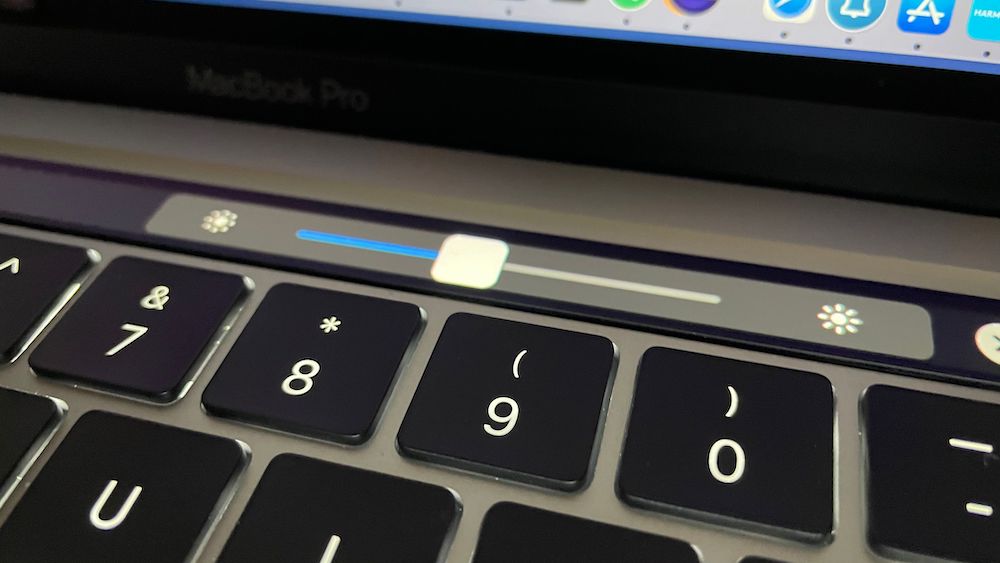 The Touch Bar is not optional but it is very useful.

Connectivity
The MacBook Pro has always been very slim in terms of connectivity but at the same time also having the latest and greatest technology. The M1 MacBook Pro features just three physical connectors and there is no option to include more.
Those three connectors include two USB Type C connectors which support Thunderbolt 3, USB-C Power Delivery, DisplayPort and USB 4. These ports are very versatile and will allow a multitude of devices to be used by the MacBook Pro including a range of docks, dongles and adaptors. As of December 2020, Apple has yet to re-add the external GPU support to these computers although according to some they are being recognised by the operating system.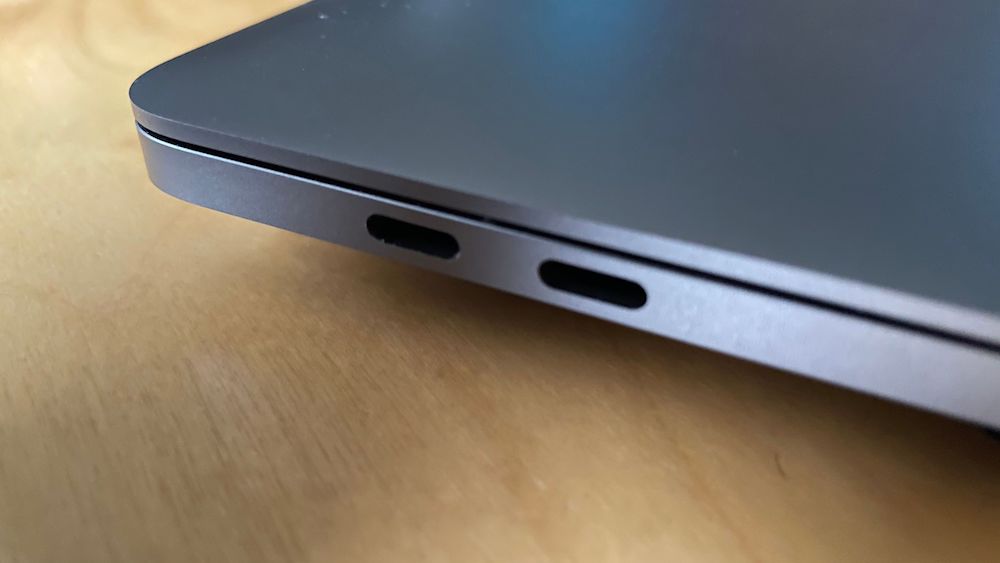 Two Thunderbolt 3 USB Type C connectors reside on the left side of the system
Further to the two USB-C connectors, there is a lonely headphone jack on the right-hand side of the MacBook Pro and it still amazes me that Apple includes this despite abolishing it on every other device.
In terms of wireless connectivity, Apple has gone for WiFi 6 support (802.11ax) which claims speeds of up to 9.6Gbps on paper (actual speeds will be lower). It also has included Bluetooth 5.0 on this MacBook Pro.
Planned obsolescence
I am now of the mind that Apple's MacBooks, as good as they are for the environment initially, are now developing a habit of becoming completely anti-user serviceable. The result of this is the RAM, CPU and SSD are now soldered to the board which means a complete replacement of the system is needed when it fails.
Admittedly, this does not bother me too much because I tend to get 7+ years out of my machine which means it's paid for itself in that time but it does bother me in the sense that it is a waste of electrical equipment when it does go. 
Apple needs to change this for the MacBooks as I see no reason why the SSD needs to be soldered to the board or the battery glued to the chassis. 
Criticisms
Like every Apple product I have ever owned, the MacBook Pro with the M1 chip is an amazing piece of engineering. However, there are one or two things that I think could have been done better. 
For starters, the fact that the M1 version of this laptop currently is only available in Space Gray is disappointing and I was originally hoping to get a standard silver one. In my opinion, however, the Space Gray is actually a lovely colour and I was very impressed by the appearance of it when I received mine. 
Another criticism I have over this is that there are no options without the Touch Bar. Again, much like the above I am actually quite happy with the Touch Bar and have wanted a new MacBook Pro since Apple announced the Touch Bar but there will be people who would prefer to have the choice with this. 
Thirdly, the MacBook Pro with the Apple M1 chip can only drive one external display. Compare this to the two or three that the other Intel-based MacBook Pros can use simultaneously and this is a slight disappointment. I have to use dual displays when I am in work as I connect my MacBook Pro up to my own monitor and then duplicate the screen from there to my much larger screen so that others can see what I am doing on it. To do this with this MacBook, I must use an HDMI duplicating device, something I should not have to do. Further to this, there is no way to add a further display to my desktop. This is not a problem for me at home since I have a wide monitor that basically gives me the same space as having two monitors on my desk anyway, but as someone who has worked in software development, I know how commonplace it is for developers to be given laptop computers which they connect to a keyboard, mouse and dual-display system when they are in the office and can see that this will hinder the sale of the new M1 MacBook Pros within the software development industry. 
Finally, the MacBook Pro with Apple's M1 chip only features two Thunderbolt 3 ports compared with the Intel-based models which support up to four. This in itself is not a huge issue for me but what is an issue is the positioning of the ports since they are all on the left-hand side. Apple could have spread them out so that one was on the left and one was on the right-hand side. This is a particular issue for me when I'm docking my MacBook Pro as the USB Type C cable I have is only 1 metre and cannot reach to the left side of the laptop (cables any longer do not work as expected).
Conclusion
This computer is spectacular. It outperforms my previous MacBook which cost more than £1,000 more than this one did when it was new, and it outperforms it by a country mile. In theory, it should, since my old MacBook, as solid as it was, is on its last legs after seven years of service but it doesn't just outperform it. It doesn't even get the slightest bit warm when performing the same tasks.
Okay, that's not a fair comparison, I will admit. So what about a newer machine? Like I said at the start of this review, I'm not here to discuss benchmarks as of yet, but I will say that the always one feature plus the 20 hours of battery life shows how efficient the M1 chip inside this thing is. 
What excites me more is what Apple brings as a result of this change to the M1 chip. I do not see myself getting a new MacBook when Apple brings out new models as this 13-inch model is absolutely perfect in every way for me. 
In conclusion, Apple has done a spectacular job of making this the best computer I have ever used. Not only is the M1 chip snappy but the design of the whole MacBook Pro is wonderful. I cannot recommend this enough.
Absolutely amazing performance
Amazing performance per watt, the battery is life is astounding
Very lightweight, only weighing 1.4KG
Rosetta 2 translates software from Intel to Apple Silicon very quickly and smoothly
Thunderbolt 3
USB 4
Beautiful keyboard and typing experience as well as an amazing touchpad
All models include a Touch Bar, there is no option to not include this
Only two Thunderbolt 3 ports
Only available in Space Gray as of December 2020
Lack of replaceable parts
No external GPU support (yet)
Can only connect to one external display
Scan and keep for the latest article or review every time!