Introduction
In this review, I will be taking a look at a netbook which I have just acquired. The netbook by Acer goes by the model number A150X where the X represents that it runs on Windows XP. It is important to note that there is also a Linux version with a solid-state drive (maximum size of 8GB) for those who want either a cut-down version or want to learn the Linux operating system.
The image shown has been updated to a higher quality one but was taken after the article was originally written.
Specifications
The netbook runs on Intel's new platform known solely as Atom. This is not directly related to the Centrino Atom platform, which is designed for larger laptops. However, it features an Atom N270 based on Intel's Diamondville platform. It has been manufactured under a 45nm fabrication process with a Level 2 (or built into the chip) 512KB cache memory, a 1.60GHz clock speed, Intel's HyperThreading technology and a 533MHz front-side bus. On top of that, it has a maximum thermal design power of a tiny 2.5W. On the memory side of things, it features 512MB or 1GB of system RAM, which is shared with the frame buffer for the integrated Intel Mobile 945GSE graphics chip, with a maximum size of 8MB. It also features up to a 120GB hard disk drive but being one of Intel's new UMPCs (Ultra Mobile Personal Computer) it does not feature an optical disk drive of any kind. Could this be the future of computers?
Its display is a glossy display (although for a mobile display a matte display may have been more appropriate, it does however display things very crisp which is nice) and its resolution is 1024 x 600 - the standard netbook display resolution. The display has a width of 8.9 inches making it one of the smallest netbooks out there at the moment.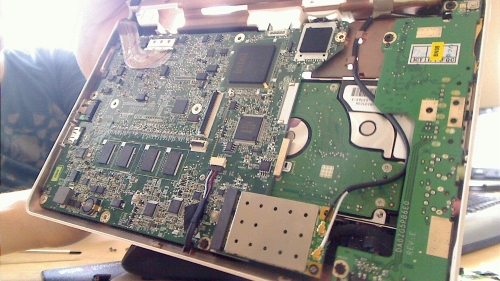 The internals of the netbook shows a difficult to upgrade hard drive.
HyperThreading was a feature touched on, but not explained, so here goes. HyperThreading is an attempt at virtualising a new core into the die. It is done by adding a new 'logical core' into the chip by putting two ALUs (arithmetic logic units) into the one core. This means that it can perform more and more per core. Intel released this first with the Pentium IV which made it more efficient than the same core without HyperThreading. They normally marked them as a P4-HT and the HT was visible on the badge. At the end of last year, Intel released the Core i7 brand of CPUs - a high-end CPU line which is designed to be the successor architecture to the Core family and is superior to the Core 2 Quad in many ways. The i7 features HyperThreading also. This means per core, it performs better than one without. It essentially makes a dual-core system a quad-core system.
The same can be said for the Atom. This will improve performance altogether.
Actual performance
As always, there is a fundamental difference between specifications on paper and in reality. So after using the netbook for a good few hours, I can confirm that it runs Windows XP beautifully. It also has about 4 hours of battery life on its standard battery, which to me is stunning for a small PC. I tried Microsoft's software bloat operating system, Windows Vista on it and it ran it without any major driver problems. It could run Aero but it slowed the system down considerably. Overall, when running on Vista, it took longer to process tasks and carry out even the most basic tasks. This was clear from the initial start-up taking as long as 76 seconds to boot to the desktop. The fans were also at maximum speed at this point, which is never a good idea.
Connectivity
The Acer Aspire One trumps most netbooks here featuring a plethora of connectivity options. For a start, it features a total of 3 USB 2.0 ports on it and a VGA port. As well as that it has an Ethernet (10/100) connection on it and two audio jacks. This makes it a perfect travel companion for anyone who wants to enjoy a movie on the plane on whatever.
It also has an 802.11bg wireless card and the option of a 3G wireless card.
Design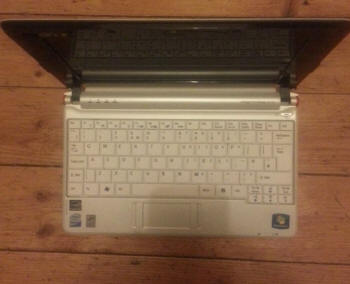 The Acer Aspire from above
The design of the netbook is where it lacks. The netbook looks smart and has a nice sturdy feel to it but it has issues. Firstly, the keyboard is quite compressed. This is understandable as it is one of the smallest netbooks out there with an 8.9" display. Another annoyance about the design is with the trackpad. Being small, Acer has opted to place the trackpad left and right mouse buttons on the left and right of the trackpad respectively. This is a real annoyance if you have larger hands and have to take your finger off the pad to touch the buttons. One of the final design faults of the netbook is that there is a giant gap between the display and the bottom section of the chassis. It's large enough that you can even get a hand through it. It looks ugly, feels unsafe and not very sturdy.
Conclusion
Although a lot of really nice features are added to this netbook, the design lets it down in some ways. Therefore, I would be prepared to give the netbook 8 out of 10 for its solid performance, 3G capabilities, size and battery life. It could have reached 10 had it had a better trackpad and none of the nonsense with the giant gap between the bottom half and the display. Other than that, I would seriously recommend having a look at this as a netbook solution.
Great battery life
Decent performance with Windows XP
A lot of connectivity options, including 3 USB 2.0 ports, WiFi and Bluetooth or 3G
Great picture quality
The hard drive is actually up to the job unlike some other netbooks
Build quality
The webcam is rather poor quality
Trackpad is awful
Linux is only available on models with 8GB SSDs
Scan and keep for the latest article or review every time!