Let's be clear here; for the majority of Mac users, Thunderbolt is only ever used as a display connector, only utilising the DisplayPort properties of this interconnect. 
Apple and Intel's joint venture surprised many and was one of the key reasons I bought myself a MacBook Pro when I did. Since the MacBook Pro I originally owned (late 2011 13" Thunderbolt version), Thunderbolt has progressed a long way. Not only has speed been increased, but in terms of the devices using it. Nowadays, it is not surprising to see a docking station adding more video ports, more USB 3.0 ports and gigabit Ethernet to a laptop which has but a few physical connections. Thunderbolt 2 was released in 2013 with a maximum theoretical speed of 20Gb/s compared to the original Thunderbolt specification which could achieve 10Gbps. This was due to the fact that instead of using PCI-Express version 2 in a single channel, Thunderbolt 2 used PCI-Express version 2 over a duplex channel (allowing communication both ways). PCI-E version 2  achieves 500MB/s per lane, equivalent to 4Gb/s over a single lane. Thunderbolt uses 4 PCI-E lanes and can achieve 10Gbps with this. Thunderbolt 2 making it bi-direction achieves double the speed. 
As many of you will know (if you read my website), my biggest interest in computing is physical computer connectivity, which I have had since about the age of 7 or 8 (where I became obsessed with PS/2 and parallel ports).
To me, physical connectivity is the way forward, wireless is a step backwards (in terms of data, not networking, although I still use almost all of my devices through our rather dated [1997/1998] network in the house which only receives moderate upgrades from time to time). This is why I have backed FireWire and Thunderbolt over many wireless standards.
At the same time, Intel has been busy (again working with Apple) developing USB-C, a full-speed USB 3.0 port which has the physical footprint of a Kensington Lock, allowing computers to get thinner and thinner as well as the ability to send video signals (including DisplayPort) and power (back to the device) over the one cable.
Combine USB-C and Thunderbolt together and you get Thunderbolt 3. Thunderbolt 3 supports PCI-Express 3.0 which achieves 78.8Gb/s or 985MB/s per lane. Thunderbolt 3 itself is given a maximum speed of 40Gb/s, which is a crazy amount of speed. What this now means is that a PCI-Express version 2 graphics card could be used external through the Thunderbolt 3 interface with no real problems. Intel even demonstrated this with the release of Thunderbolt 3.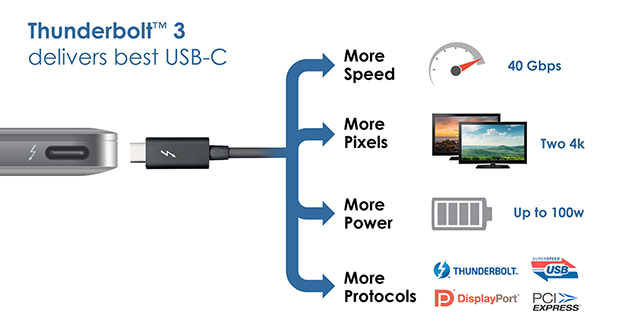 Thunderbolt 3 will be extraordinary (Sourced: http://uk.pcmag.com/laptops/42408/news/thunderbolt-3-combines-with-usb-c-to-form-a-truly)
What I am really hoping for now is Apple to release a USB-C-Thunderbolt 3 combination display that also features more than one damn input (this is the reason that I still do not have one of these displays and probably never will). This way they could ditch the MagSafe power lead and replace it with the single connector and it really would be the most fantastic way to dock your Mac.
Other than that, the bonus speed Thunderbolt 3 offers would be nice too, but perhaps not worth the extra money for a new computer at the moment.
To me personally, the release of USB-C was one of the most important releases of the last decade due to the fact that it really could become the connector that appears everywhere. 
JBlogs is now available to download from my website. As it is still in alpha/beta stages you will need to login/register to download it.
As I have not worked on JBlogs for about 4 or 5 months (getting lazy or just working on other projects), I decided it was time to get back into the swing of it again.
Today I am happy to say that JBlogs requires much less to setup and is better designed. As a result, I have got rid of the custom footer and custom headers. What you do now instead is define a PHP file which contains your own header such as this one below:
PHP

<?php
    

$no_title

 = true;
    

$expires

 = true;
    

$math

 = true;
    

$title 

= $title;
    

$desc 

= $description;
    

$head 

= $stylesheets;
    

include

 $_SERVER['DOCUMENT_ROOT'].

'/assets/php/head.php'

;
?>

This example is using my DragonScript to power the blog: it points the JBlogs variables ($title, $description and $stylesheets) to my own DragonScript. For the sake of going in to too much detail here (more will be on DevNet), this is how it could be used in a standard HTML page:
PHP

<

html

>
    <

head

>
        <

title

>
            <?php 

echo

 

$title

;?>
        </

title

>
        <?php 

echo

 

$stylesheets

;?>
        <

meta

 

name

=

"description"

 

content

=

"

<?php 

echo

 

$description

;?>

"

>
    </

head

>
</

html

>

The foot can also be defined on it's own now as well. So the foot just points to the footer defined on the website. This allows JBlogs to integrate with your website from a very quick to create script.
I will put the latest version up as soon as I have tested it works absolutely as expected! 
Powered by DASH 2.0 (beta)