It's been clear for some time that Nintendo has been preparing a successor to the Wii U. The Wii U was a colossal disaster for Nintendo, straight after their most successful home games console, the Wii. A lot of people put the failure of the Wii U down to it's marketing under a name so similar to it's predecessor. Others put it down to it's underwhelming power when compared with it's competitors. 
Whatever the reason for the Wii U not selling well, it is clear that Nintendo needed to pull up its act and try and gain back some lost sales. The Switch aims to do this.
A while back in January of 2017, I made a few observations about what I liked and disliked about the Switch on my personal blog. This review will compare this post to what I think now.
Design
The Switch has a unique design. On the move it looks something like a mix of a tablet computer and a games console, particularly a 3DS. When you get home the device changes to a home games console. It does not however look like it's competitors, nor for that matter it's predecessors such as the Wii U or Wii. In fact, it only looks like a tablet in a dock. 
This allows the Switch to be both your console on the go and your home console, all in the one package. 
Two controllers called Joy-Cons are attached to the tablet and can easily be detached to act as separate controllers. These controllers feature motion sensitivity as well as one analogue stick on each. They are not too dissimilar from the Wii Remote, at least in terms of functionality. 
The device itself features a USB Type C (USB-C) connector on the bottom, a 3.5mm audio jack for a pair of headphones and a MicroSD card slot. There are no USB Type A or USB on the Go connectors on the tablet. As well as this, there are no HDMI or MicroHDMI connectors on the tablet, which means you can't just take your Switch round to a friend's house an expect to be able to use it without a secondary dock to connect it to their TV (more on that later) since although USB-C does offer this option through the Thunderbolt 3 specification, Nintendo has not opted to include the option to output video without the dock (even though the video does go through to the dock via USB-C so it may well actually be using Thunderbolt 3 as one other user has noted).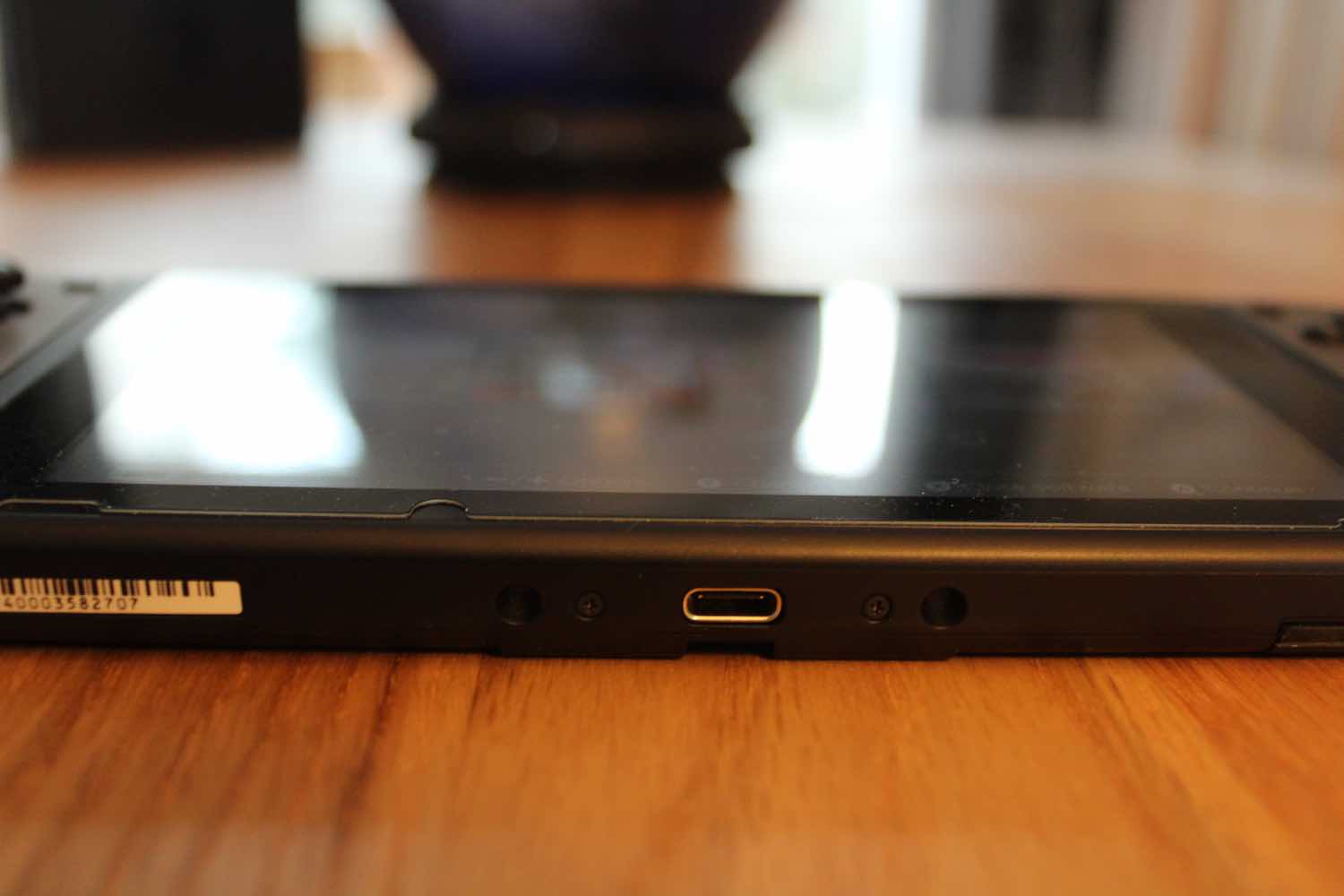 Finally, Nintendo follows the standard!
The tablet also features a convenient kick-stand for propping up the device when on the move. The display is a capacitive-sensing touch display (thank you for this Nintendo, because I hated resistive touch displays). It is covered by a sheet of what looks like glass but is in fact just plastic. This may be an issue for those who are concerned about chipping/scratching the display since plastic scratches more easily than glass (you can get, and I now own, glass screen protectors, which even though I am not a fan of screen protectors normally, they work well and barely make a difference to the appearance of the device). The display is bright, and usable outdoors in most situations, but I will stress, in strong sunlight it may not be easily playable (I found it difficult to play in such a situation). The screen can be viewed from any angle without loss of quality/colour - an important feature in a portable games console like the Switch.
The console feels well built and sturdy. It still has a bit too many screws on the design for my liking (once you have owned an Apple device this makes you notice it more). It also has a few fiddly bits such as the cartridge flap which to me seems fairly likely that it will break off. I don't like the fact the microSD slot is underneath the kickstand because it is more exposed to dust this way, which to me seems like another oversight by Nintendo. 
The battery in the device cannot be replaced by the user (I'm sure it probably can but it would be difficult and doing so would void your warranty). This seems like a ridiculous move by Nintendo but hopefully in six years time we'll still be able to enjoy the battery in our Switch.
Features
The Switch features a plethora of technology. In terms of input, it features a 6.2" capacitive touch display and 18 buttons (when Joy-Cons are attached). The Pro Controller also features 18 input buttons. The right Joy-Con also features an NFC communicator. The Switch features 802.11ac Wi-Fi, the fastest available standard in the consumer market at the time. Charging is done through the USB-C connector on the base. There is 32GB of flash storage built in to the tablet, which may not be a huge amount for most, especially since the predecessor to the Switch, the Wii U, also featured 32GB of flash storage. To me, this seemed like an oversight by Nintendo. 
I really like the Switch's versatility. I finally believe Nintendo has done mobility correctly, and the home gaming is pretty good too. I say this because as a mobile games console it is an exceptionally powerful device but as a home console it is an underpowered device. To me, 1080p output is more than enough for when you get home. I own a 4K TV downstairs, and it looks fine on it, but I'm not so fussed about ensuring that I am taking advantage of this extremely high resolution. In fact, I feel that 1080p is a far as we need to go at the present time.
Nintendo appears to have the operating system just how we want it.
The operating system is fast and responsive, it starts up in a very short five or so seconds and you are straight into the game (unlike the Wii U, Nintendo has done this completely right). 
Gaming on the move
One of the biggest new features of the Switch is that you can take your home console away with you and play on the move. 
The Joy-Cons when separate from the tablet and the controller grip and used as individual controllers are reasonably comfortable, albeit a bit small. The great thing about them is that you always have two wireless controllers on you, for when you visit a friend or are going out, this is very useful. 
In terms of battery life, although the original post complained it wasn't going to be enough, after testing it I have realised that it is more than enough and can endure my one hour bus journey to work and then my one hour lunch break and finally my one hour home playing The Legend of Zelda: Breath of the Wild. 
I feel that the Switch does gaming on the move very well, in fact, considerably better than it does when it's a home console.
Will the Switch replace my 3DS? This is a big question that a lot of people who own a 3DS or 2DS have asked. The answer for me is: largely. For the vast majority of the time, my Switch will be my main go to for portable gaming and my 3DS will remain only to play the games that are released only on it. Next question, do I think the Switch will replace the 3DS in Nintendo's line up? No. I think the Switch and 3DS will work side by side for now, allowing Nintendo to continue with the success of the 3DS and allowing them to gain a market with the Switch.
The truth is that I do not know if the Switch will fit nicely into Nintendo's product range since it now looks like they have two mobile consoles and no home console. 
Gaming at home
Gaming at home is also very good with the Switch. You simply stick the Switch in the Dock and if you've enabled the HDMI-CEC features (this is a must, I have constantly argued how great it is having CEC in the PS3 and now it's on the Switch) then your TV will start up too, and it will even change to the appropriate input. The Dock is pretty simple as mentioned earlier.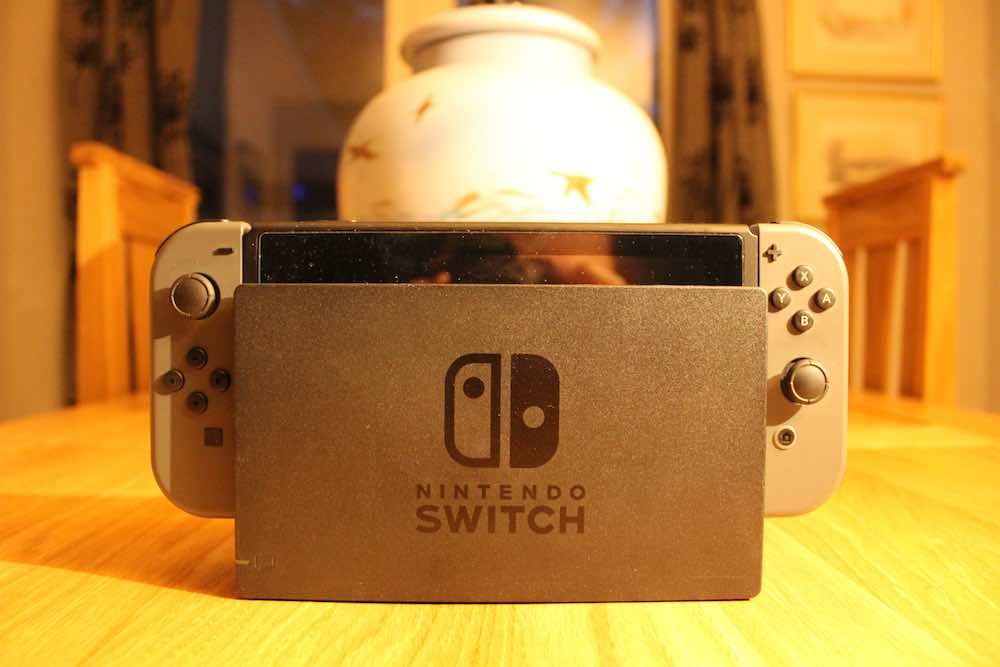 The Switch in it's dock
When I get home I (currently) use the Joy-Cons combined with the controller grip. These are adequate for now, but I would really have liked to have had a Pro Controller for Breath of the Wild. The biggest criticism of these is that when they are joined, they make an uncomfortable controller compared with something like the Xbox One controller or the Switch Pro Controller. When attached to the tablet, you will probably also notice that the control sticks are asymmetric. This does not work well when you are using the tablet because the right stick goes under your right hand. It seems like a bit of an issue that could easily have been considered, but as Nintendo wanted to make the Switch more asymmetric this was a must. I'm not a fan of this. 
I'm not a huge fan of the controller grip and I think it's because I loved the Wii U's Pro Controller so much that this feels subpar. But it's great that it's included and that's it's not a big problem because Nintendo offers a Pro Controller for the Switch too (at an extra cost). And my goodness is the Pro Controller comfortable. The other great thing about having a Pro Controller, in my opinion, is that you don't have to worry about draining the batteries of the two Joy-Cons, meaning that if you go away the next day and like to play with the Joy-Cons wirelessly when you are out and about (I occasionally do this when I'm sitting having lunch) you won't have to worry about the battery levels.
Performance
The performance of the Switch is impressive. For a portable console the system gives you a lot of performance per watt. 
However, there are some points I would like to make. The first game to be released with performance issues was Breath of the Wild. The game runs for the most part pretty well, but occasionally there are moments where the frame rate goes down. If anything this is alarming rather than game changing, but like I say alarming. Nintendo need to be careful when making these games to make sure they do not suffer frame rate loss because it may lead to more concerning frame rate loss (for instance, if you set fire to the grass that makes the game run slow it becomes very slow). More importantly, Breath of the Wild does not run at full 1080p when docked! With this issue occurring at the non-native full resolution of the Switch it makes you think; just what would the game be like at 1080p?
When the tablet is docked it would naturally run at 1080p (games can restrict it to whatever they please to help with performance issues). When the tablet is on the move it runs games at 720p to increase battery life (they look amazing at this resolution on the small display).
Some have claimed that an update is coming to fix the GPU which is un-optimised for games from a software perspective, but I have since to find any concrete evidence of this. 
The Switch features a 2GHz ARM CPU with 4GB of RAM shared with the VRAM. The GPU is supposedly based on the Nvidia Maxwell architecture and is rated at 1GHz. Overall it's a pretty powerful little system. I mentioned in my original blog post that I would imagine the Switch to use eMMC memory and whilst it may still use this instead of a faster option like PCI-E or SATA, the Switch starts up in a record time and loads games pretty quickly too, so the storage format cannot be too bad.
I feel that Nintendo could have gone further and expanded the dock into a GPU dock and added 4K support with the addition of a discrete graphics card within the dock, but like I say 1080p is good enough for me.
Like I said in the first point, I am very impressed with the performance of the Switch overall and amazed that a device like this can play such beautiful games like Breath of the Wild so well. 
Conclusion
From my personal point of view, I feel that the Switch is the perfect mix of mobile and home gaming making it the greatest console of all time. I'm not a hardcore gamer like I was when I was younger, in fact, I don't do quite as much gaming as I used to prior to 2007 when I sort of gave it up. Because of the fact I do not consider myself a hardcore gamer I feel that the Switch is perfect. Games do not need to run at 60fps at 4K for me to be happy, graphics is just one of many reasons I would choose a games console.
For me personally, Nintendo have always had the best games, on my Nintendo 64 (my first console) I owned at one point about 25 games, on the GameCube I have over 30 games, on my Wii I have over 20 games, on my Wii U I have just over 30 games as well. Then there's the DS (I didn't own a DS until just before the 3DS came out because I purchased my brother's DS quite late on) which I own 5 games for and the 3DS which I own more than 15 games for. Combine all of these and compare them to my non-Nintendo consoles where for the Xbox One I have 6 games, the Xbox 360 I have 13 games and the PS3 I have 6 games. I always feel that Nintendo makes my favourite games, look at Metroid, Zelda, F-Zero and Mario games (albeit I'm only a fan of ones like Mario 64 and Mario Sunshine and hopefully Mario Odyssey). So I think it's fair to say, at least for me, this will be making my bus journey home a little more fun. And to me, that's when gaming is the most important - not when you get home, because when I get home I always intend to finish work on my personal projects (although since Breath of the Wild has been released it has not been the case and I have spent a lot of my time at home playing away at it) and to see friends and family.
But the option to 'switch' between a home console and a console for on the go is amazing. It keeps me occupied at one of the times when I get very fed up. Something no other console has achieved the same way - not even the 3DS. 
Now I leave you with two last questions, how long will the Switch remain as Nintendo's main console? And will the successor be a portable/dock-able console like this?
Fast and sleek no-nonsense operating system.
Mobile and home gaming in one package.
USB Type C connector for everything
You have the option to play multiplayer games from the offset without needing to buy another controller.
HDMI-CEC
Build quality
Online capabilities are coming soon
Battery life is good enough for a normal day of use
Small things like the kickstand, the separate Joy-Cons and the controller grip
There are frame rate issues with games like Breath of the Wild
No 4K option (not really expected in a portable console)
The location of the Micro SD card seems a bit silly and will likely get dusty if the kickstand is out a lot (which will likely damage the slot)
Powered by DASH 2.0 (beta)
Scan and keep for the latest article or review every time!