For a long time, I was incredibly frustrated with the quality of HP computers which constantly broke down (I had two laptops and neither of them was perfect, with the first overheating [and HP did nothing to fix it after being sent back several times] and the second with a faulty keyboard that was ultimately impossible to type on). That all changed when my company obtained an EliteBook and a ProBook (of which I preferred to use the latter) and my theory that HP's business computers (which stems from the good quality I experienced with a DC7600 desktop that I had) were actually good quality.
And so I promised myself that my next Windows-based computer would have to be well thought out and very reliable. I was at first drawn to the Framework laptop, which seemed perfect until the HP EliteBook 845 G9 appeared on my radar.
It was always going to be a tough decision between the two but as both laptops had similar specifications but ultimately, the HP with the AMD Ryzen processor stood out. I also wasn't a fan of the interchangeable ports as they looked messy. What I did like about the EliteBook was its quality which was similar to Apple's MacBook Pro line which this intends to replace. I had been eyeing up the Framework for so long and was tempted on numerous occasions to go ahead, but every time I thought to myself it would be good when they released an AMD one (who would have thought that mindset would actually exist, considering where AMD have been in the last decade). 
The difference between the EliteBook and the Framework are negligible, and out of the scope of this review, but suffice to say, the EliteBook looked like the better-built machine. I started writing this review on Novemeber 23rd 2022, and concluded after using for one month on December 29th 2022. This review intends to look at what the EliteBook is and isn't, as well as why I needed to buy one of these.
The need for the EliteBook
My new EliteBook G9 has several main purposes. 
As a replacement for my MacBook Pro
The G9 intends to partially replace my MacBook Pro which has aged very quickly. Checking the battery health on my MacBook Pro, which is not quite two years old, and returns 85%. My MacBook Pro with Retina display that it replaced was 7 years old and had far more charge cycles, yet its battery health was at 90% when I stopped using it. 
I'm not replacing my MacBook Pro immediately, but I am setting up for it. I will seriously miss macOS but not the hardware, and that's funny that I say that as like many others who switched from PCs I was drawn to the Mac for the good hardware and not the software - in fact, I used to run Windows in BootCamp as well. But now it is the hardware that has put me off the MacBook range.
I am a firm believer in the Right-To-Repair and being able to repair one's own devices. This does not indicate that everyone should repair their own computers but states that everyone should have the choice to do this. Apple has been moving back this way with the 14 and 16-inch MacBook Pro but it's not enough soon enough. The EliteBook 845 G9 complies with this and takes it a step further. There's more on this later.
As a replacement of my desktop
I'm aiming to remove two computers in one go with this and also replace my desktop PC. I have for a long time built my own computers and really enjoyed it. The only problem is that they are bulky and take up a lot of room in my office. This is the very first time in my life since I built my very first desktop I have decided that I am not going to build another one.
Instead, I have an eGPU enclosure with my desktop graphics card in it as well as my desktop monitor, keyboard and mouse and I will dock my G9 to give it better gaming performance. This was what I aimed to achieve with my Razer Blade Stealth back in 2017. It has been a major ambition of mine since I was around about 10 years old, suggesting when the ExpressCard standard came out that eGPUs would be fully possible by taking advantage of the 10Gbps PCI Express speeds that there we back then. 
This idea became the sole ambition in moving forward and it's finally been realised with the EliteBook.
As a replacement for my company ProBook
The other computer this seeks to replace is my company ProBook that we have been using for all company-related meetings. The need for a laptop within Jambour is high and we've been relying on a ProBook for some time. When I attend meetings I bring the company ProBook. But now that I have an EliteBook myself, and one that not only has good battery life but also is lightweight enough and able to run all of the Windows software we need on a business machine. The EliteBook fills this gap perfectly.
Design
The EliteBook range offers functionality over form, but that's not to say they aren't attractive-looking machines. Let's start off with a comparison with the MacBook Pro it replaces for me. First off, the weight. The EliteBook is ever so slightly lighter than the 13" MacBook Pro but it is a bit thicker. No doubt the heaviness of the MacBook comes from the all-aluminium thick enclosure compared with the G9's thinner aluminium chassis. The G9 comes in at 1.4Kg.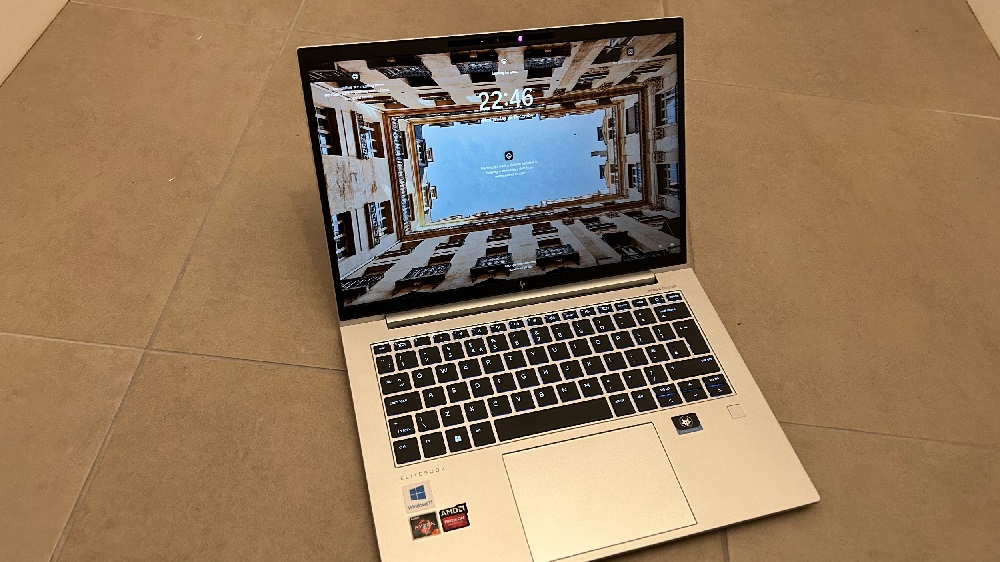 The EliteBook has a vibrant 16:10 display
The machine is slim and only a marginal amount thicker than the MacBook Pro. However, unlike the MacBook Pro, and this is where the EliteBook shines, it has several ports on it, including HDMI and USB 3.1 Type-A ports on it.
The keyboard is a joy to type on, much like the MacBook Pro. It is illuminated on my model with a special customisable shortcut key on F12. There's no annoying TouchBar that is featured on the MacBook and the keyboard feels better spaced out. However, the MacBook does feel ever so slightly nicer to type on. Also, the page up and page down keys which are near the arrow keys are positioned in weird places that make it easy to accidentally press them while using the arrow keys. Fun fact: the keyboard is made from recycled DVDs (remember those?!).
Speaking of design, the laptop has comfortable palm rests that make it nice to type on. The touchpad is pretty good too - not anywhere near a MacBook Pro's touchpad, but disabling a few of the Windows gestures helps improve this. The touchpad is sufficiently large but with the option of using a USB Type-A port or Bluetooth mouse, I've found that I enjoy a mouse and disable the touchpad unless I'm out and about. However, the touchpad is actually very easy to use and can be configured to be much easier to use.
Some users of the previous G8 series and previous models will notice the lack of a touch pointer in the middle of the keyboard which seems to have been borrowed mainly from IBM (now Lenovo computers). I used this in confined spaces such as when I was in the car or on the bus and needed to use my laptop. To me, it's certainly not a deal breaker and the laptop has a very comfortable keyboard as a result of the removal of the touch pointer.
Finally, the G9 has ditched the strange square bottom panel that the G8 range had and the bottom is once again curved. This is something I didn't like with the G8 range (and I still hate having to put up with it at work!).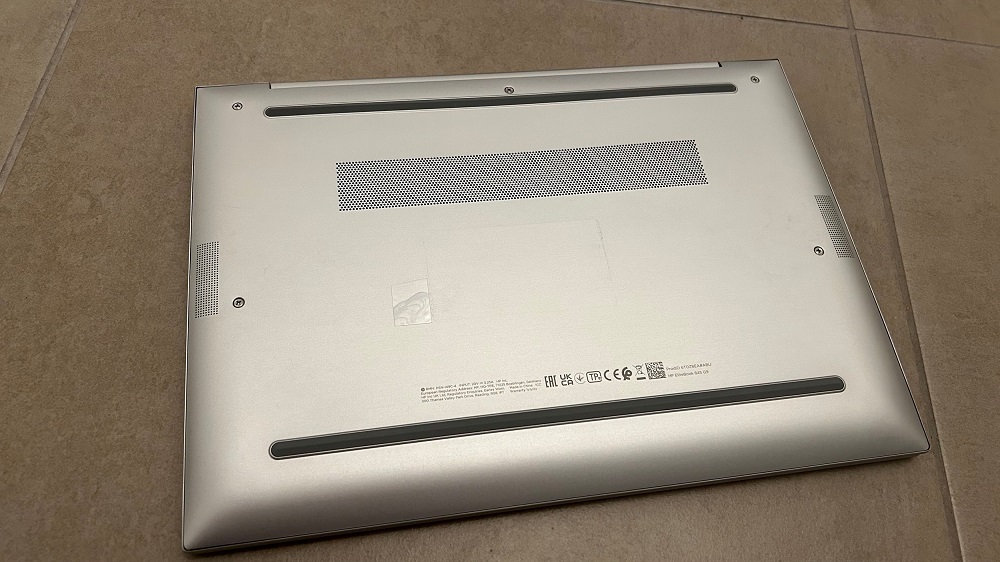 The G9 has a nice curved base
Specifications
The EliteBook is a monster of a machine. Featuring up to an AMD Ryzen 7 6950HS, this machine packs a punch. The model I went for contains a modest 6850U which somehow manages to play quite a few of my favourite games without even needing an eGPU attached. The model in mine is a 15W TDP model and it really doesn't get hot even when under stress. Most of the time the fans don't even need to be on and the system stays cool and silent (this is amazing when I think back to AMD's Turion X2 laptop I had back in the day where the fan needed to be on 24x7). To me this is incredible since my only my previous laptop (my MacBook Pro) managed to stay completely silent and cool whilst I was working. AMD have done an amazing job with the latest Ryzen CPUs.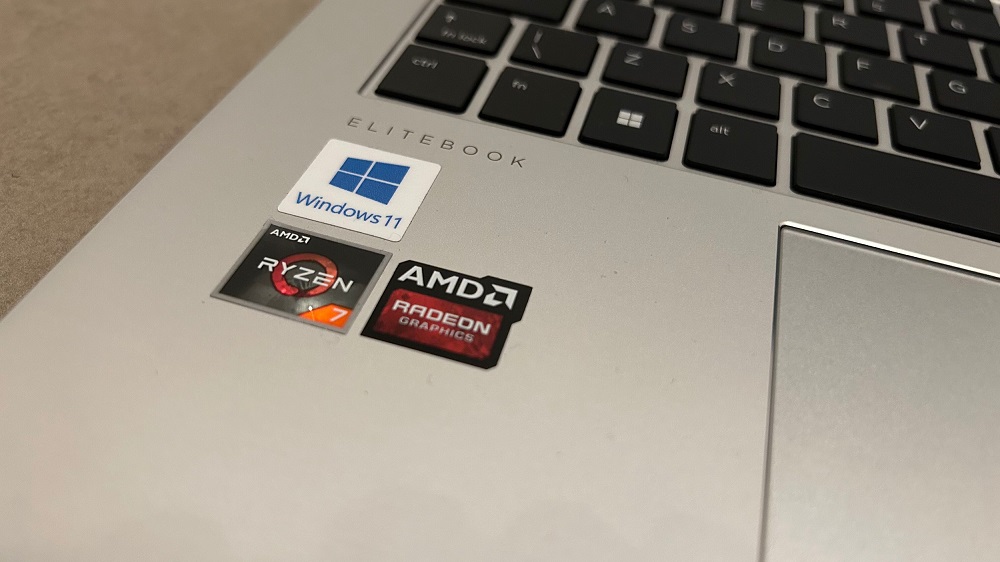 The EliteBook G9 845 packs a punch
The HP G9 series of laptops feature the AMD Radeon 680M which is considered the most powerful integrated graphics chip of 2022. And this is a very capable chip indeed - miles better (nearly twice as good in gaming performance and creative performance) than the Xe graphics provided by Intel (that's partly down to AMD's more efficient 6nm manufacturing process). The integrated 680M is more than enough to play some of the games I enjoy at very decent settings. The 680M can support up to 4 external displays through docking options (as there are only three display outputs on the device, you would need some kind of device to obtain more connectors).
Couple all of this with DDR5 SODIMM (meaning, yes, they can be replaced) which can go all the way to 64GB and an NVME 4x4 drive and you're talking about some pretty high-end specifications here! 
The NVME drive comes in sizes from 256GB up to 2TB. And best of all, like everything in this laptop, it is replaceable. I would have liked to have been able to add a second drive as I have with my ProBook and EliteBook models in the past, but alas the days of bulky SATA drives are gone.
But let's not forget the display, which is one of my favourite features of this laptop. I used to love my Compaq Presario R3000's (and my HP Pavilion DV6285's, Fujitsu LifeBook T4410's) 1280 x 800 resolution as it was a beautiful 16:10 aspect ratio compared with most other laptops I have owned which use 16:9. It's so nice getting that extra 120 pixels going up the way - everything just feels better. And, best of all, the display is IPS and matte meaning a reduction in reflection but increased viewing angles and better colour reproduction than the TN displays found in older EliteBooks. What this means is if you go from a black background to a white background (or vice versa) it takes a while for the screen to change to the right colours. 
The star of the show when discussing the display is actually the camera and its surroundings as this camera has, at least in the model I picked, an infrared face detector which allows you to log in to Windows using Windows Hello just using your face. The actual camera can be covered when it is not in use for those who are concerned about that kind of thing. One thing I have noticed is the black to white performance seems to be lacking. 
Speaking of biometric login methods, there is also a fingerprint reader on the laptop (pictured) which I prefer to use (but I have both setup).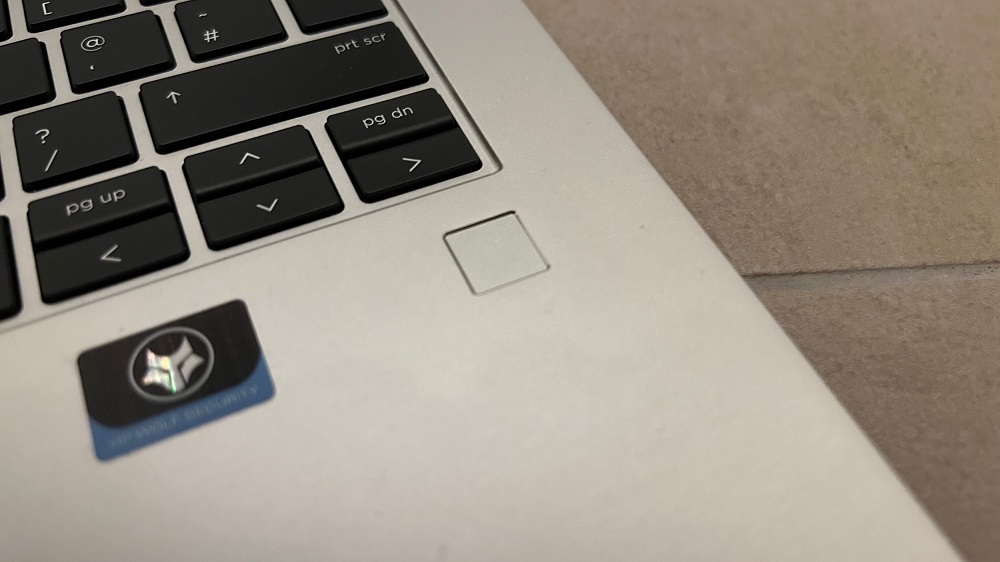 The fingerprint reader and strange keyboard layout
The Bang & Olufsen audio on the system is good for a business machine. The speaker system is featured on the side of the laptop, which makes the sound considerably better and more immersive. They aren't the best of the speakers and can sound a bit like a tin can when the volume is maxed out. This is fine for most users as this is laptop is geared towards business users more than anything.
The 845 can be equipped with a 4G LTE WANN module too, making it easy to use the computer anywhere without the need for unsecured WiFi hotspot networks. Whilst this laptop was released when the 5G network was beginning to appear, I'm happy with LTE instead of 5G as there isn't enough widespread coverage for it yet. 
The laptop also features WiFi 6 (802.11ax) offering speeds above 600Mbps as well as Bluetooth 5.2 (the latest Bluetooth standard at the time of writing) so wireless connectivity is excellent with this device. This is important considering it's too slim for an RJ45 jack.
The G9 series can also be configured with Windows 10, Windows 11 or FreeDOS as the operating system. I chose Windows 11 as I have really begun to like it (plus I hated Windows 10).
The battery is a 51Wh battery, which provides an easy 7 hours of battery when coupled with the low power 6850U and I have achieved close to 9 hours on it. HP actually suggests a life of 18 hours in this battery and in a way I can actually believe this. I will test this properly when I get the chance. The battery is fully replaceable, thank you HP! 
Connectivity
Connectivity is always my favourite part of my reviews of laptops and it always has been my favourite part of computer science. I wouldn't choose a computer without decent, varied connectivity options. The EliteBook 845 G9 is no exception in a day and age when physical connectors are dying. 
Some may remember before USB was the connector for everything we had LPT ports, RS232 and PS/2, but they were all killed off by USB, particularly USB 2.0. But now the USB Type A that that connector used is disappearing too and it's getting harder to find a decent laptop with them. USB Type A is considered to be a bulky connector that would not fit with Apple's design language but HP has managed to include two Type-A ports on this machine without making the machine too bulky at all. 
So, on the left side, from top to bottom, we have an HDMI 2.0 port, one USB 3.1 Type A connector (with fast charging), two USB Type C connectors featuring USB4 connectivity (which includes all the features of the Thunderbolt 3 specification [PCI-E tunnelling, USB 3.1 data and DisplayPort tunnelling] as well as Power Delivery 65W). The only way to charge the laptop is through the use of these connectors (which I'm happy with as I like having one charger for all my devices). Further down there is also a SmartCard reader for another method of login security.
On the right side there is a headphone TRRRS connector capable of input and output and a single USB Type-A port, a locking connector as well a SIM card tray.
But the best is still to come. All of the connectors on the right-hand side are on a daughterboard connected to the mainboard of the system and can easily be replaced. I've never even owned a laptop other than those from the early 2000s that had this level of repairability and I've replaced CPUs and ports in other laptops but never seen this level of serviceability. Replacing the left side ports will require a new motherboard, but it's also relatively easy to do. Well done HP!
I have to criticise one area of the connectivity, however, and that is that the ports seem to be quite stiff and seem to make removing cables difficult. Even things like a USB drive require a lot of wiggling to remove it from the type A ports on either side. This will lead to much higher wear and tear and mean that they need replacing more often. 
Performance
I have discussed performance earlier in this review, but I wish to add a bit more about it. The model I have does not have dual channel memory modules and just has a single 16GB strip of DDR5 memory. This ends up being one of the bottlenecks of my system and I will need to address this very soon. But overall, the performance is smooth, and quiet and can definitely cope with even more when coupled with an eGPU. Whilst the EliteBook range is designed with business users in mind, there is no reason that this can't be my work-and-play machine. 
I personally have used this coupled with an RX 5700 graphics card that I have removed from my desktop in order to allow me to play high-end demanding games on this machine when it returns home. My setup is fairly standard: I have an eGPU box that connects my monitor, keyboard and mouse to my laptop, and a second DisplayPort connector on the GPU connects to my TV downstairs, in my bedroom and in my office through UTP to HDMI cabling. All of this is possible thanks to Thunderbolt on my laptop and this is something I've wanted for a long time.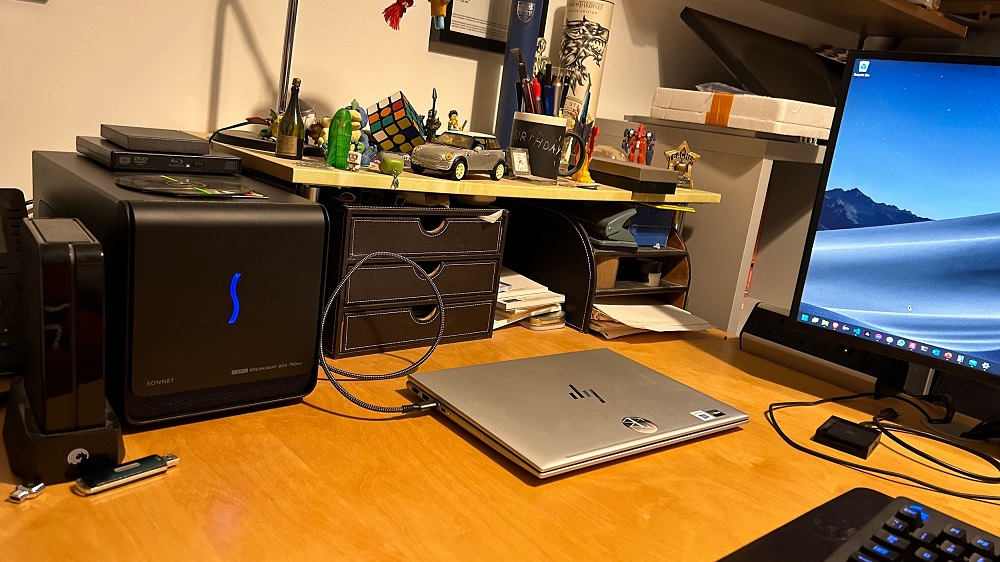 My gaming setup with the EliteBook G9 845 at the heart of it
The machine is more than capable of running games like Minecraft on the built-in GPU, as well as a bunch of other games that I play personally such as Age of Empires II, Warcraft III Reforged. This is quite incredible since I've not owned a portable machine capable of playing these games. 
Remembering it's not a gaming machine, however, the machine performs exceptionally well in day-to-day tasks and is not bottlenecked by the low-voltage CPU. In fact, the low-voltage CPU seems to be one of the key points with this machine. The Ryzen Pro 6850U performs exceedingly well whilst staying incredibly cool and very quiet (this was once unheard of with AMD).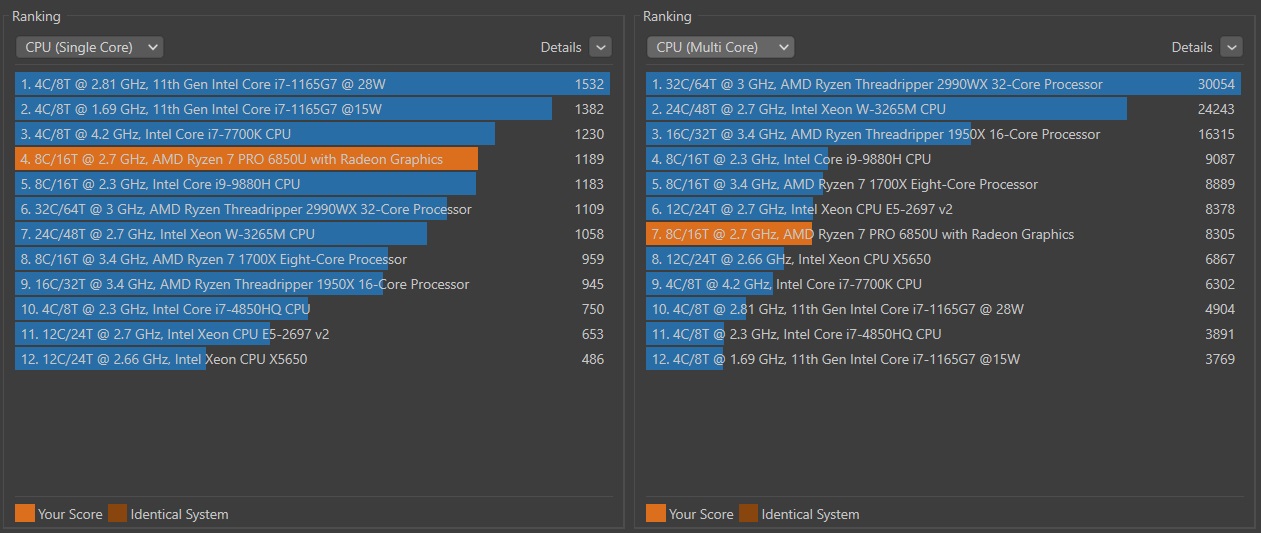 The 845 does pretty well in Cinebench R23
What I would have liked
It's difficult to ask for things on a pretty decent machine. This is by no means a MacBook in terms of quality but I love it. Getting a new laptop doesn't excite me the way it did when I was a kid, but perhaps if the younger me was testing this out I'd be pretty rad for it.
However, as a modern-day geek, I would have liked to have seen the left-side ports be replaceable without the need for a new board. Now I know the reason that they aren't replaceable (Thunderbolt speeds would suffer for sure) but it still would have been possible. Further, an extra USB-A port on the right would have been nice - two just aren't enough. Finally, a card reader, for microSD even, would have been amazing. 
Overall I'm really happy with the machine, and in terms of all of the above, with USB-C it's perfectly fine to dock the machine to get all the extra ports anyway.
Conclusion
I have nothing but good to say about this machine. Its design is fine and suited very well to the business user with its silver appearance that reminds me of a laptop from 2005. The trackpad is pretty good and multitouch gestures are easy to use (though Windows adds far too many gestures at the start that I have to disable many of them) and the keyboard is a joy to type on (apart from the locations of the page up and page down keys).
The AMD 6850U is miles ahead of its competition and is an incredibly good CPU with a low power draw and heat dissipation. I'd even say it's on par or better than the M1 chip in my older MacBook Pro. Couple this with up to 64GB of RAM that can be upgraded later, an NVME drive and the 680M graphics card and you've got a pretty good little machine. 
The main criticism I have of the EliteBook G9 is that the ports seem to trap connectors in them, preventing the easy removal of devices. This will ultimately lead to much quicker degradation of the device. 
Overall, the machine is very well built and features everything one could want from a high-end laptop like the 845. However, this is not a gaming machine and for all intents and purposes, it is designed for business users.