I have to admit, after all of my disasters with HP machines in the past, I have always been pretty damn reluctant to go near another. That's my thoughts on HP's products. The truth behind this is however, all of these machines that have broken down are aimed at general consumers - not business users and I think it would be a fair evaluation to state that their home user products have been poor in the past. But their business line, on the other hand, is a different story. All of my business HP machines have lasted a very long time and most of them are still going (including my 2001 HP Compaq Evo N1020v). I've always really admired their ProBook and EliteBook ranges and this week I finally got one.
The laptop I am reviewing is one I obtained for Jambour Digital and is now the company's main work laptop. I am going to talk about the positives and the negatives with regards to the HP EliteBook 820 G3.
ProBook vs EliteBook
HP has always been dedicated to the business and enterprise user, so much so that it even had its own consultancy division called HP Enterprise (HPE), they developed an enterprise server processor in conjunction with Intel (Itanium) and they have always focused on developing brilliant business quality computers. I have owned several business computers from HP and to be honest, this side of HP is incredible. 
HP develops two ranges of notebook computer for the business user - the ProBook and the EliteBook. The ProBook is the entry-level business-oriented laptop whereas the EliteBook has more features and is designed for the higher end market. EliteBooks also often go through military tests to ensure its durability. 
Design
The design of the EliteBook G3 is quite simply put 'business-like'. Although it is an attractive machine and does have some style, at the end of the day this machine doesn't aim to compete with your MacBook Pro for style. The silvery-look keeps the system easy to keep clean and it's made of lightweight aluminium and magnesium as opposed to plastics which gives it a bit of durability whilst also making it very light. On the subject of weight, the system comes in at just 1.3KG which makes it great for taking around the place. The laptop is also very slim and looks sleek when closed.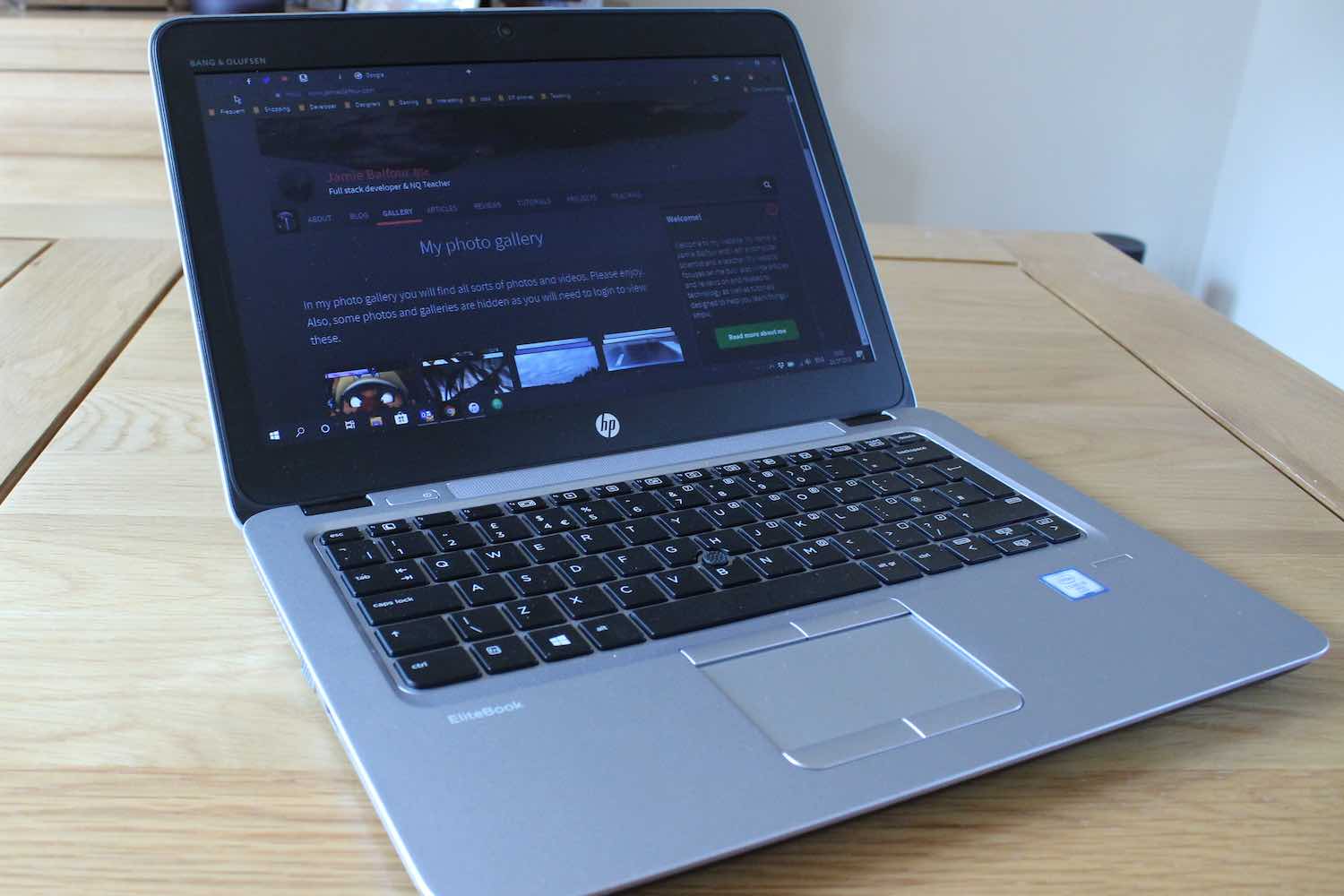 The 13 inch display is large enough that you can get work done on it
The keyboard featured on it is an island keyboard with what Synaptics called a TouchStyk embedded in between the G, H and B keys. There is an option for backlighting on the keyboard as well, giving you the ability to work in darker situations. The keyboard is reasonably comfortable to type on, but I did find that after typing on it for about an hour, my hands became quite still - not like the wide keyboard of my MacBook Pro.
The touchpad on the laptop is made with glass and coated and feels really nice. It's not a MacBook touchpad but it does the job. It's reasonably sized too, but it does sacrifice a bit of space for the two touch pointer buttons above. The touchpad supports multi-touch gestures as well as features an on/off zone where a single double tap will switch of the touchpad. As previously mentioned, there is a touch pointer or TouchStyk which is great on a business machine, particularly when you are on the move. For instance, when you are standing and discussing something with a client you may hold the system with one hand and use the other on the touch pointer. The touch pointer supports double-taps and the two buttons can be customised.
The system features Bang & Olufsen speakers which are hidden behind a single grill at the top of the system next to the power button. 
Specifications
The model that we purchased at Jambour Digital was an L4Q17AV - this means it features the Core i5 vPro and 4G LTE.
The CPU, as mentioned, is a Core i5 6300U at 2.40GHz which is a low-voltage Core i5 (expect performance to be lower than an i5 without the lower voltage, such as an i5 6400). The memory configuration in our model was only 4GB of DDR4 2133MHz in a single SODIMM. We decided to upgrade to 20GB by adding a 16GB stick. Although the specifications state maximum of 16GB in this model, we have found ours is able to address the whole 20GB (save some which is reserved for the graphics memory). This boost in memory has had a big improvement in the performance of the G3. The graphics card in the G3 is the Intel HD Graphics 520 which is integrated into the CPU and uses shared memory.
The drive in our model is an M.2 SATA drive. We decided to open it up and figure out if HP left in the standard SATA slots and indeed they did. This means that you can install two drives, as we did, one using the M.2 key drive and the other using the standard SATA connector - this is a great feature for the kind of jobs we need this computer for since it allows us to utilise a standard SSD with more capacity for a lower price. However, upgradeability is a key issue within computers these days but with the EliteBook, this is not an issue at all.
Mentioned before was the 4G LTE feature. Our model features this and it allows us to take our G3 to client meetings without having to tether our phones. This is a very welcome feature and something I've liked about my Fujitsu Lifebook T4410. Further to that, it features optional Bluetooth 4.2 and 802.11ac wireless through the Intel Dual Band Wireless-AC 8260 card. 
HP has chosen to install Windows 10 Pro x64, although they also offer Home for those businesses who don't need all of the features like BitLocker on their ultraportable. On the subject of security, the G3 also optionally can have a fingerprint reader so that logging in and out of Windows is even easier and more secure.
This laptop, as mentioned previously, is an EliteBook and as such it has been through the military durability testing (from the manual):
Ensured durability through MIL-SPEC 810G testing, plus an additional 115,000 hours of reliability testing through HP's Total Test Process
HP suggests that the battery can last up to 12 hours - I wouldn't doubt that. However, under general use, I've found the battery lasts for only around 7 hours.
The display on our model was the 13" 1366x768 base model which is one of the biggest letdowns on the system. I say this because it is not IPS and has one of the worst viewing angles I have ever seen on a display. Other models are available with a 1920x1080 FHD display that uses the IPS technology and I would seriously recommend this (we are considering the upgrade on the display alone). The display is surrounded by pretty large bezels, with the top bezel measuring one inch and the two side bezels measuring just over half an inch each. 
Finally, there is a 720p webcam in the top bezel that offers mediocre photos, enough for a simple Skype call and not much more. The sound quality on the system is decent, it's not unlistenable, it's just not great. There's also no Windows Hello features other than the aforementioned fingerprint reader - there's no face recognition or anything like that.
Connectivity
The EliteBook 820 G3 is amazing when it comes to connectivity, as you would imagine from a business-class notebook PC. The G3 crams more than I have ever seen into such a small chassis featuring a plethora of modern-day connectors.
On the right side of the system are 2 USB 3.0 Type-A ports, of which one of those is a fast-charging type, a single USB Type-C connector (does not support DisplayPort, USB Type-C Alternate Mode or USB Type C PD specifications), a full-sized DisplayPort 1.2 port (supporting up to two displays at 4K @ 60Hz), a 3.5mm headset jack with both microphone input and headphone output, an SD card reader, a full-sized Gigabit Ethernet RJ-45 port (using a drop jaw connector), a proprietary docking connector and a SIM card slot.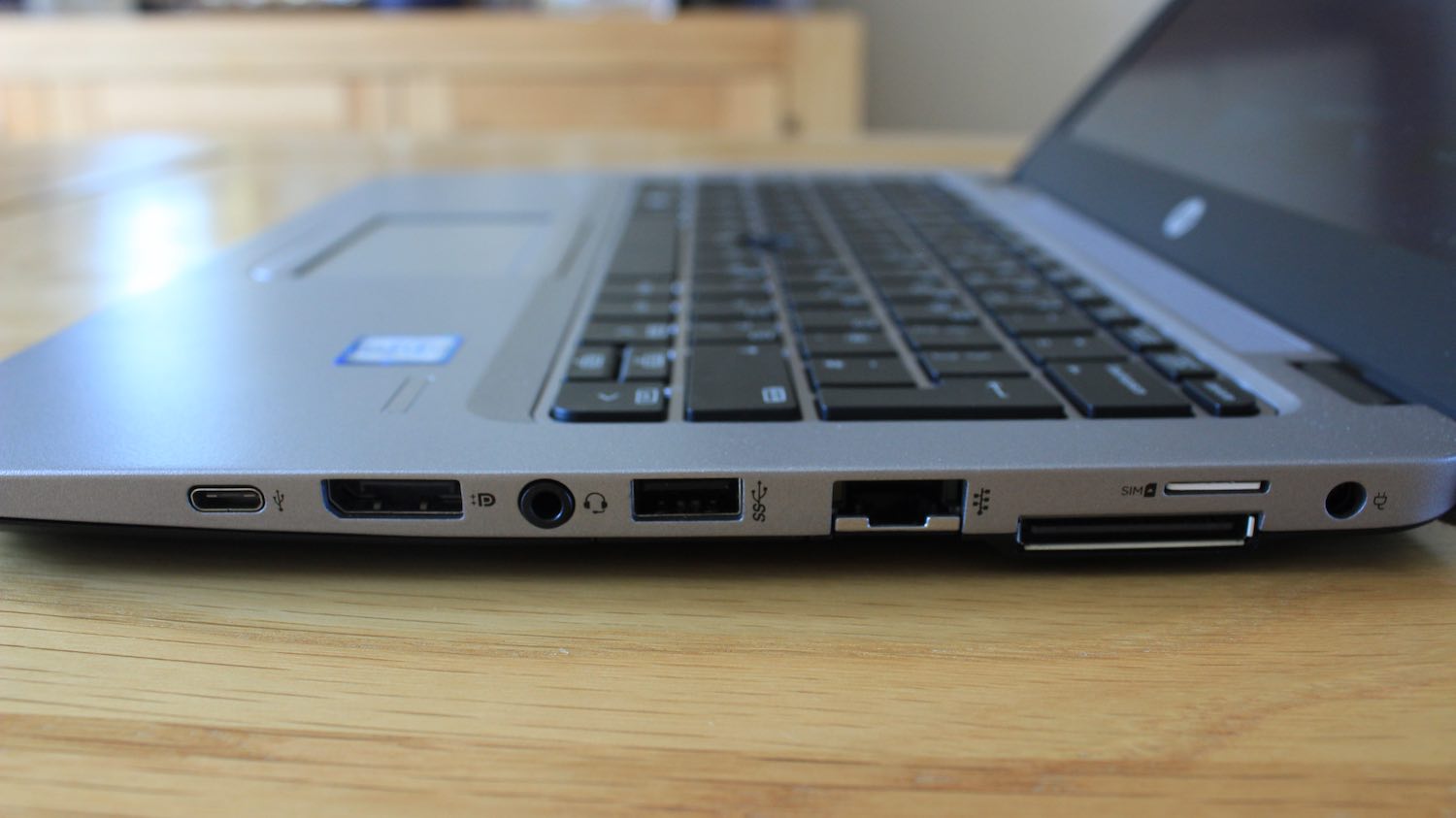 The right side of the G3
On the left side of the G3, a full-sized VGA port, a USB 3.0 port (also supporting the charging function) and a smart card reader alongside a locking plug are all the final connections and interfaces on the laptop.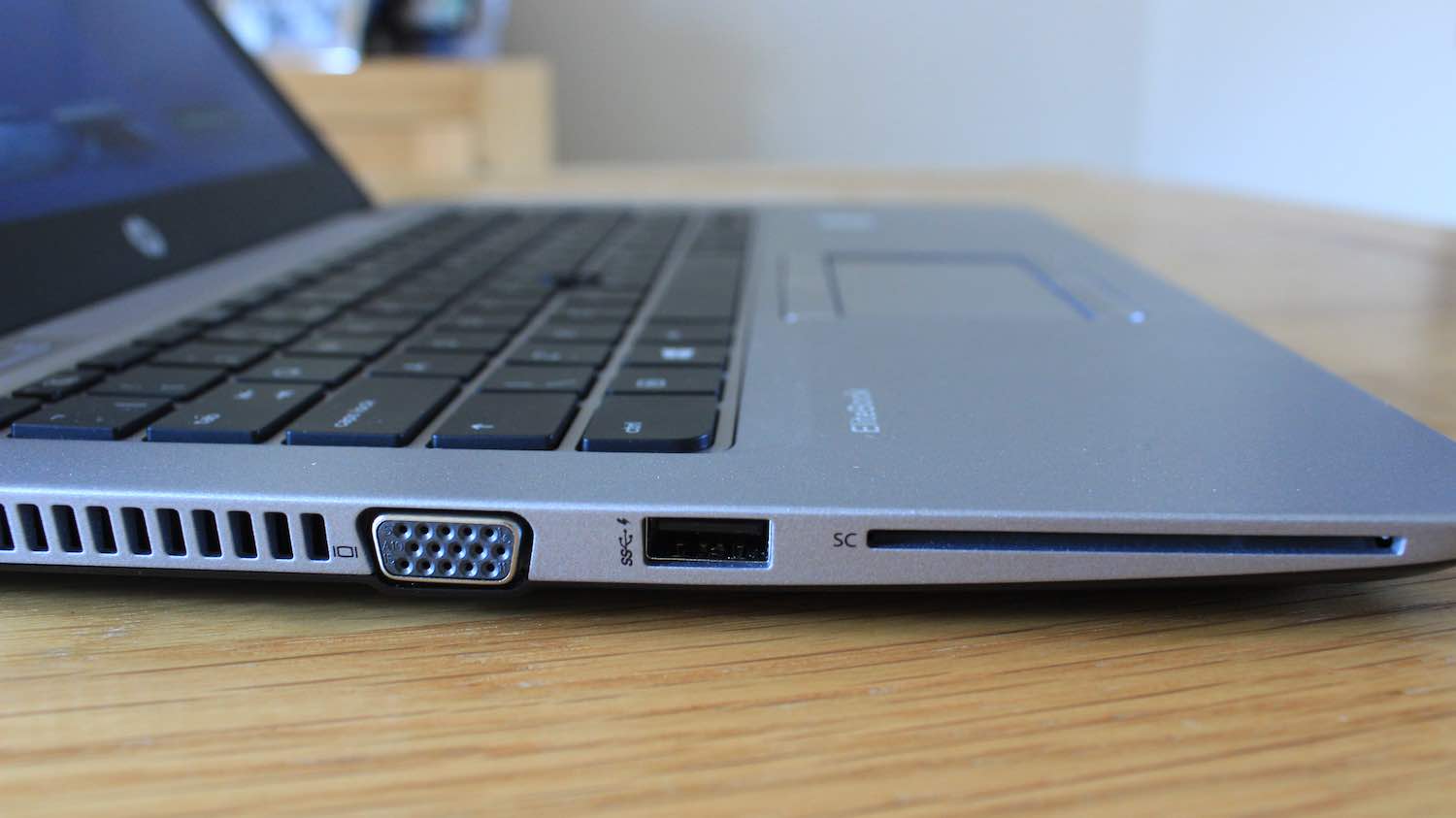 The left side of the G3
Performance
The G3 offers decent performance. It's not a gaming machine and with it U processor, it's not a heavyweight laptop. We've found that the G3 is perfect for most everyday tasks such as taking to our client meetings, working on websites (using the Atom editor) and we've come to accept the G3 as our daily driver for the business. 
However, the machine is also almost on a level with an ultrabook in performance. This review, as with most reviews I do, does not focus too much on getting scores for different performances, it simply reviews how it performs for me as an individual as both a web developer and owner of a business. However, I often do a bit of performance testing through the use of Geekbench and in this case I have done just that.
The HP scores a paltry 3166 in the single-core score and in the multi-core score it achieves a mediocre 6442. Both of these results are expected of a low voltage CPU and although they are low, they are not too different from the similarly equipped Microsoft Surface Pro 4 which scored 3192 and 6283 on Geekbench for single and multi-core tests respectively.
Overall the performance of the system is good, and it is responsive and snappy, especially when coupled with the 20GB of RAM we have in our model. This makes this machine an effective business-class system.
The docking station
The docking station that is available for this laptop is a must-have. Featuring two DisplayPort 1.2 connectors, a VGA port, 4 USB 3.0 Type-A connectors, a full-sized Ethernet RJ-45 port and two audio jacks (one in and one out) as well being able to charge the G3, the docking station is an absolute requirement if you are going to be sitting at a desk with the system most of the time.
With the docking station, it is possible to connect to and use three displays from the G3.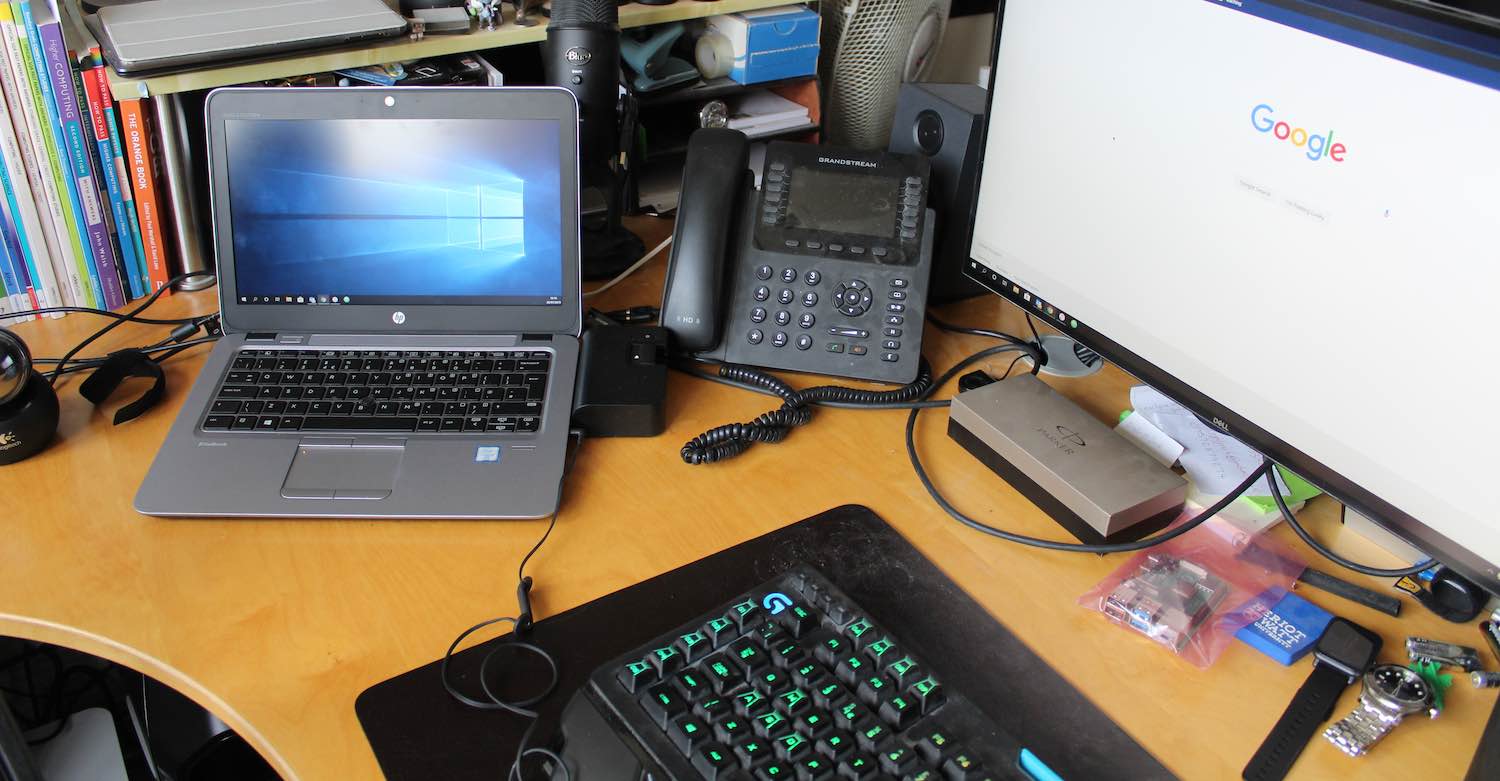 My desk setup
Conclusion
We are happy with our G3. We feel it was the right choice for a small business like ours, particularly for client and board of directors meetings. It's also working as one of our main machines for development and it copes well with this kind of job. 
We believe we could not ask for a better system that looks smart, feels good, is lightweight and at the same time, powerful enough for our everyday jobs. The most important things to us have all been covered by the G3 which yes, the display in our model is one of the poorest I have ever seen and yes it only came with 4GB of RAM, but with a bit of my own TLC, I can put the higher end specifications into this machine because it's easy to upgrade, which in this day and age is very rare.
The G3 doesn't let down on its performance and it certainly doesn't let down on connectivity and we believe it will become our daily driver. We are happy with this £1000+ notebook that will hopefully do its job for many years to come.
Good quality keyboard
Decent battery life
Inclusion of a pointer stick
Can upgrade internal components
4G LTE option
VGA port which is difficult to find on laptops today
Solid build quality
Poor display
Poor touchpad
Only 4GB of RAM
USB Type C connector does not support DP Alternate Mode