Apple Mac fans have for years cherished one of Apple's smaller and less popular desktops among the wider Mac community known as the Mac mini. Fans love this little machine.
The reason has normally been because Apple themselves agree that it's a really good machine. But has Apple gone the wrong way?
This review was created in November 2014, after I received a new Mac mini. However even though the new Mac mini, that is the 2014 model, has been released, I've gone for the 2012 model.
This review is going to assess the 2012 model and explain why I have gone for the 2012 model instead of the 2014 model.
My story of the Mac mini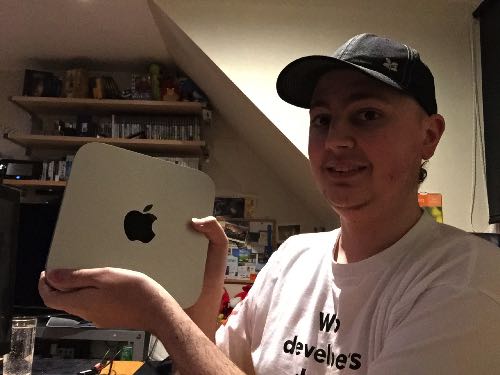 The Mac mini is so small and light!
I have been awaiting a refresh of the Mac mini since early 2013 in the hope that Haswell would bring huge performance gains.
However, Apple's 2014 release was somewhat disappointing and there were factors that made me choose the 2012 Mac mini instead.
The Mac mini has always been to me that perfect little computer for what I do. I do a bit of light gaming such as Age of Empires II, Warcraft 3, Command and Conquer and a few other games. I also do web development, writing and programming which for the majority of the time I do on my MacBook Pro but this means that I tend to lie in my bed whilst working.
The new Mac mini ties me to my desk again (which means I don't get lazy and fall asleep whilst working). It also means I can have my TV connected to iTunes all the time so I can watch some of my fantastic iTunes libraries.
I also loved the Mac mini for many other things, particularly the design. The Mac mini is tiny, as a matter of fact, so small that my postman just rang the doorbell and handed it to me, no special courier was needed to deliver my Mac mini. Even the box was tiny!
Prior to building my current PC, I had thought about the switch to a Mac Pro, but as it had not been updated yet I just went ahead and built the PC. I had been wanting to get a Mac desktop for a while but did not want an iMac because I already had a mouse, keyboard and display that I liked.
I then thought about and bought the Mac mini.
Here are some photos of the box.
Design
As with any Apple product, a lot of time and effort goes into the design of the Mac mini. Since 2010 the Mac mini has implemented the unibody design found on the iMac and MacBook Pro. Whilst the mini is considered at the bottom end of the Mac desktop spectrum, with the Pro at the top and the iMac in the middle, the mini is designed as more of a compact system that can be used for most everyday tasks and the occasional medium performance task.
The Mac mini itself has an aluminium casing with just a power LED and an infrared window on the front whilst the top of the Mac mini features the prominent Apple logo in black plastic.
The rear of the Mac mini features all of the ports and it has a black strip of plastic surrounding them.
Internally, the Mac mini has easy access to the memory and the hard drive is not too difficult to access if you know what you are doing. The base of the Mac mini pops off after twisting it slightly anti-clockwise.
The whole design of the mini is pretty much perfect from the front to back, and it's clear that Apple cares as much about the little Mac mini as they do about their latest iMacs.
In terms of how the system is laid out, the RAM is easy to access but the hard disk drive is not and requires a lot of patience in order to remove or replace the drive inside.
Features
Since the 2011 Mac mini, the Mac mini has not featured an optical drive. There are plenty of external drives out there, including Apple's own SuperDrive.

Apple's SuperDrive
As with most small computers the Mac mini features WiFi built-in, allowing you to connect to your wireless network without having to buy a USB dongle. It also features built-in Bluetooth, which is something that Macs have featured across the board for years now.
The Mac mini also features two SATA connectors no matter which model is selected. That means that a second drive can be added to the Mac mini if you do not choose the server model.
The Mac mini is not an easy machine to upgrade. Make sure you know what you are doing or you could end up with an expensive broken computer.
The Mac mini also features a built in speaker, although this is a very basic one that can really only be used for simple sound output such as the Mac startup sound (although I use the speaker for every alert sound on the system).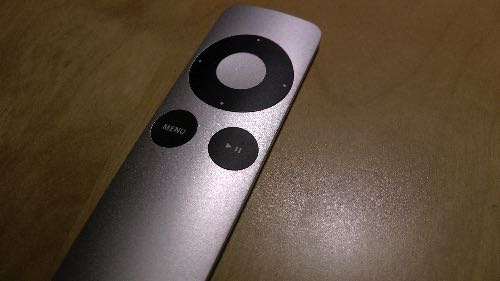 The Apple Remote
As mentioned earlier, the Mac mini 2012 features an infrared window on the front. This allows it to be used with the Apple Remote (something that Retina MacBook Pros do not have!) which is good if you intend to watch films or present keynotes with your Mac mini.
Of course, the Mac mini could be seen as the Apple TV killer within Apple's ecosystem as it also can be used as a Home Theatre PC (HTPC) due to the fact that it has a small form factor and HDMI (the first Mac to do so).
The Mac mini also has a low enough power consumption and heat envelope to be able to work from within a media cabinet.
Specifications
The Mac mini top-end model is no pushover either. It's got a high specification for a system of its size. The Mac mini is a laptop in a desktop - it is designed to sit on the desk as a desktop but uses the less capable laptop components, as such the CPU, RAM and drive[s] which are all laptop equivalents.
Whilst this means that it has lower performance, each component is smaller and has a lower thermal design envelope. This means that the Mac mini can stay small and compact whilst offering the Mac experience at a lower price and in a smaller package.
The processors range from the Intel Core i5-3210M to the Intel Core i7-3720QM. The top model is a quad-core model at 2.6GHz whereas the base model is a dual-core 2.5GHz processor.
The system can take a maximum of 16GB of DDR3 system RAMRAMRandom Access Memory is short term memory that is used to store data including applications whilst the system is running. across two SODIMM slots. The RAM can be upgraded at any time and it can take up 1600MHz (also known as PC3-12800) memory.
The hard drive model gives you a 1TB 2.5" drive that spins at 5,400 RPM (revolutions per minute), but the performance on this drive is incredibly sub-standard, especially for what you pay for (my MacBook Pro 2011 was the exact same).
Adding an SSDSSDSolid State Drives are the future of computer storage. Their main benefit is that they are much faster and more reliable than the much older HDD (hard disk drive) as they do not use moving parts. will greatly improve performance.
Connectivity
The Mac mini certain has the connectivity you need for everyday work, as well as those additional connectors to allow other less common devices to be used by the Mac mini.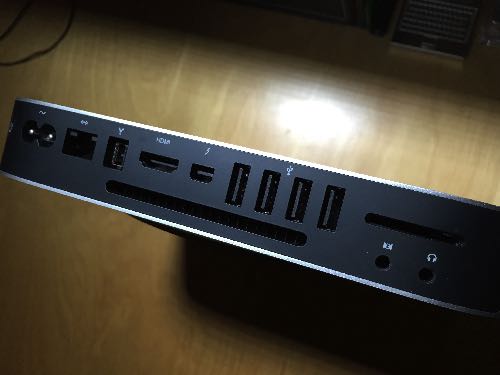 The Mac mini has all the connectivity you need
First, on the left, the Mac mini is a power jack. This connects straight to the Mac mini's built-in power supply unit.
Gigabit Ethernet
Next to the power jack on the Mac mini is Gigabit Ethernet in the form of an RJ45 jack which allows the Mac mini to connect to a wired network and obtain gigabit speeds, which is particularly good for those who want to move large files around the network.
FireWire 800
Next to the Ethernet port is the FireWire 800 port which although in most other Macs has been succeeded by Thunderbolt, is still featured on the 2012 Mac mini (it was replaced on the 2012 MacBook Pro with Retina display by another Thunderbolt connector). FireWire 800 used to be Apple's exclusive connector - not to say it was only found on Macs but that it was always on Macs by default, not many other manufacturers used it. FireWire 800 is still useful for connecting to high-speed external drives as well as specialised audio and video equipment.
The new Mac mini replaces this with a second Thunderbolt 2 connector, which is not a problem as you can obtain a Thunderbolt to FireWire 800 adapter very easily (however do please note that this is not a perfect solution as it only offers up to 7 watts of energy across it whereas the older FireWire connector found on this Mac mini, for instance, supports up to 36 watts of energy).
HDMI
Next to the FireWire 800 connector is the HDMI port. After reading about I understand this is an HDMI version 1.4 connection (correct me if I'm wrong). This allows you to connect the Mac mini to your HDTV without the need for any kind of adapters and allows video and audio signals over one cable. The maximum resolution of this connection is 1920 by 1080 pixels.
Thunderbolt

Thunderbolt works as both DisplayPort (one of the world's open video connection standards) and PCI-Express (developed by Intel)
On the right of the HDMI connection is Apple's current favourite connection, Thunderbolt. Thunderbolt offers the best of all worlds, it can be used to connect a Mini DisplayPort display, a VGA, DVI or HDMI display through the use of an adapter, a FireWire device, another Gigabit Ethernet device, an external hard disk drive, an external graphics card or almost anything. This is because it uses the PCI-Express bus to connect a device to the system.
USB
There are four USB ports to the right of the Thunderbolt connector. These allow mice, keyboards, USB drives and so on to be connected to the Mac mini. Compared with the 2011 Mac mini, the 2012 features USB 3.0 which allows speeds of up to 5Gbps.
SD card reader
To the right of the USB ports is an SD card reader. This allows users to take the card from their camera or another device such as Nintendo 3DS and copy data to and from the card. It supports SDHC and SDXC as well.
Audio jacks
The Mac mini features two 3.5mm audio jacks. The one on the left-hand side is a microphone connection. The one on the right is a headphone connection.
The great thing is however that the headphone jack also works as a headset jack, meaning that a pair of earphones with audio controls, you can not only use the microphone and headphones at the same time, but you can control iTunes using the controls on the headset.
One final feature of this connector is that it also supports optical audio, meaning you can connect it to a digital amplifier using one of these cables and receive digital audio.
2012 Mac mini vs 2014 Mac mini
I am not alone here for starters. There are many others who prefer the 2012 model. I don't think the 2014 model is bad per se, just not what I want. I've listed the key differences below, and I've even coloured the winner of each property:
Property
2012 Mac mini
2014 Mac mini
Top CPU model
Intel® Coreâ"¢ i7-3720QM
Intel® Coreâ"¢ i7-4578U
CPU cores

Up to 4

Up to 2

CPU speeds

2.6GHz

(

Turbo Boost: 3.6GHz

)

3.0GHz

(

Turbo Boost: 3.5GHz

)
CPU cache

6MB

4MB

Storage controller

SATA III

PCI-Express

PCI-Express version

3.0

2.0

RAM type

DDR3

Low Power DDR3

RAM upgradability

Can be replaced (easy access panel)

Cannot be replaced (soldered to logic board)

Thunderbolt version

Thunderbolt 1

Thunderbolt 2

Thunderbolt connections

1

2

Graphics chip

Intel HD4000

Intel Iris 5100

Graphics chip maximum dynamic frequency

1.25GHz

1.20GHz

Wireless standard

802.11n

802.11ac

Number of wins

6

7
So the table shows that the 2014 mini has more wins, but does it mean it is a better model?
Whilst the new Mac mini has a CPU with a higher base speed, it's Turbo Boost is not as high. However, the new Mac mini's CPU performs significantly better with single-core applications because of the new Haswell architecture which replaces the Ivy Bridge architecture.
The RAM cannot be replaced with the 2014 model, which to some may be an issue.
Comparing CPU models, the Ivy Bridge 3720QM beats the 4578U considerably. However, for graphics performance, the 2014 model wins.
But that is not enough, for multicore tasks the 2012 wins by a long shot.
They are both great systems, it's just that the 2012 model is more powerful in multi-core tasks which makes it a clear winner.
Conclusion
The 2012 Mac mini is an incredible little machine. It will do well as a living room computer, main computer or just an occasional Mac computer.
Its style makes it one of the nicest small form factor computers, and whilst there is not a lot that can be done on the inside, there is certainly more than in some other small form computers like this.
It also features a wealth of connectivity from Bluetooth 4.0 and WiFi 802.11n to USB 3.0, HDMI and Thunderbolt, and not forgetting FireWire 800.
The mini is also no pushover with up to a quad-core i7 processor and 16GB of RAM. Not only that, you can actually install two hard drives or a combination of hard drives and solid-state drives to a second SATA III connector inside.
The price is low compared to other Macs but a bit higher than a PC with the same specifications, but you get what you pay for with this machine and it's worth the investment.
This is one of the best small form factor computers I have ever owned, and I'm glad I bought it because it's really the desktop Mac I've been wanting for a long time.
Despite its beauty, I will be mounting my mini under my desk using NewerTech's NuShelf.
It's a Mac
Good performance and low power
It's small and compact
Really lovely looking computer
Great choice of configuration options
Silent when running
The lightweight desktop can easily be moved from room to room
'Bring Your Own Mouse and Keyboard' configuration
Thunderbolt port
USB 3.0
Up to quad-core processors are available
Server options available
The hard disk drive supplied performs incredibly bad
Somewhat expensive compared to similar specification PCs
Powered by DASH 2.0 (beta)
Scan and keep for the latest article or review every time!