Introduction
Back in late 2011 Apple released their new range of MacBook Pros and I bought my first Mac computer (although we had a family iMac late 2009 in the house). I bought the lowest end MacBook Pro - the 13" Intel Core i5 2.3GHz 4GB RAM and the 320GB hard disk drive. I got a great deal on it getting it for just £850. I immediately installed Windows onto it after doing the same with our iMac. It took me time to properly love Mac OS X and by mid 2012 I was saying how I liked it but it never could become my favourite operating system.
After a year using OS X however, I began to like it more than Windows. One of the things that was lovely was the fact that it integrated with the iOS devices such as the iPhone, iPod or iPad. I got myself an iPod Touch next and had everything synchronised between it and my MacBook Pro. I really loved this feature. In October 2012, I got an iPhone and back into touch with iOS technologies (and ditched the Windows Phone). The next thing I did was to get myself an iPad Air and get rid of my Nexus 7 (2012 edition). This move was one that I had been planning since the day I got my Nexus 7, but it was more of a temporary solution until Apple chose to reduce the bezel around the iPad - which they did with the Air.
My next Apple product would indeed be the MacBook Pro with Retina display. My previous 2011 MacBook Pro had been replaced, even though it had years left in it. The simple reason for that was that when I purchased my MacBook Pro in 2011, I was unsure how much I would like it. Think of it more as a demo or trial computer. This meant that I could try out the MacBook Pro and see what I thought without spending a lot of money. When I considered a new MacBook at the start of 2014 due to the fact I wanted a larger display and a more powerful MacBook Pro, I kept telling myself to be content with my MacBook. But then my brother kept saying that he was going to buy one. We came to an agreement and I gave him my MacBook Pro and I got a new model (I sold it for £650 making a whopping 76% back from it, proof that Macs do retain their value for a lot longer than PCs, as this was just less than the value a second hand max-out MacBook Pro on eBay).
This review will look at what the rMBP (an abreviation for retina MacBook Pro, by the way) 15" October 2013 has to offer and what is great and what is not so great (and by the way, there are things not so great about it).
What the MacBook Pro with Retina display is
Most who read this review will know what the MacBook Pro with Retina display actually is, but for the sake of this review, I will explain. The MacBook line took over the iBook range and the MacBook Pro took over the PowerBook range of Apple portable computers. These systems swapped from running on the PowerPC architecture to the Intel architecture known as x86 in 2006.
The MacBook Pro screen sizes were in the range of 13", 15" and 17". In 2012, Apple ditched the 17" MacBook Pro and released two new models that would soon become the only MacBook Pros - the MacBook Pro with Retina display available in both 13" and 15".
These MacBook Pro with Retina Display models have a display resolution that is precisely double their predecessors' display resolution. They are also slightly slimmer.
The specifications
The MacBook Pro with Retina Display in this review is one of the high-end 15" models. This model features a 2.3GHz Intel Core i7, 16GB 1.6GHz DDR3 RAM, a 500GB (512GB as a matter of fact) solid state drive, Intel Iris 5200 Pro graphics combined with the Nvidia GT 750M discrete GPU with 2GB of VRAM. It has no optical drive.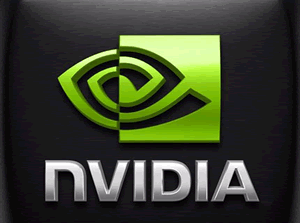 Although I am not normally a fan of Nvidia, I don't mind on this occasion.
The Nvidia card is a medium-range card that is quite capable of running a few decent games including Starcraft 2 and Diablo 3 (the two games I am particularly interested in).
The system also features USB 3.0, which my previous MacBook Pro did not feature, although this has been the norm since the 2012 Ivy Bridge release.
The display, being the key point of this device, has a resolution of 2880 by 1800, which is double the 15" MacBook Pro's 1440 by 900 resolution (although some models feature a 1680 by 1050 resolution, due to an upgrade).
To most, this will be the key selling point of the MacBook Pro with Retina display. To some, this will just be an extra added feature.
The following picture shows the amazing quality and scaling capabilities of the display and its resolution.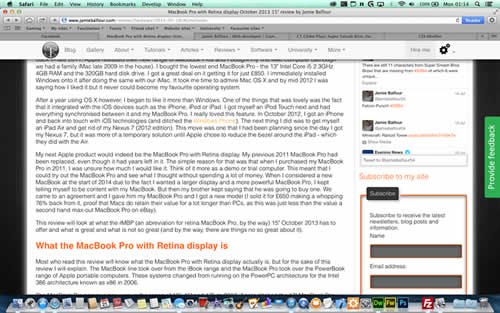 Click to see the full resolution
Whilst the specifications are incredibly high, the high resolution means that some games run slightly slower, especially when it is running at the optimal native resolution.
The design
The MacBook Pro with Retina Display has a very similar design to the previous MacBook Pro range but it is a bit slimmer coming in at 1.8cm (0.71 inches) and has a width of 35.89cm (14.13 inches) and the depth is 24.71cm (9.73 inches).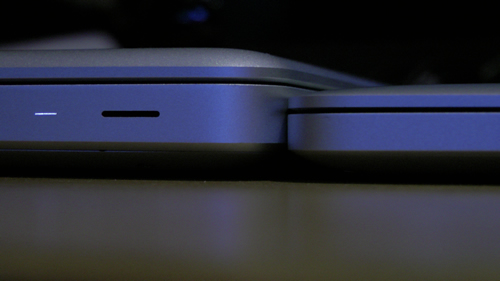 A comparison between my two MacBook Pros shows how much thinner the MacBook Pro with Retina display is.
The slimness is nice, but I didn't think the previous MacBook Pros needed slimmed down anyway. For comparison sake, this table shows the MacBook Pro vs the MacBook Pro with Retina Display:
|   | MacBook Pro with Retina display 15" | MacBook Pro 15" |
| --- | --- | --- |
| Height | 1.8cm/0.71" | 2.41cm/0.95" |
| Width | 35.89cm/14.13" | 36.4cm/14.35" |
| Depth | 24.71cm/9.73" | 24.9cm/9.82" |
| Weight | 2.02kg/4.46 pounds | 2.56kg 5.6 pounds |
The keyboard is slightly nicer to type on than compared with the older generation MacBook Pro range on this model. It still features one of the best keyboards you can get out there. It's still illuminated and does not seem to have changed much apart from the fact that there is no longer the DVD eject button but a power button instead sitting next to F12.
The display has got slightly thinner with the new models, which seemed a feat in the first place, but it has been achieved. It's also become the first IPS (in-plane switching, I may do an article on the differences between display technologies at a later stage) display giving it a 178° viewing angle.
Connectivity
The design of the MacBook Pro with Retina Display, which obviously is going for a minimalistic design means there are features missing in comparison to the previous MacBook Pros.
Some features are ones that I feel are huge (not just big) losses.
For me, the loss of the IR (infrared) port on the front of the MacBook Pro with Retina display which was used in conjunction with the Apple Remote Control pictured, is a huge loss.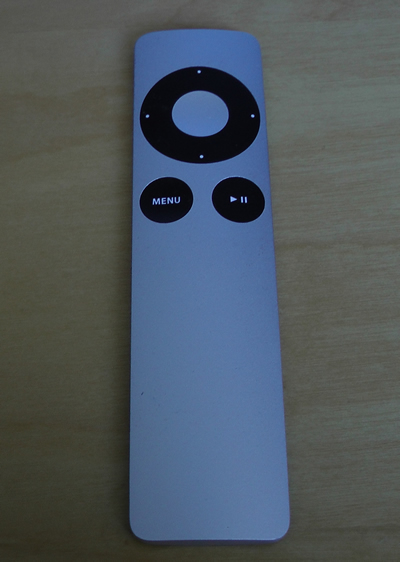 The lack of infrared port means no Apple Remote support.
The computer also loses the FireWire and Ethernet connectors that the standard MacBook Pros both had, but it gains an extra Thunderbolt (it is actually a Thunderbolt 2 connector, meaning it maxes out 20Gbps instead of just 10Gbps). Apple has created adapters to convert Thunderbolt to either the FireWire 800 or Ethernet connector allowing a bit of backward compatibility. The reason for their removal is down to the fact that both connectors pretty much defined the height of the previous MacBook Pro ranges and as time went on both began to lose their significance.
In total this MacBook Pro has two Thunderbolt 2 connectors, which is a very nice addition, but apparently, it does not support three displays through the 2 Thunberbolt 2 connectors and HDMI connector paired as the system gets too hot.
It features USB 3.0 which is a nice step up from my previous MacBook Pro (although the 2012 15" models also had this). The USB 3.0 ports are found with one on each side (that's a nice touch).
It is also the first mobile Mac (as the Mac Mini was the first Mac) to feature HDMI.
There is the standard audio jack provided on Macs that allows an iPhone headset to control volume, go to next track, go back a track and pause/play music as well as supporting a microphone input at the same time. If you need both for whatever reason, you can split the connection using a splitter cable or buy an external soundcard (this is something I used to do before when I did not use desktop computers for every day work, particularly the Creative Live 24-bit External Card).
Finally, the MacBook Pro also has a standard SD card slot on the right hand side, which permits the reading of the most common type of memory card and is great if you need to take photos off the camera on the move.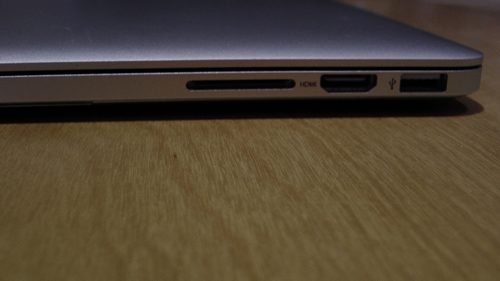 The HDMI port is a very nice feature, so you will no longer have to remember a Thunderbolt/mini DisplayPort to HDMI adapter
Performance
I don't really have much time to assess the performance of the MacBook Pro with Retina display because of the situation, explained at the end.
The MacBook Pro being tested runs the Resident Evil 5 benchmark well achieving some 60 frames per second. This was tested on Windows 7. It plays Starcraft 2 at high settings without any issues.
The SSD helps to make the speed when starting OS X fast, and the same goes for Windows 7, but, and this is a big statement, my MacBook Pro 2011 with it's basic specifications (although has 16GB of RAM and a SATA 6Gbps SSD) starts up marginally faster. This is a hugely shocking result.
The speakers in the MacBook Pro with Retina Display are absolutely the best I've ever owned on a portable computer.
Upgradability
You may have read on the internet in other places that the MacBook Pro with Retina is a very closed system. This means that barely anything can actually be changed. The RAM is soldered to the motherboard and the battery is soldered (or perhaps just glued) to the top of the case. Neither of these are user serviceable. The SSD is a proprietary one, meaning it will be either a) hard to find or b) very expensive to replace.
This is totally the opposite with the previous range of MacBook Pros.
Running Windows
The MacBook Pro with Retina display is so high resolution that a BootCamp Windows 7 is pretty much impossible to use - Windows 7 just does not have the scaling qualities Mac OS X has. This means that Windows 8.1 (not Windows 8.0 even) is the only real option for those wanting to install Windows as well as OS X on their MacBook Pro with Retina display. Click to see the full resolution.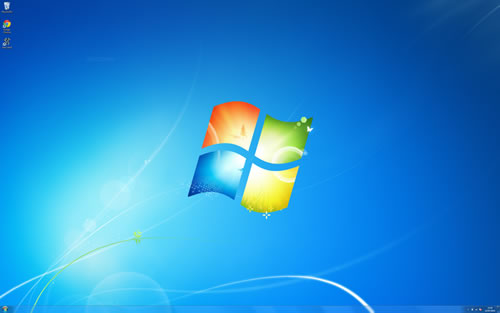 Windows 7 scales really badly.
By default, Apple sets Windows 7 to 150% DPI (although the system itself is actually 200% DPI) at 2880 by 1800 - unfortunately not enough to make the experience smooth and perfect. I tend to have it at 1920 by 1200 on my MacBook now.
Conclusion
It's very sad for me to say, especially as someone who loves almost everything by Apple, but I have some quibbles with the MacBook Pro with Retina.
I am much a fan of the previous design and the ability to change the solid state drive and RAM and the missing IR port is a crucial point of upset for me. However, the specifications of this model and the beautiful display are reasons for perhaps making me feel it's time to move on and accept the fact Apple are not going to make MacBook Pros like the previous generation ever again.
I have considered returning it and swapping for an older model, but why? Well this explains why most customers, me included, would even think about getting an older model:
...given the choice, many customers will continue to get the standard MacBook Pro because of the combination of low price, more storage capacity and internal optical drive.
As well as this, I dislike the lack of replaceable parts, particularly the battery, which will be a costly replacement when the time comes.
I am still contemplating returning my MacBook Pro with Retina display due to being somewhat disappointed.
I have decided to stick, because it's time to move on. Apple are not going back and neither am I. The MacBook Pro with Retina display is a marvelous machine and I know it, but I just do not think it's the Mac for me.
Slim design
High specification
Long battery life
Lovely display
Keyboard is much better than before
Two Thunderbolt 2 connectors and a HDMI
It's a Mac
Lacking FireWire and Ethernet
No infrared for Apple Remote
Lack of replaceable parts
Windows 7 cannot scale correctly
Expensive
Scan and keep for the latest article or review every time!