I finally tried HDMI on a computer graphics card for the first time and I've tried DisplayPort for the very first time. Obviously there is no major difference between them and DVI and to be honest, I feel that they both have one major let down - no screws to hold the connector in. This quibble may be seen by many as an advantage, but I personally see this as a disadvantage as I move the monitor around a lot (from landscape to portrait).
I got myself an XFX Radeon 5670 graphics card. It's slimline so it doesn't block any of those important PCI slots, but it's not exactly the most powerful card in the world (although it has thermal design power of 75W which is very low for a dedicated card these days). The card features DisplayPort, DVI and HDMI.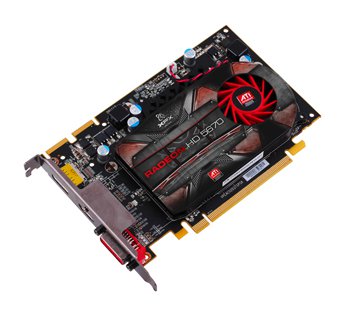 I will be using DisplayPort for my LCD monitor and HDMI with my LCD TV. 
I personally back DisplayPort over HDMI because it's royalty free, hence why I chose a monitor with DisplayPort instead of HDMI. Clearly the different target markets are shown here in that HDMI is for the consumer electronics market whilst DisplayPort is designed for the computing industry.
Despite being royalty free, DisplayPort seems to be slow at taking off compared with the more expensive HDMI connector.
I've also noticed that Apple (and their lovely MacBook Pro range) have started adding Mini DisplayPort connectors to their devices. These connectors can be converted to full DisplayPort, DVI, HDMI or VGA. HDMI can only really be converted to DVI but adapters do exist to convert to VGA from what I understand.
On the subject of Apple, I am hating my iPhone more and more day by day and I am thinking about a Windows Phone. Anything but Apple!
Powered by DASH 2.0 (beta)