As what I would refer to as a long term Mac user, using Windows always feels like using a system that is from 10 years ago, but recently I've started to appreciate it more again. Many of my closest friends will know I was a Windows advocate back in my youth until I switched to Macs when I turned 20 in 2011, and whilst it is still the case that, at least as my work machine, I would pick a Mac over a PC any day of the week, I still use Windows equally as much (due to work). I was a fan of Windows 10 until Microsoft started to rip it all apart and start adding new things to it that didn't fit in. 
Windows 11 seeks to change that, with a very sleek UI that resembles that of macOS with the use of curves again (thank goodness!), shadows and blurred/glass UI elements.
In this review, I aim to give you my opinion of what Microsoft has done with the latest version of Windows.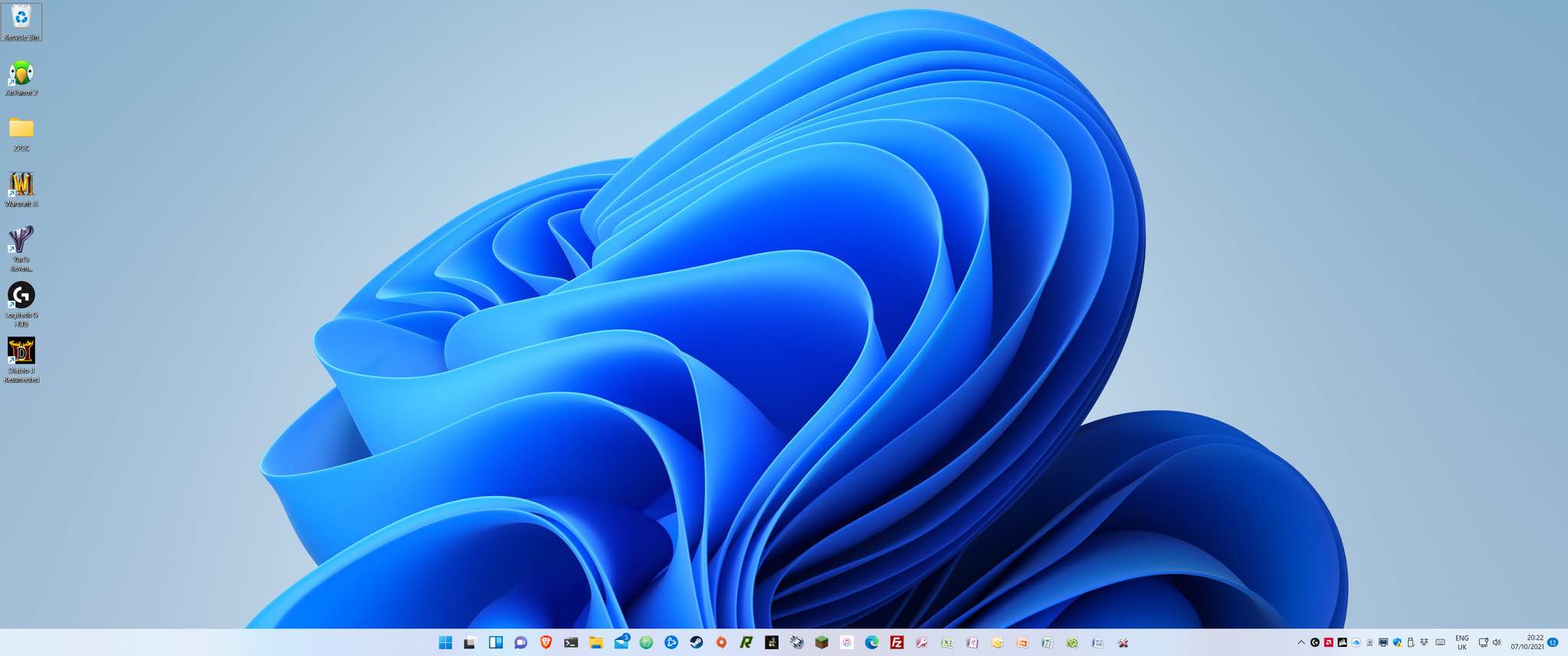 Design and user experience
Much like all the previous versions of Windows, Windows 11 strives to keep that same Windows experience the same. In fact, things like the Windows Desktop, Windows Explorer and the general look of Windows haven't really even changed since the launch of Windows 95, meaning that when you start to look for something you do not spend an age trying to figure out where it has moved to. Sure Microsoft has added and later removed or replaced features (such as the Windows Sidebar from Windows Vista which I still miss) but the general idea of Windows is still the same - everything you need resides within the Start button.
The design in Windows 11 is definitely very appealing to me as a macOS user. The centred approach makes it more like macOS. The centred appearance of the taskbar may not suit everyone but it is very similar to that of the macOS Dock. The slight blurring in the backgrounds of the bottom bar is more like the way the Dock renders in macOS. And the flatter look makes it feel like a nice mix of the Windows 10 ambitions with a nice modern twist to it. The new icons found across the system are very sleek and modern and fit the design of the operating system. The simple control centre style popup at the bottom right is again, more like macOS (which took the idea from iOS, which took the idea from Android). All of these minor changes make the OS a much more pleasant experience than the dark and ugly look of Windows 10.
Windows 11 also changes the way windows look. Instead of having square windows, Windows 11 is bringing back curves, so the title bar and bottom of the windows are now curved. I really like this and it follows suit with what Apple has been doing recently too. As well as this, the windows feature a small border colour around them to make them stand out a bit more and to give them a more distinct look. I am a real fan of this new design.
That's where the compliments stop, however. The Start menu is slightly confusing and will no doubt be changed several times over the next few months as the feedback comes in from users. Further to this, I have on numerous occasions automatically moved my mouse cursor to the bottom left in the hope of finding my Start button right there but alas, it is not there! This lead me to move my taskbar buttons from the centre to the left, despite the fact that I think it looks better centred (I think a lot of people will have the exact same thoughts, but: functionality over form).
Features
Windows 11 still isn't there in terms of getting the design spot on, but it is definitely very feature-rich. Windows 11 brings more capabilities for gaming through DirectX 12 Ultimate which is now baked into the operating system.
11 also has integrated Widgets (pictured), a feature Windows Vista first introduced but didn't get right (with every version of Windows after trying to do it differently each time and still not getting it right). These are much more functional, but as of writing this review, they were limited to Microsoft-only Widgets. These Widgets open using Microsoft Edge and do not respect the default browser choice. This seems very short-sighted. Apps themselves can add Widgets so hopefully, over the next few weeks we will begin to see more and more of these coming to Windows 11.
Microsoft also promises Android app support at some point soon. This is cool but it's not the same as with an M1 Mac and macOS being able to run iOS apps natively due to the identical architectures. Microsoft has developed a system that takes advantage of Amazon's Play Store equivalent to allow Android apps to be installed on Windows 11. Although as I mentioned I love it on macOS, I cannot see myself taking advantage of this feature on Windows.
Microsoft has also decided that since lockdown meant that since Microsoft Teams became so popular the whole world would now like to have it integrated into their latest operating system. Wrong. This is the first thing that I decided I didn't want in my Windows 11 installation so it was disabled promptly.
Stricter hardware requirements
Unlike the transition from Windows 7 to Windows 8 or the transition from Windows 8 to Windows 10, the transition from Windows 10 to Windows 11 is not quite as simple a path.
Windows 11 introduces stricter hardware requirements that make it impossible to install it on older hardware, even if it were capable of actually running it smoothly. Take, for example, my 2017 Razer Blade Stealth which features an Intel Core i7 7500U and 16GB of RAM. This sounds like a perfectly capable machine and that it should have no trouble running Windows 11, but unfortunately, it fails to meet the requirements proposed by Microsoft and therefore cannot run Windows 11. As someone who works with computers, I know that my Razer Blade Stealth would have no trouble actually running the operating system but also know why Microsoft has done this and it's not actually down to making money. More than anything, doing this means that they can introduce processor-based security features (since the 8th generation Intel CPUs all featured fixes for Spectre and Meltdown) and make the operating system more secure.
Nonetheless, it's a bit of a nuisance if you own older hardware and it's a shame that this is the case. The requirements are detailed below (directly from Microsoft):
| | |
| --- | --- |
| Processor | 1 gigahertz (GHz) or faster with 2 or more cores on a  64 bit CPU |
| RAM | 4GB |
| Storage | 64 GB or larger storage device |
| System firmware | UEFI, Secure Boot capable. |
| TPM | Trusted Platform Module (TPM) version 2.0 |
| Graphics card | Compatible with DirectX 12 or later with WDDM 2.0 driver. |
| Display | High definition (720p) display that is greater than 9" diagonally, 8 bits per colour channel. |
Conclusion
Coming from someone who spends more time with Linux and macOS based machines, I'm pleasantly surprised to be saying that Windows 11 is actually one of the best operating systems I have tried. What amazes me most is that I'm also talking about the very first release of the OS, not one far down the line. When Windows 10 came out I was highly critical of the fact that it didn't install easily, it was sluggish on some installs (even on the same machine) and it seemed to lack backwards compatibility that was promised. Windows 11 has none of these problems and whilst it is not perfect, it's definitely a move in the right direction.
Furthermore, I'm very impressed with how well Microsoft has listened to its users and also with the fact that they are moving towards a more user-friendly look that doesn't rely on black and white icons everywhere. Windows 11 is definitely going to be good for PC gamers too, with DirectX Ultimate being built-in to the operating system.
Overall, I'm extremely satisfied with the newest iteration of the Windows operating system and will definitely be keeping it on my systems.
Powered by DASH 2.0 (beta)
Scan and keep for the latest article or review every time!