One of the most exciting things for me is experimenting with new technology. In this review, there's not really anything massively new being reviewed, other than a really interesting little ultrabook, but that's not to say that it's not an interesting little piece of technology.
I've always had an interest in getting an ultrabook for myself but never had either the money or the actual need for one. Then I came across the Razer Blade Stealth in 2016. I was close to buying it, but in the end decided to wait a bit longer to see if a model with 16GB of RAM would be released. To my joy, in 2017, the Kaby Lake edition was released with 16GB of RAM. I was again very close to buying it, but I'm glad I waited. 
In about July of the year, there was news that Razer was working on a newer, larger model that would feature a better specification or at least some new features. 
The original 12.1-inch model had one or two things that I didn't like, particularly the large bezels around the display. When Razer announced the 13-inch model, it was clear that others had thought this. Razer listened and the 13-inch version boasts a very thin bezel at last.
At this point, I can finally see the ultrabook I have always wanted - portable enough to slip into my bag and forget about but yet paired with a device called the Razer Core, powerful enough to take away my desktop PC (more on that later).
In this review, I am reviewing the Razer Blade Stealth 13 inch, 2017 model, which I purchased from Amazon at the RRP of £1359.99. 
Design
The Razer Blade Stealth has a minimalistic design - something Macs and a lot of high-end PCs have nowadays. Built with solid with solid aluminium and weighing just 1.3Kg, it weighs less than my current MacBook, and in fact than any laptop that I have ever owned, yet feels on par with it in terms of build quality. It's also one of the smallest computers I have ever owned - bigger than my netbook, but smaller than my smallest laptop.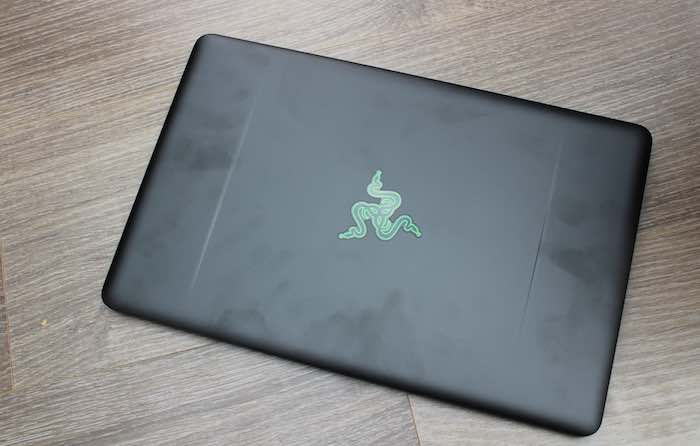 The Blade attracts finger prints
The Blade itself is very thin indeed, and its design is similar to a MacBook Pro, except black.  The keyboard is an island keyboard - something that's difficult to do well and nicely and at the same time compact, yet the Razer Blade manages. The keyboard features a left Windows key only, but it also features the insert and delete keys - both on separate keys.
The back of the display features the standard three snakes Razer logo, backlit much like the Apple logo on the MacBook Pros (prior to the 2016 range of MacBook Pros, that is). USB ports on the device are coloured green, to match the green theme of the logo.
The keyboard features backlighting that even trumps the MacBook Pro's backlighting. It's pretty exceptional seeing a laptop with backlighting that supports more than one colour so that's a really nice addition to the ultrabook. A small criticism of the keyboard is that the backlighting does not appear on the secondary functions of the F keys. For instance, the brightness up icon does not light up on the F8 key, making it difficult to see in the dark. Another slight criticism is that the CAPS LOCK key does not light the same colour as the rest of the keyboard - again, an ignorable little issue anyway. The keyboard is reasonably comfortable to type on, with a slightly narrower than normal space bar. The biggest problem with the keyboard is small up and down arrows - they feel slightly oddly sized, especially when you compare them to something like the MacBook Pro. 
Keyboard aside, the trackpad is large for a small laptop and it feels almost on par with the MacBook Pro. No annoying buttons below the trackpad, just one solid trackpad. The trackpad supports both left and right click, as well as multi-touch gestures. I will make one critisism of the trackpad and that's that if it's used for a long period of time it will get 'sticky' and your fingers will no longer flow as smoothly across it, something MacBooks do not suffer from.
Specifications
The Razer Blade Stealth is not the top of the line Razer Blade. In fact, it's probably closer to the bottom in terms of performance. But for everyday use, the Stealth performs very well. Equipped with a Core i7 7500U and 16GB of memory, the Stealth is more than capable of doing most things with no trouble at all.
Let's remember that the Razer Blade Stealth is an ultrabook - this means it sacrifices processing power for battery life and slimmer designs. It also sacrifices modularity and upgradeability to keep the system slim.
Temperature wise, the Razer Blade is mostly a cool and quiet system. When browsing the web, just like the MacBook Pro range of computers, the fans rarely are needed. The 7500U is a powerful, dual-core low-power variation of the Core i7, making it a top of the range, yet exceptionally power efficient model. It is not as powerful as a standard Core i7 due to the lower power requirement, but it allows the system to remain much cooler and last longer on battery. The 7500U starts a clock rate of 2.7GHz but has a Turbo Boost of 3.5GHz. In normal use, this is a powerful CPU. 
The 7500U also features Intel HD Graphics 620 graphics processor built in. The HD Graphics 620 is more than capable of running the majority of applications, whilst remaining incredibly power efficient and enabling the laptop remains slim. The RAM used in the system is LPDDR3 - that's the low power variation of DDR3. It's a bit of shame that they didn't use DDR4 but LPDDR3 has its own advantages.
The storage in the Blade is an M.2 PCI Express solid state disk which makes it extremely fast and lightweight yet easy enough to replace - something that's not often possible to combine. There are two capacities available in the 13 inch Razer Blade Stealth, 256GB and 512GB. In terms of pricing, there is about a £200 difference in pricing. I personally went for the 256GB, but I would have gone for the 512GB model had there only been a £100 difference in price. The thing is it's cheaper to go for the 256GB model and replace if it later if you know how, as it is possible to upgrade the storage in this ultrabook. 
The ultrabook comes with Windows 10 Home, not Pro, but if like me you want some features from the Pro version, you may consider the upgrade after you purchase. 
Battery life in this ultrabook is said to be up to ten hours, I have yet to run tests to test this myself, but Windows does report 9 hours left on battery life. It's very unlikely that the Razer Blade Stealth's battery can be replaced, I'm not really willing to have a look inside to check because it may void my warranty. The power adapter provided is a USB Type C with Power Delivery that plugs into the single USB-C connector on the laptop itself. 
The display on the Razer Blade Stealth is very pretty. In the 13-inch model, the display is a 13-inch capacitive touch display - something most people (including me) will not benefit hugely from. It does seem silly adding a touchscreen to an already expensive non-convertible ultrabook, and whilst I'm sure many people will like it, I'd have preferred it not to be there. The display is a glass covered 3200 x 1800 pixel display. This means it is a 16:10 aspect ratio, something that's pretty common on laptops and ultrabooks. The display uses a relatively new technology called IGZO which allows it to produce clearer images than even TFT can. 
There is also a 720p webcam with stereo microphones in the narrow bezel surrounding the display.
Connectivity
In terms of connectivity, the Razer Blade Stealth is scarce. Most ultrabooks also suffer the same issue in that connectivity has to be sacrificed in order to keep the weight and size of the system down. However, the Razer Blade Stealth does feature more than enough for the everyday user. And due to the fact that the Stealth has a single Thunderbolt 3/USB-C combo port, it can accommodate more than what is available on the system through the use of clever adapters. 
On the left side of the system, there is a single USB-C port that acts as both a USB 3.1 connection and a Thunderbolt 3 connection, offering speeds of 10Gbps for USB 3.1 and 40Gbps for Thunderbolt 3. This port also implements the USB-C Power Delivery specification, which means that the port also acts as the Blade's charger port. As well as this, there is a single USB 3 Type A connector and a headphone jack.
On the right-hand side, the Blade Stealth features a full-size HDMI port and another USB 3 Type-A port. Whilst this seems a bit on the skimpy side, the Blade does offer a lot more than most ultrabooks do these days, so it's nice to see this.
There is no card reader on the system - something left out to make the system more compact. However, card readers are available for both the USB 3.0 and for Thunderbolt 3 connections.
Coupled with a device known as the Razer Core, the Blade can take advantage of desktop-class graphics using PCI Express through Thunderbolt 3 (limited to 4 lanes of PCI Express with a maximum bandwidth of 40Gb/s or 8GB/s). This incredible device allows you to use a desktop graphics card as if it were built into the Razer Blade thus giving higher performance graphics.
The Razer Blade Stealth does not use Intel powered wireless, which is a shame. Instead, it uses Killer Wireless' 1535 802.11ac card. Bluetooth supported on the system appears to be version 4.
Performance
Being an ultrabook don't expect too much. You may be interested in the next section if you want a performance ultrabook.
The Razer Blade Stealth is a hefty little worker. Equipped with a Core i7 dual-core, the Razer Blade. The Intel HD Graphics 620 that comes with the 7500U is capable of a lot. It features QuickSync and supports 4K video at 24Hz over HDMI, or 60Hz over DisplayPort (through a Thunderbolt to DisplayPort adapter). The chip can also achieve 1.05GHz of graphics processing power - more than enough for everyday use.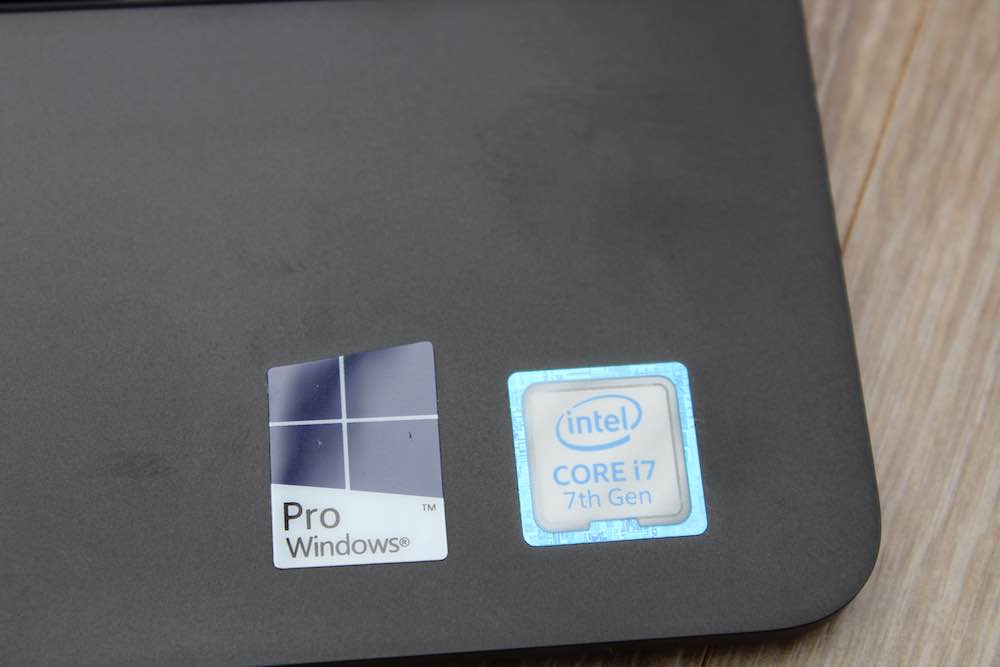 Powered by an i7 and Windows 10, the Stealth isn't a pushover.
There's no performance issues when using the system normally, even with Windows 10 being a Windows operating system. The PCI-E M.2 SSD is lightning fast with Windows 10 starting up in less than 5 seconds.
But overall, the Razer Blade Stealth is not a gaming laptop. It's an ultrabook, designed for work and everyday use. This means it won't run any games from today particularly well.
Razer Core
Introducing, the Razer Core. 
The Razer Core is a powerful 'add-on' to the non-modular Razer Blade Stealth. It is one of a few different eGPU (external graphics processing unit) solutions that work with Thunderbolt enabled systems. 
Thunderbolt was originally codenamed LightPeak and was designed as a high-speed, low latency connector designed to replace numerous connections such as FireWire, eSATA and much more. It's built on a technology known as PCI Express (or PCI-E) which a high-speed system bus used on computers today. PCI-E is built up of smaller connections known as lanes - the more lanes the bus has, the fast it gets. PCI-E version 3 is the latest iteration of this and is capable of 10Gbps over a single lane. Desktops with 16 lanes (signified as PCI Express x16) are capable of 160Gbps of raw data. Many desktop graphics cards use x16 lanes but do not utilise all the bandwidth available to them (as of yet, for more information, look at this article which proves that both x8 and x16 have similar performance and this forum). 
I will update this article once I own a Razer Core to do tests with.
Conclusion
The Razer Blade Stealth is everything I thought it would be. It's an extremely well-built ultrabook that is featherweight and slim. Its battery life is very good and its performance is brilliant for such a small machine. There are certain things I'm not a huge fan of such as the keyboard which will take some getting used to, but the pros outnumber the cons for this ultrabook, especially when coupled with the Razer Core.
I will also point out, I considered the Dell XPS 13 - which has been named one of the greatest laptops of all time, and I love Dell and know that Dell makes excellent hardware (not something I've always said), but due to the lack of Thunderbolt 3 lanes (it has x2 lanes whereas the Stealth has x4 lanes) I could not justify it.
I'm happy with the £1359 I spent on the Stealth as it will eventually become my daily driver and replace my gaming desktop PC (I'm becoming a Notebook Noble by doing this) and possibly my Windows 10 tablet. 
Scan and keep for the latest article or review every time!