I do not back many things on Kickstarter, particularly after backing a project that now looks like it was a scam and losing over £150 in 2020. 
But when I see something that legitimately looks both promising in terms of the company following through on my pledge to them and on something that genuinely looks like I would be able to use it, I might still back it. 
So when I came across a suggested product, the SES PRO screwdriver, I could see a use case for such a product for myself (since as many of my followers know, I take apart many computers and electrical devices both as part of my side-business as a teacher and as a hobby). I ended up selecting the smaller variant, the SES MINI which I supported the campaign on Kickstarter.
In this somewhat short review, I will discuss the features and the quality of the SES MINI.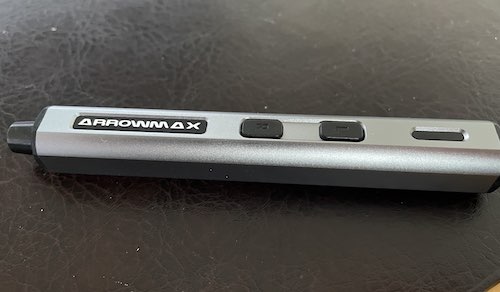 The company
First off, I will discuss the company very briefly and how they were with Kickstarter (I feel the need to do this now after what happened with the other Kickstarter that didn't follow through on their promise). 
The manufacturer of the SES MINI, Arrowmax, seem to make quite a lot of tools as it is. I did my research before just buying a noted that they had a website that seemed to give off the idea of a legitimate company. I put my faith in what I had seen and took the gamble. Arrowmax has this to say about itself (quoted from Kickstarter):
[Arrowmax] adhere to the philosophy of "innovation,creativity and creation". The company has established a team of professionals to design, develop, produce and manufacture high-end tools and intelligent products.  
Trusting Arrowmax on Kickstarter worked out well for me in the end since I now have my SES MINI and have already been using it for work on my old Compaq Evo N1020V which needs a new CPU after the replacement in 2019 recently failed. 
Quality and features
The SES MINI comes with a large selection (28 bits) of different screwdriver pieces that you can choose from, ranging from standard Phillips to TORX (which I specifically needed). Further to this, these can be magnetised straight from the case (although they were pre-magnetised anyway).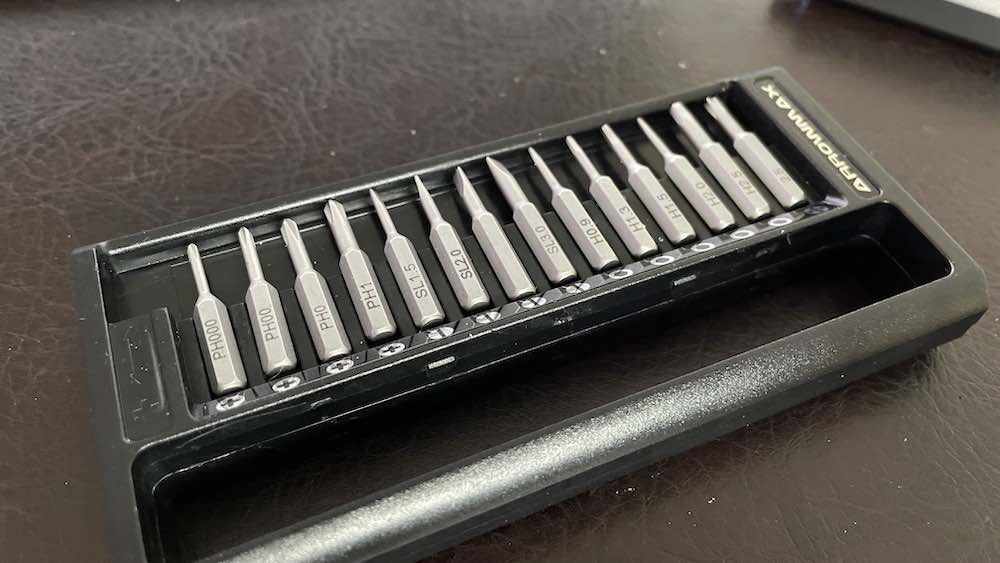 The screwdriver itself (pictured) feels reasonably comfortable to hold when using it. More crucially the MINI makes it easy to get the right torque when you need it using two easy to reach buttons that allow you to easily select whether to tighten or loosen the screw. It doesn't feel like a cheap screwdriver either, it feels really solid.
I was also very impressed to see Arrowmax choosing the USB-C connector for the charger as opposed to the micro USB standard which is slowly disappearing. This will help future proof the device as USB-C isn't going anywhere anytime soon (read my blog post about USB-C here). My main criticism of the SES MINI is the lack of a replaceable battery which in today's day and age is just environmentally unacceptable. 
In addition to all the features mentioned above, the SES PRO and SES MINI both feature small LEDs at the top of the driver that allows you to see easily what you are working on. 
Performance
The SES MINI is one comfortable electric screwdriver to hold. This is a really welcoming feature since so many of them are heavy and require big batteries. Whilst the amount of torque given by this screwdriver isn't comparable to most of these, the way in which you hold this gives you more precision when working with things like a laptop computer where you do not want to strip the screw heads. I have recently been working on a 2005 Compaq Presario R3000 laptop which has a semi-stripped screw that has been sitting there since about 2006 and no screwdriver has ever been able to remove it. But now with the SES MINI, I have been able to remove this screw at last. And it did it with no problems at all.
And that brings me to the next feature, the LEDs on it. This is a great little addition to the SES MINI that makes it so easy to work on things like laptops where the screws are often black inside a black chassis making them impossible to see. One thing I would have liked is the ability to switch on the LED without needing to actually use the screwdriver. The LEDs are bright and positioned really well since it's obviously quite a difficult task to position LEDs perfectly above the screwdriver when space is constrained. 
To charge the SES MINI, as mentioned before, you will need a USB-C cable. It charges very quickly and I discovered I was back at three bars within the hour or so that I left it charging. The SES MINI is also able to be charged at the same time as being used which is again very handy. For myself, this screwdriver will be mainly used at the desk and on computer systems which means that charging it whilst using it is a great benefit for me. 
Conclusion
Whilst it sounds like this is the perfect screwdriver with no flaws (and it's definitely one of my best), I still have to point out that whilst I said it is reasonably comfortable to hold, it's not perfect. It definitely gives you the grip you need, but it comes at the price of not being completely comfortable in your hand. Further to this, I have quite large hands and find it a bit small in my hands. 
I'm very happy with my purchase of the SES MINI and would definitely recommend it.