A while back in a Black Friday deal on Amazon, I acquired a Blue Yeti microphone. It's a fab piece of equipment with excellent sound quality. But it's big and bulky, which means getting it ready for playing a game or just having to record something short is a pain. 
I'd never heard of FIFINE until I started to see the reviews online. Their A6T is the most popular microphone on Amazon in the US and Canada so they must be doing something right. In this review, I intend to review this microphone in terms of features and quality.
In the past, I have been lucky enough to be selected to review hardware for companies, such as being chosen back in 2012 by Logitech to review the G500 mouse. The last few years I haven't had as much of that until recently FIFINE got in touch with me about their A8 Gaming Streaming microphone. Of course, I was definitely up for doing this as I really enjoy trying out the latest technology and after watching a video about FIFINE's microphone not that long ago (from my favourite YouTube channel, LTT), I was eager to test this out. In fact, of all the technology I have been looking to get a shot at reviewing, microphones are up at the top.
Although this review model has been provided to me for free by FIFINE for the purpose of this review, I am not directly sponsored to say anything specific. I will continue to be open and honest throughout the review.
Initial thoughts and unboxing
My first thoughts were how good can a £50 microphone be and how can a company that I'd barely heard of like FIFINE make such popular products? Jumping to the conclusion a bit here, my answer to these questions is that I'm still not sure.
In the box, you'll find the microphone itself, a USB-C to USB A cable, the stand, a pop filter and an adaptor to allow you to mount the microphone onto a boom arm (FIFINE sells one of these for the A8). 
The microphone looks decent, but it pales in terms of the build quality compared to a Blue Yeti and looks a little cheaper. This originally made me think that the quality of the microphone was going to be poor. How wrong I was. Continue reading to find out more about this impressive piece of kit.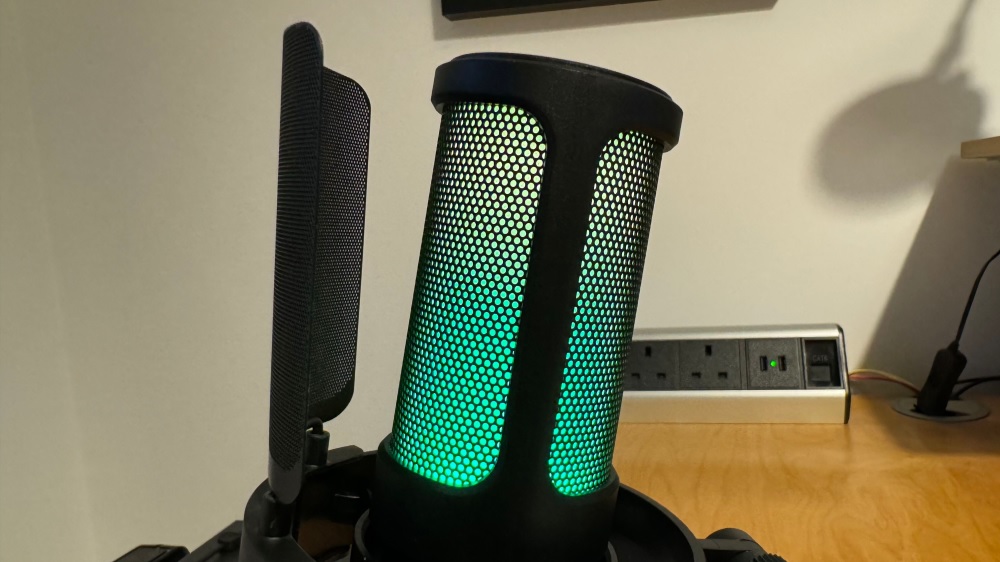 The Fifine A8 is a nice-looking microphone
Quality and appearance
The A8 is built with plastic for every component on the microphone itself. For a £50 microphone, you can't expect more. But of course, this is a microphone - not something that needs to be made to be subjected to wear and tear. Ultimately, I like plastic for this compared with the Yeti as it makes it light and also if it were to fall off a desk or whatever it won't make a massive thud. That's also not to say that the A8 is poorly built or lacks durability - for that plastic is more than enough and it will survive falling on the floor or being knocked over. The sound quality is good enough that you can clearly tell that it is a quality microphone. 
For this review the Blue Yeti has been seen as the main comparator. It's a bit of an unfair comparison since the Yeti is a high-end microphone whereas the A8 targets those who want decent quality but at a more affordable price.
I've put two sound recordings together for you to try out. One for my Blue Yeti microphone and one for the A8. Compare them as you will.
Sound quality is very clear and very comparable to the Blue Yeti microphone which costs over 3 times the price. If you're going to use this for streaming I would say that the sound is adequate and up to standard. If you're going to use this for gaming, you'll have no trouble speaking to your teammates. 
Furthermore, the A8 manages to reduce background noise quite well. In fact, better than the Yeti. This is a great feature to have, and all of this happens without software being used. 
One of the main criticisms of the A6T is that it comes with RGB lighting. The A8 does too, but unlike the A6T, you can switch it off. 
The RGB cycles are actually really nice, but I can see this becoming quite annoying, so having the button to switch it off when needed is really nice. You can see what the RGB looks like in this video.
Specifications
Speaking of software...yeah, the A8 doesn't have, need or provide any. You could see this as an advantage of quick setup or a disadvantage over the fact you haven't got full control over the device. There are no drivers required and Windows picks it up and installs an appropriate driver automatically. The issue with the fact there's no proper set-up or application to control is that there are no options to adjust the gain from the system - you can only do this from the hardware itself. Still, I have no problems with this since I tend to have the levels set automatically. 
What's also very cool about the fact no drivers are needed is that I plugged this straight into my iPhone 15 and my iPad Pro and managed to record very high-quality audio using this microphone with no issues at all.
Continuing with the specifications is the connectivity unlike more premium (and much more expensive) microphones such as the Blue Yeti that I also have, the FIFINE only features USB output. This means there is no XLR connector as there is on the Yeti. This may be adequate for the majority of users, but ultimately it does mean it will lose out on those pro users who would benefit from it. Having said that, this microphone costs so little that this kind of thing isn't going to be what people who want a cheap microphone like this need.
In terms of the USB connector, it's a Type C. This is great but it would have been nice to have been provided with a USB-C to USB-C connector as opposed to USB-C to USB-A. One thing I'd also like to point out is that if you do have a USB-C to USB-C you can use this which means dongle-less connectivity to MacBooks! The inclusion of Type C is a big improvement over what the Yeti features with USB Mini B as Type C is ubiquitous now whereas Mini B is getting hard to find. 
USB-C is here to stay
USB-C represents a unified future for computer connectivity. Offering all of the benefits of USB over the years, packaged into a small connector that is ubiquitous across smartphones, tablets, laptops and desktop PCs.
Additionally to the USB connector, there is a 3.5mm audio output. This means you can plug in a pair of headphones to hear what the mic is picking up. I use this feature a lot on my Yeti when recording games as it means that I can ensure what I am saying is being picked up correctly by the microphone. 
The inclusion of both a Type C and a headphone jack so you can hear yourself is great for a microphone of this price
Conclusion
I wanted to like the FIFINE A8 and believe it or not, I do! I'm replacing my Yeti as my gaming microphone (it's too heavy and it's a bit overkill for gaming) with the A8 due to its simplicity, lightness and its looks.
The FIFINE does a lot of things very well, for starters, the price is unbeatable. Secondly, it's decent quality and reasonably durable (at least for everyday tasks like gaming or streaming). Finally, it's adequate for most tasks. 
To be honest, there aren't many microphones out there that I know of that offer such a good bang-for-buck ratio, this is a really solid contender. I'm happy with the microphone, but more impressive is FIFINE's commitment to making extremely good technology at an excellent price! 
You can find it on Amazon here or read more at FIFINE's website here.
Powered by DASH 2.0 (beta)
Scan and keep for the latest article or review every time!