Wearable technology was something that took me a while to embrace. Smartwatches were something I wanted to avoid altogether and the simple reason behind this was that I got an Omega Seamaster for my 21st birthday and because of the smartwatches I now own it has been displaced as my watch of choice. 
My story behind getting an Apple Watch began properly two weeks ago when I went up to town with a friend and just decided right there and then to buy an Apple Watch Series 3. Before this, I had owned a Series 1 which had a cracked display that I got on eBay for just £30 as part of an experiment when I was doing my PhD but quickly sold it off again. Anyway, I got my Series 3 which I thought at the time would be fine for me and decided not to spend the extra £120 on a Series 4 as I didn't think I'd need it nor feel that my watch would be that important to me to justify the money. I loved the Series 3 and a week flew by and I felt that by the end of that week I had made a good decision and a bad one. For the former, it was getting an Apple Watch to replace my Amazfit Bip (which as good as it was for its money, it just can't be compared directly) and for the latter, it was choosing a Series 3 instead of 4. I then noticed that the Apple Watch Series 5 had just been announced so I decided that I will return my Series 3 (in the time I could return my Series 3 Apple actually reduced the price of it too) and get a Series 5.
This review will look at a few key features that all Apple Watch models have but will have a further look at features that are new to Series 5.
Design
Let's not forget, I was very against getting a smartwatch. I realised, when I was visiting the Apple Store in Edinburgh, that in fact I had perhaps been holding a grudge for no reason other than my original thoughts that they were pointless and when I tried on one realised I may have been wrong. 
So when I got my self my Series 3 I fell in love. Within two weeks of my Series 3 came the Series 5 and I was already considering switching to the new model.
Comparatively to a more fancy timepiece from the likes of Omega or Rolex, the Apple Watch's design does not compare - it's more of a gadget than an exceptional timepiece. But I like that. And in fact, I prefer that. The other thing the gadgety design encourages is its use. With my Omega, I only wear it to formal occasions such as parties and that kind of stuff whereas with the Apple Watch I have worn it every single day. I feel that the design contributed to this decision.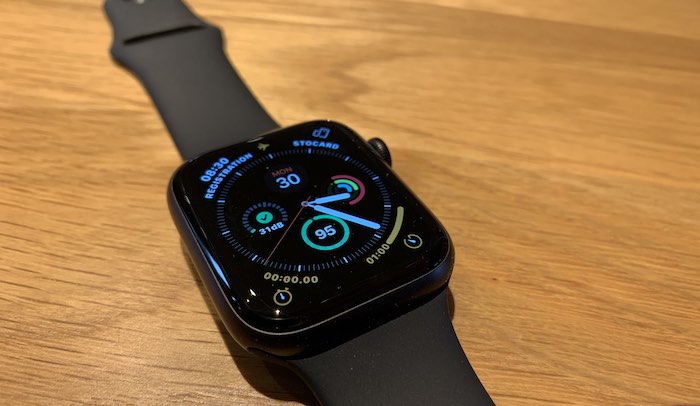 The Apple Watch has a beautiful display
The display of the watch measures 1.78 inches and uses a new technology called LTPO OLED with a resolution of 448 pixels by 368 pixels giving a pixel density of around 326 pixels per inch. The display supports up to 1000 nits brightness as well as a new always-on display which allows the Watch to go into a low refresh rate of 1Hz (or one refresh a second) when not in active use. Apple claims this new always-on display does not have any impact on battery life.
The display is protected by a sapphire crystal glass frame which is one of the strongest materials known to man. 
Features
The Apple Watch Series 5 is a very feature-rich smartwatch. Only two input buttons are available on the Watch - the single push button and the digital crown which pushes in. Speaking of the digital crown, the crown acts as another form of input allowing fast scrolling in some apps and then zooming and zooming out in other apps. Double-tapping the side button brings up payment methods.
Apps available on the Watch can be expanded using the App Store and by default, the Watch is full of very useful apps. 
Other apps I would recommend for the Watch include MapMyRide which I use for recording my cycling and walking, Hive which I use for setting the temperature in my house, Cheatsheet which I use to store things I need to remember often, Timetable which allows me to view my school timetable for the day (remembering I am a teacher) and Stocard which allows me to keep my loyalty cards on my watch as well as my phone.
The Apple Watch Series 5 charges using inductive charging, so no USB ports for charging the device and its got a very clean look when charging. The charger itself is perhaps my only criticism of the Apple Watch as its cable is terrible quality and likely to break much like other Apple cables (including my MacBook Pro). 
Specifications
Apple Watch Series 5 features an Apple in-house S5 processor which features a PowerVR GPU. Overall, the processor and GPU are both snappy and power-efficient (more later) and I have had no trouble with the performance of my Watch. Compared to the S3 of the Series 3 there is a notable difference when the device is restarted (hard powered off and then turned back on) and the S5 processor is more efficient here. 
The Apple Watch Series 5 also features 32GB of storage space which is amazing considering the size but also plentiful for storing apps, photos and even music on the Watch. 
The device is reasonably sized at 44mm by 38mm at a thickness of 10mm. The 10mm thickness is quite a lot compared to some other smartwatches I have owned, however, it is more than acceptable these days to incorporate all the features of the Watch.
The Series 5 incorporates WiFi 802.11 b/g/n (now known as WiFi 4), Bluetooth 5.0 LE (LE = low energy, also meaning that it is short-range Bluetooth), NFC (Near Field Communication) and GPS. 
Sensor-wise the Series 5 includes an accelerometer, gyro sensor, heart rate sensor (improved version over the original), a barometer (pressure sensor) and a compass. Finally, it also features an ECG sensor in the digital crown of the Watch. 
I have yet to test the IP68 water resistance or even tested it when swimming as I'm too worried to test it.
The smartwatch is also IP68 dust and water-resistant, and Apple claims that the watch can be used while swimming.
Battery life according to Apple is around about a full day. I manage to get through each day with my Series 5 where my Series 3 could not, but I need to charge it each day when I return home from work. This is not a major concern but it would still be nice if Apple were to listen to the consumer and allow us to change our own batteries in this device.
Criticisms
The main criticism I have for the Watch is mainly down to the software. Much like on the iPhone, the Control Center, one of the most useful places in the device, is not fully utilised. To turn off Bluetooth one still needs to go to the Settings app and do it from there. Airplane mode in this device also [sometimes] leaves Bluetooth on. 
Another major concern I have is over the WiFi not often seeing a router which is less than 5 meters away from it. I have had some issues with this personally, and I don't know why it happens. 
Conclusion
The Apple Watch Series 5 can now be considered to be one of my new favourite devices that I own. It comes with a few standout features such as the always-on display, better battery life, a wealth of useful apps, an excellent app store, well designed operating system (with a few things still not quite there), a massive 32GB of storage and excellent build quality. 
The Apple Watch is, without a doubt, the best smartwatch I have ever tested. It's the perfect marriage between both hardware engineering and software engineering.

The Series 5 is remarkable, acting as both a powerful and useful gadget and an attractive timepiece that can only be outdone by more expensive traditional timepieces. Apple once again combines both form and functionality into one device.

I cannot recommend this device enough.
However, Apple still needs to fix some issues within the software. These do not put me off my Watch at all, but they do annoy me with regards to its use. 
Overall, the Apple Watch Series 5 is an excellent smartwatch - the best I have ever owned, or even tried for that matter, and as sad as it is, it will be replacing my Omega Seamaster which was a very special 21st birthday present given to me by my parents. 
Fantastic selection of apps
Good battery life
ECG sensor
Heart rate sensor
Solid performance
Great display in both day and night
One or two software dislikes such as not being able to switch off Bluetooth from Control Center
Price is quite high compared to watches that perform similar tasks