Cheap Chinese knockoff tat. Those are the four words that I thought of when I bought the Amazfit Bip. But still, I bought one because I wanted to try it out for myself, after all, I read about this device a couple of days ago in a review on Alphr which seemed to look positively at this device.
But really, could anyone actually believe that a £50 wearable could actually be any good or would it not just be another knockoff product? Well, since it was cheap enough that I wouldn't really lose much if it didn't work out, I decided to buy one of these and compare it to Alphr's review. Also, this is the first smartwatch that I have owned or reviewed (I owned an Apple Watch for a short period of time but sold it pretty shortly after buying it) - I was always pretty reluctant to get my own smartwatch.
Design
First off, the Bip is similar to the Apple Watch by design and whilst it doesn't really compare, it's still an attractive enough little smartwatch and I'm impressed by its appearance. Again, let me reinforce, whilst it looks quite similar to the Apple Watch, it's definitely not the same build quality as it.
The screen has a reasonably large bezel surrounding it which one might expect on a cheap smartwatch like the Amazfit Bip. However, on the plus side, the watch uses Corning Gorilla Glass to cover the display which not only makes it look nice but also is very tough.
The watch features just one button on the right-hand side. This button wakes the Bip up and cycles through the features of the device. It also features a long-press function that can be bound to a function of your choice.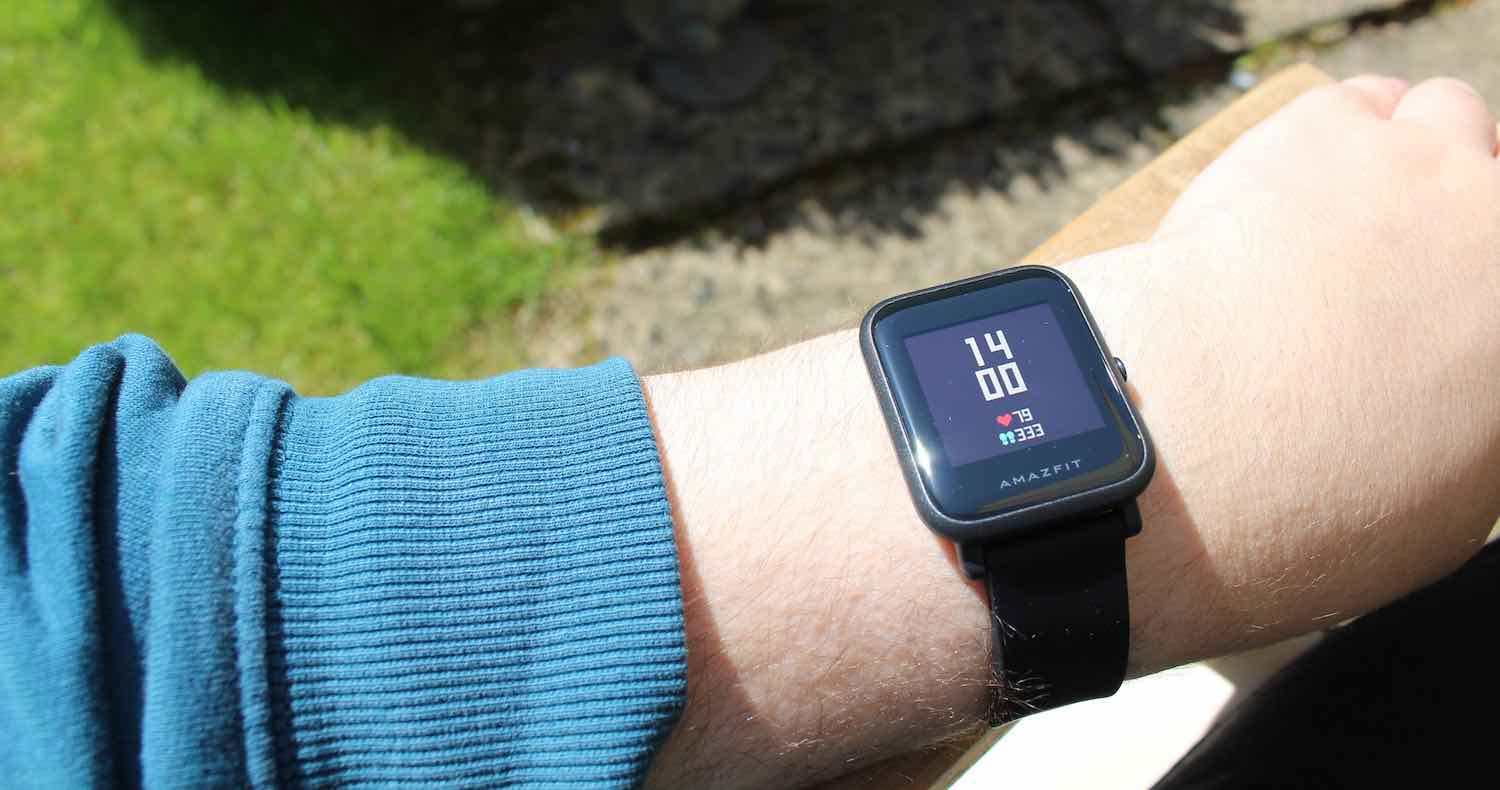 Features
The Bip smartwatch really has it all in many ways.
Let's start with the basics. The Amazfit Bip features a 1.28" display with a resolution of just 176 by 176 pixels. The display isn't the best and with the resolution, it features it's exactly what you would expect for a sub £100 smartwatch. As mentioned before this is Gorilla Glass - something that is considered pretty standard these days but not often found on cheap smartwatches.
Perhaps the biggest shock is that this smartwatch features GPS. What?! GPS in a fifty quid smartwatch?! Really?! Well, yes, actually. The Bip actually does feature GPS in the form of Assisted GPS. This means when you go walking or cycling and set the watch to the activity monitoring feature, you can actually see a map of where you have been. On top of that, it can record your heart rate, the number of steps and the distance travelled. All of these features make the Bip fantastic for the average user trying to keep fit.
What else can there possibly be on a smartwatch as cheap as the Bip? Well, water resistance! Yes, the Bip is in fact IP68 rated, meaning that it has a decent amount of dust and water resistance such as taking it into the bath for up to 30 minutes. Although a few of the cheaper end of smartwatches are now featuring water resistance and some dust resistance - some even claiming that they can be used when swimming, it's not very common for a watch of this price to actually have a full IP68 rating.
Battery life on the Bip is also one of the strong points on this cheap smartwatch - claiming 45 days of battery. Well after 3 weeks of using my Bip for monitoring my cycling for 2 - 3 hours eight or nine times (without Bluetooth on) I'm down at 66%. That's only 34% gone in 3 weeks! So it seems that the 190mAh battery (battery capacity information from the aforementioned Alphr review) is really quite powerful enough for this device.
Okay, so what's the catch with the Bip? Why is it so cheap? I will agree with the Alphr review on a few things here. First of all, font size. Sometimes the text is so small and difficult to read it makes the device difficult to use. It's also very low resolution - certainly compared to today's smartphones and high-end smartwatches so everything looks under par compared.
The other big criticism of the Amazafit Bip is the processor. Sometimes the Bip can be a tad unresponsive and slow. It's rare that this is a problem, but it also appears that Alphr noticed this too.
Finally, the apps you get with the watch appear to be the only apps you get on the watch. You cannot install other apps and integration with apps on your smartphone is pretty limited too.
Conclusion
As a previous owner of an Apple Watch for a short period of time (first generation) I am able to say that the Bip is an extremely good competitor - when it comes to price the Bip does what I need and it's considerably cheaper. No, that's not me saying that they are alike and if the Apple Watch was only twice the price of the Bip I would probably have bought one of them instead. What I'm saying is, for the masses, including me, the Bip fills the gap.
So if you are looking for a well-built smartwatch that is sub-£50 that can track your fitness as you progress and give you a bit of information about your activity, or if you are looking for your first smartwatch, then the Bip is an excellent place to start.
Powered by DASH 2.0 (beta)
Scan and keep for the latest article or review every time!