Introduction
Ok, the truth is I like spamming my site with articles like this - personal experiences from a kind of chatty perspective. I do a lot of technology articles that I do just for fun or because I think they suit the audience of my website, but hey. I also like having my own history on my own website.
So you guessed, this article is all about the history of my notebook computers, ranging from my very first laptop to my current MacBook Pro.
This was an article I wrote when I got my HP DV6285 but have decided to convert to an article on my website.
Well without further ado, let's get started. Oh and no comments about how old I am thanks!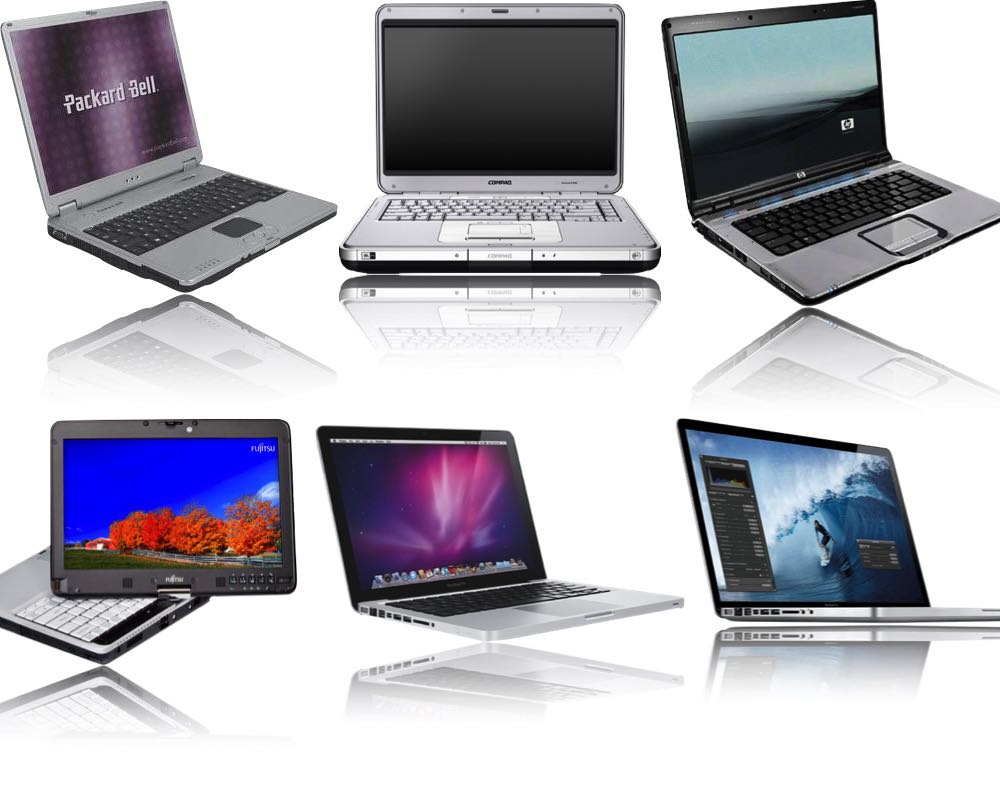 A little montage of my laptops from 2004 onwards
Olivetti P751997
My first laptop was my dad's previous laptop, a 1994 Olivetti P75 which I got around 1997. It ran on Windows 95 when I received it, although when he had it ran on Windows 3.1 or something older.
The model I had featured a Pentium (with MMX technology), according to my father 8MB of RAM, a 700MB hard disk drive, a 640 by 480 display and a decent battery life of about 3 hours.
I did not really use this laptop for much other than playing some very old games like Age of Empires and Warcraft and learning the basics of Microsoft Office (I had a desktop computer for most things at some point during the lifetime of this notebook, a modern Pentium III). In fact, a person I was 'friends' within early high school used this laptop more than I did and would write stories on it.
Anyway, this laptop had a wealth of ports including an RS232, PS/2, LPT IEEE1284 and VGA as well as a docking connector.
IBM ThinkPad T202001
My very first laptop I used as a proper laptop was an IBM T20. This machine was, in a word, fantastic. It was a powerful Coppermine chip which made it far better than even my desktop at the time. It was an expensive laptop at release (around £1200) but like the Olivetti, I was given this by my father in 2001.
The model I had featured a 700MHz Pentium III with a base speed of 100MHz single pumped. It had 128MB of RAM and a 20GB hard disk drive. It was a pretty good machine. It featured a D-SUB VGA connector, an RS232, an LPT parallel port in the 25 pin style, a PS/2 combo port, three audio jacks - one audio in, one microphone in and one audio out, IrDA infrared, two PCMCIA slots (latterly called PC Cards) and this was my second computer to feature the becoming popular USB 1.1 port (my desktop was also a Coppermine CPU so it too featured USB and it featured two). It also featured a docking station connector. It could have been configured with an S-Video in an S-Video out.
This model featured a floppy disk drive also.
As my model was one of the early models, it only featured a CD-ROM drive, although I realise now that DVD-ROM models were actually available with this laptop. My model originally ran on Windows 2000, but in 2001/2002 when Windows XP was released, we installed that as well - it was actually my first dual booted system.
The laptop also featured some really cool things like a built-in reading light above the screen (we only discovered this in about 2007). We still have this laptop (for some reason) and it still works now with a DVD±RW drive and 512MB of RAM.
My next laptop was always planned to be an IBM laptop again and my father and I were intending to be True Blues forever because of the great build quality of this laptop, but alas it never happened.
However, as the battery just kept getting worse with the system and my father wanting the laptop for work, I gave it up. For a while, I had no laptop computer at all.
Packard Bell E47152004
This was the first laptop I chose to go out and buy. It was Christmas 2004 (Christmas of my second year at high school). At this point, I was really interested in getting myself a computer. When I first started looking for a new laptop I was about nine or ten years old, and when I finally went out and got one I was about twelve years old.
I had always been looking at an Apple PowerBook at the time because I thought their white plastic designs looked good, but as they were just over £2000 at the time they were out of the question. I also did not understand the difference between a PC and a Mac at the time (not that there really is now, other than the operating system but of course back then they ran on the PowerPC architecture whereas every other system ran on the x86 architecture). My parents were set on getting me my first laptop that I chose so we spent a few days backwards and forwards at PC World.
I remember my first question about one of the laptops (this was just down to sheer ignorance) was: "What Intel Inside does it have?"
Of course, the answer to that question on that occasion was it's got a Celeron and 256MB of RAM. My father informed me that this was not a good model (he worked as a system engineer/consultant at the time so I was relying on his knowledge).
I came across another one, this one featured a shiny blue and red sticker on it saying "Intel Centrino". I asked what this was and the guy replied it's the new mobile Pentium 4 (their staff barely know what they're doing let alone what they are talking about, Centrino was actually a modified Pentium II/Pentium III chip that destroyed it's desktop competitor, the Pentium 4, even at much lower clock rates).
This laptop that I ended up liking was the Packard Bell EasyNote E4715, priced at £750.00. It featured a 1.4GHz Pentium M (with Centrino Wireless, which (as I was not particularly up to date with technology) I did not realise was there until about a year later), 512MB of RAM, a 40GB hard disk drive and integrated graphics (fine for what I played which includes games like Warcraft III and Diablo II).
It also was the first computer in our household to feature the all-new USB 2.0 standard. It featured 4 USB 2.0 ports (the most I've had on any laptop computer), a VGA port, a microphone in jack, a headphone out jack and a PCMCIA card slot. It could have been configured with an integrated microphone, an S-Video out connector, an IEEE1394 connector and a 5-in-1 card reader with support for SD (SecureDigital), MMC (MultiMedia Card), XD (Extreme Digital), SM (SmartMedia) and MS (MemoryStick).
The laptop ran on Windows XP Home Edition when I got it.
As it featured Centrino technology it featured 802.11bg. We had our first wireless network from around 2002 but none of the devices in the house used wireless technology other than one or two of the old laptops using PCMCIA cards. When we figured out how to use the wireless button on the laptop ( Fn + F1 ) we experienced something cool.
The Packard Bell EZ4715 was a really good, light-weight little 15-inch laptop with a good battery life of 3 hours. The ultimate reason for getting a new laptop so quickly was the lack of S-Video out connectivity.
Compaq Presario R3460EA2005
My next laptop was a Compaq Presario R3460EA.
When I saw the name Compaq, I immediately thought that it meant that it was going to be a really high-quality laptop. My dad informed me that Hewlett Packard (HP) had recently acquired Compaq and that this just enforces the fact that it will be high quality.
In May 2005, after just five months with my previous laptop, I was feeling the problems with it. It struggled to play certain games that I wanted to play and I did not have a Pentium 4 based desktop to play these.
I did notice a really nice laptop and had been set on buying it right up to the day I was going to buy it when I was told it was no longer available through PC World. This laptop was the Toshiba Satellite M40.
My eye was fixed on a Pentium 4 based laptop, to combine mobility with performance. I also wanted to get myself a laptop with an S-Video connector so that I could attach the laptop to my television.
All of these points pointed to the Compaq Presario R3460EA, priced at £900.00, and on the day I was told the laptop I was going to buy was out of stock, the model I got was the last of the range for sale.
Whilst my Packard Bell EZ4715 weighed only 1.8kg, the Compaq Presario R3460EA with it's Pentium 4 weighed 3.6kg - more than double the weight of my previous laptop.
The model I had featured a Northwood desktop Pentium 4 with HyperThreading clocked at 3.2GHz. As these were desktop cores they would get incredibly hot and would consume a lot of power rather quickly.
As a result of the desktop core, the battery life was limited to just 2 hours maximum.
The laptop also featured 512MB DDR SDRAM up to a maximum of 2GB, an ATI Mobility Radeon 9000 IGP (Integrated Graphics Processor) and an 80GB eIDE (enhanced IDE) drive. Again this laptop ran on Windows XP Home Edition (this time SP1).
In December of that year, just seven months later, this really badly built laptop started to overheat. After five minutes of use, the system would halt, blue screen and give up. This laptop was an example of the start of HP's really poor manufacturing.
I complained to HP on around 15 occasions but they have a terrible customer service - in fact, one of the worst I have ever come across, and as a result, they did nothing at all.
This laptop was great on paper though as it featured 3 USB 2.0 ports, IEEE1394, an LPT parallel port, a VGA port, a nine-pin S-Video out port as well as a microphone in and an audio out port. It also featured a DVD±RW drive, a 15.4 inch widescreen glossy display, optional WiFi and Bluetooth (not in my model), optional IrDA (again not in my model), an optional floppy disk drive (and again not in my model), a built-in 5-in-1 card reader and one PCMCIA card slot.
The laptop also featured a really nice expansion dock called the Expansion Base (model PR1010). The dock added 6 USB 2.0 ports, an RS232, a 5-pin S-Video connector, composite video, a SPDIF RCA connection, an Ethernet passthrough, audio passthrough for the microphone jack and headphone jack and a modem pass-through. On top of all of this, it added a set of speakers (which were decent) and permitted charging the notebook as well.
This notebook lasted until April 2007, although I still have it and it still POSTs fine.
HP Pavilion DV6285EA2007
My second HP laptop was my favourite laptop in terms of design but in terms of other things it was still lacking.
I had been in to John Lewis and decided I really liked the HP Pavilion DV4000 (released late 2005) laptop and was so set on buying one. It was an Intel Core Duo laptop that was "Designed for Windows XP, Windows Vista Capable"
The only reason I did not end up with this laptop was the announcement that HP was redesigning their notebook range and that the new ones would be much better. I was very close to buying the DV4000 because it ran on Windows XP Media Center and was Windows Vista Capable (meaning I could get two operating systems).
As a reward for the fact I did well in my Standard Grade exams at school, in April 2007, I was getting a new laptop. This excited me very much and the laptop I came across was the stunning HP Pavilion DV6285, priced at just £650.00.
This laptop's HP Imprint design made it look really beautiful from the inside to the outside and the silver and black combination made it a perfect fit for me.
The laptop was fully equipped with an integrated webcam (my first laptop to have one), built in microphones, WiFi, optional Bluetooth (not in my model), a remote control built in and more.
In terms of specifications, this laptop featured an AMD Turion 64 X2 TL-56 (1.8GHz) (my first AMD computer and one of only two I have owned, the second one not lasting long at all. It is also one of just four AMD computers in our household), 1GB of DDR2 RAM (maximum of 2GB), a 160GB hard disk drive, a DVD±RW drive with LightScribe, a Nvidia GeForce Go 7200 and Windows Vista. It was lovely and slim and weighed just under 2kg. Battery life was about 3.5 hours.
The laptop featured an S-Video connector (although in 2006 I got my first LCD TV which featured a VGA connector, meaning that I could use that instead of S-Video to put my laptop display on my TV), 3 USB 2.0 ports, a VGA connector, an IEEE1394 port, an ExpressCard 54 slot (my first ExpressCard on a laptop that I owned), a card reader that could read SD, MMC, xD and Memory Stick and an Expansion Port 3.
The Expansion Port 3 allows connectivity to the XB3000 expansion base, which like the PB1010 for the Compaq Presario R3460EA, featured a lot of connectivity.
This expansion base added PbPrY component video, a VGA port, S-Video, composite video, a SPDIF RCA audio out, an RJ-45 connector, a headphone jack, a microphone jack and 6 USB 2.0 ports.
The best feature of the XB3000 was the addition of adding speakers and the possibility of a 3.5" hard drive straight from the dock.
Compaq Evo N1020V/1015V2008
This laptop had some kind of importance to me. For starters, one of my teachers had one of these laptops at high school, and we used to talk an awful lot about it as a laptop because of its appearance - I became rather obsessed with this laptop.
This is the only laptop other than my 2010 and 2014 laptops that I still have to date because this machine actually just makes me happy - perhaps because of the memories it brings back. It is also my only computer running Windows XP and Windows 2000.
I obtained this 2002-produced laptop way after I was intending to - as a matter of fact, I kept on trying to find it just before I got my Compaq Presario R3460EA but never could.
In 2008, after my dad came home from a job, he was telling me that the man who runs the B&B he had been staying at (the man who I eventually developed BudgieBase for) had an old laptop and he wanted to get a new one. My dad asked me for a recommendation on a laptop, I came up with one and the guy bought it. My dad was given his old laptop not knowing that it was a Compaq Presario 900.
When I looked at the laptop, I realised it was a silver version of the Compaq Evo N1015V that my teacher had. The model I was given was an AMD model and it had the very basic features - no FireWire 400 port, a DVD and CD±RW drive, a 20GB hard disk drive and no built-in microphone.
The screen was perhaps the best part of the model though as it featured the full 15" display that was hard to find online.
The Compaq Presario 900 was the home user model of the Evo N1015V, hence the silver design and the larger screen.
I began looking online for the parts I needed to build this laptop into an Evo N1015V. In the end, it was almost impossible to build an N1015V as the board with the FireWire 400 port and microphone in the Evo N1015V was difficult to come by. I ended up finding another laptop, an Evo N1020V, which was the same board except in an Intel system - it was a Northwood core Pentium 4 model. I bought it, took it apart and fitted it all into the new chassis.
As well as doing all of that, I took the wireless card out of my old Packard Bell EZ4715 and bought some antennas for it. I then ran the antennas (like a pro! :P) to the top of the back of the display and then took the modem out of the PCI slot and put in the 802.11bg card.
Once I got the new motherboard and so on connected to the original and better display, the wireless card in and a few changes to the CPU (I changed from the Northwood desktop core to the mobile version (Mobile Pentium-4 M) 1.6GHz from 2.0GHz.), I upgraded the RAM and hard disk drive to 1GB and 80GB respectively. I also bought myself the Advanced Port Replicator (we already had a Compaq Evo laptop and had a Standard Port Replicator). This added the ability to have a docking station for my 'dream' laptop.
The laptop itself features a FireWire 400 1394 port, 2 USB 2.0 ports (it was the first in Compaq's range to feature USB 2.0), an S-Video out port, a VGA port, a PS/2 port (yes, on a laptop - I really loved this for some reason) and an LPT parallel port (again, I loved this). As well as this it features a PCMCIA slot and a floppy disk drive.
It also features a built-in microphone which for the time was really neat.
The finished product was a fully tweaked Compaq Evo N1020V, costing me around about £100.
HP TouchSmart TX2 1340EA2010
In March 2010, about five months before I started university, I chose to get myself a laptop similar to my brother's HP TouchSmart TX 1340EA.
By a complete matter of coincidence I ended up choosing the HP TouchSmart TX2 1340EA, a £900.00 convertible laptop. This was basically the same specification as my previous HP laptop but in the form of a convertible tablet PC. Unlike my brother's TX 1340EA, the TX2 had a capacitive display, multitouch and Windows 7.
The laptop also featured an AMD Turion 64 X2, 4GB of DDR2 RAM, a 320GB hard disk drive and an integrated AMD Vision chipset. Battery life was around about 2.5 hours - poor for a tablet PC. The other issue was that it would get really hot so it was not possible to carry around as a tablet for too long.
This laptop also featured an Expansion Port 3, so it could be used with my XB3000 docking station. This was one really nice feature of this tablet.
After less than 30 days with the laptop, it broke down. Two HP laptops had broken down. I sold my DV6285 to one of my friends and by October 2010, that laptop had broken down too, bringing the total of broken HP laptops to three. This marks the absolute end with HP for me.
Fujitsu Lifebook T44102010
In June 2010, after the sudden demise of my HP TouchSmart TX2 1340EA, I started to look for a replacement laptop/tablet combination.
The first solution I came up with was the Toshiba M780. This convertible laptop had everything I wanted but an HDMI connector. I found one that did and whilst it was not the most attractive laptop (much like the M780) in the world, the Fujitsu Lifebook T4410 offered a lot more.
The Fujitsu did only offer a Core 2 Duo option whereas the Toshiba offered a Core i5. On the flip side the i5 was literally just on the market at this point and it had been experiencing problems with memory management and so I chose to go with the trusty Core 2 Duo range of CPUs and chose the Fujitsu, an £1050.00 convertible laptop (other than my MacBook Pro with Retina the most I have ever spent on a single piece of technology).
I ordered the Fujitsu convertible and it arrived on the 13th July 2010 (my birthday).
I immediately fell in love with the tablet convertible and the Core 2 Duo's performance and low heat dissipation.
This laptop features (as I still have this laptop as my main Windows laptop) an Intel Core 2 Duo T6670 2.10GHz, 8GB of DDR3 RAM (originally 2GB but upgraded to 8GB), a 120GB SSD (the first SSD I bought when SSDs were actually hard to come by was installed instead of a 160GB HDD), a DVD±RW drive and Windows 7 Professional and Windows XP Tablet Edition (both were installable, although I cannot re-install Windows XP Tablet Edition anymore due to the SSD).
Having both Windows XP Tablet Edition and Windows 7 Professional on this laptop was a real bonus and both worked perfectly at first but since installing the SSD I cannot install Windows XP Tablet Edition on it.
The laptop (even five years after it's purchase) attains 6 hours of battery on one charge and up to 9 hours of battery with the DVD±RW drive removed from the modular bay and a battery installed in its place with Windows 7 (nearly as good as my MacBook Pro's battery life).
One of the best things about this laptop is it's Wacom digital capacitive touch display which includes a digitizer pen that can be used for precise input as well. The display also supports finger input. The 12.1" display is the smallest laptop I have ever owned (other than netbooks).
As well as this, it was my first computer to include TPM (Trusted Platform Module) which meant I could use BitLocker with it (before Microsoft removed this restriction in mid-2010 which meant TPM was no longer required to do this). It also includes a fingerprint reader with drivers provided by AuthenTec (now owned by Apple).
The laptop itself has 3 USB 2.0 ports, a VGA output (neatly concealed behind a door), a HDMI output, an IEEE1394 port, a headphone out jack, a microphone in jack, an RJ-45 jack and an ExpressCard 54 slot (the last laptop I have owned to include one). It also features a card reader for SD/MMC and MemoryStick. It was also my first laptop to have built-in Bluetooth and 3G (built-in card no longer works) and the first to not feature an RJ-11 port for a built-in modem.
The laptop is also full of small but useful features including a WiFi and 3G antenna that comes out of the top of the display extending the range of the connections, a modular bay which meant the DVD±RW drive can be replaced with a space filler that reduces weight of the laptop, a second battery giving up to 9 hours of battery life or a second hard disk drive or solid-state drive.
It also features a port replicator slot on the bottom so that it can be docked. I also have the port replicator for this laptop which adds a DVI connector, 4 USB ports, a VGA port, audio out connections and a microphone in connector.
Other than my Macs, it was by a long shot the best quality laptop I have ever owned - as an example, unlike the other laptops, it's battery has still got charge five years after purchase, the others went within three years.
You can still find the review of this laptop on my website, and I often write about how great a laptop it is in my articles.
MacBook Pro 2011 13"2011
Since the latter part of my high school years, around early 2008 I had been looking to go to the University of St Andrews to study Computer Science. As part of this, they expected you to have an understanding of three operating systems - Linux, Windows and Mac OS X. I then became obsessed with the idea of going to St Andrews with a MacBook Pro running both Mac OS X and Windows, but still be a Windows user.
Whilst in my final year of school in 2009, I looked at the Core 2 Duo MacBook Pro with it's Nvidia GeForce 320M as my next laptop.
Time went on and as a loyalist to Windows, I stuck with what I had - until the end of 2011. In October 2011, I broke the trend of being a PC user and got myself a MacBook Pro 2011 with a 13" display, 320GB hard disk drive and a Core i5 2.3GHz (2430M). It was the first model to feature the now popular ThunderBolt connector but it was the lowest-end model of the time. I got a great deal on my MacBook Pro and got it for just £850.00 (and almost went into business with the American who sold me it, who I ended up buying other stuff from as well).
My MacBook Pro was the low-end Core i5 2.3GHz 13" model so I was not intending for it to be able to play any games. Despite this, it played several modern games like Starcraft II at the second-highest settings (High) without any problems at all. Battery life was amazing too, lasting around 10 hours when being used for browsing the web, typing a document or whatever. Even with Windows 7's clunky design and battery consuming Aero interface it still achieved an amazing 7 hours of battery life.
It featured 2 USB 2.0 ports, a FireWire 800 port, a ThunderBolt port, RJ-45 port, an SD card reader and a headset jack (which means you can use the iPhone headset with volume controls with it).
For a long time I used Windows 7 for the majority of things. However, by the end of 2013, after spending a whole two years with my MacBook Pro I finally started to use Mac OS X as my main operating system (and since then it has remained as that).
I upgraded the 320GB hard disk drive to a 250GB SSD and then the RAM from 4GB to 16GB just before selling it to my brother.
My first MacBook Pro lasted 3 years before I loved Mac OS X so much that I wanted a new, top-end model that will last. As a result, I got myself a Retina 15" MacBook Pro with the Nvidia 750M and a Core i7 2.3GHz quad-core with Hyper-Threading.
Retina MacBook Pro 2013 15"2014
Until now, my Fujitsu Lifebook T4410 was the most I had ever spent on a single product. My Retina MacBook Pro is a 2013 15" model, and whilst I got it only a month before the 2014 model was released, the difference between the two was minimal, so it's not something I regret.
When I got my Retina MacBook Pro, I was actually not impressed by several things. There were and still are several reasons why I do not like the Retina MacBook Pro when compared with the non-Retina MacBook Pro but that is for another story.
The Retina MacBook Pro has an absolutely amazing display, amazing speakers and it still has the majority of great features of a MacBook Pro which all make it a really good machine. Perhaps the lack of replaceable parts within the system is what annoys me the most as the battery is glued to the case that prevents the removal of it, the RAM is soldered to the board and so on. Apple are not the only ones doing this however, it is the result of miniaturisation of devices - the smaller the device the more need for soldered components.
This is my current laptop and it is still running absolutely as it was when I got it. For a few days, I ran Windows 7 and Windows 8, and eventually Windows 8.1 on the system, but due to the fault of Microsoft not putting proper scaling options into their operating systems it looks absolutely rubbish on the beautiful display.
Last words
That's the history of my notebook computers. I will continue to update this article in the future as I get more new laptops (can't imagine this happening soon). I may also write about my desktop computers at some point.
Powered by DASH 2.0 (beta)
Scan and keep for the latest article or review every time!