This page is dedicated to all of the pets that have been in my life.
Terry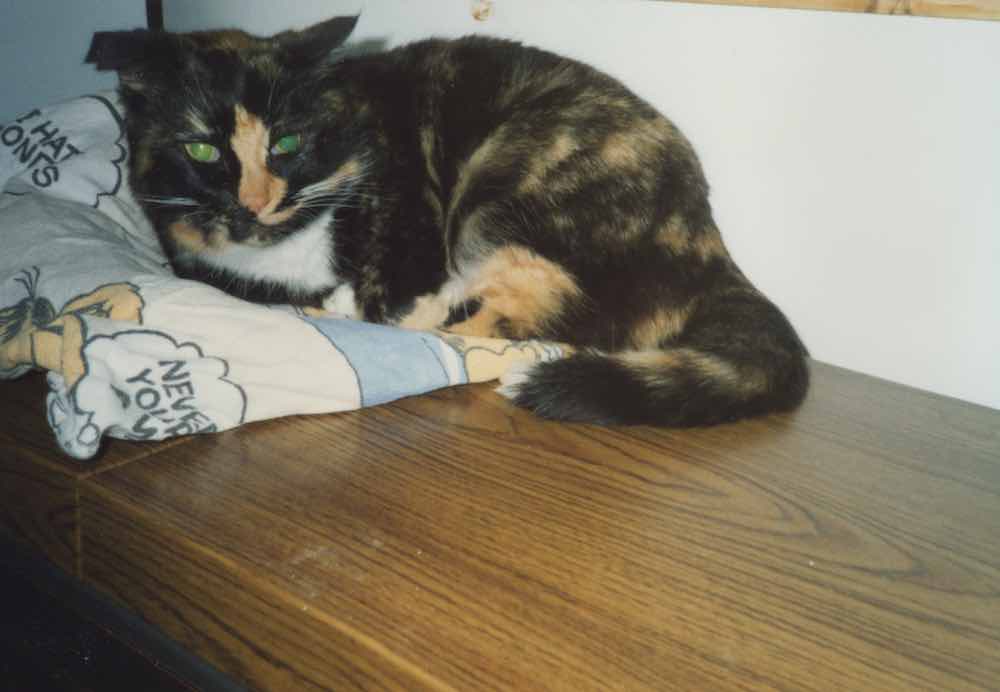 Terry was my first pet.
Our cat Terry was the first pet I had in my family. We had her when I was young for the first three years of my life.
Terry wasn't in much of my life since I was very young when she passed away.
Tick Tock
My first little hamster. I loved Tick Tock very much and actually miss the wee girl despite me being so young.
She was a lovely little hamster who would gnaw her way through her cage and climb through the internals of the house. She always surprised us when she managed to escape her cage, and one time managed to get through the pipes in the house to the bathroom up the stairs.
I always remember the very first time I ever met my wee Tick Tock was when she bit my finger through the cage.
Gismo 10th March 1998 - 21st May 2017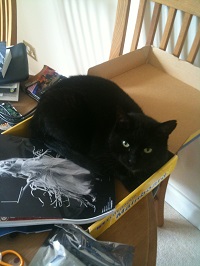 Gismo was my childhood pet, she'd been there most of my early life
Gismo is was my childhood cat. We got her in 1998 (born 10th March 1998) and I named her after Gismo from The Gremlins.
She's been in most of my life and is definitely a childhood pet more than any other that I've had.
She was a highly affectionate cat, but has been known to be a howler during the nights! There are photos of her in my photo gallery here.
Gismo became a much more friendly cat with age, and accepted me a lot more than she did when we were younger.
We lost Gismo in 2017, shortly after Henry. It wasn't hard at first the way Petro was, but with time we realised just how much we all miss Gismo.
BlackPrince (BP) and Pounce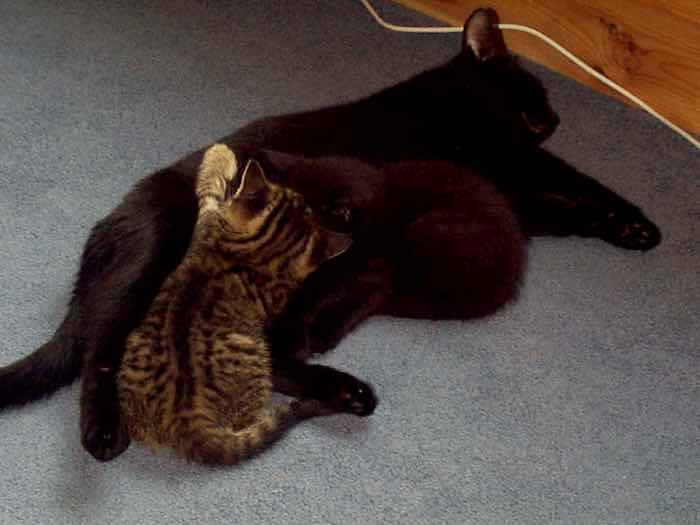 This was the only photo I could find of BP and Pounce
My first cat that was actually my own to care for was BlackPrince. BP was a great little guy and he was incredibly friendly, but did not get on with his mother Gismo. He was born on the 4th July 2000 along with his sister Pounce. He left home after 2 years as he and his mother, Gismo, did not get on.
Pounce was my brother's cat. She was also born on the 4th of July 2000 to Gismo along with her brother BP. Pounce was quite a timid girl but once she trusted you was a really nice cat. When my nana wanted a cat to keep her company, we thought that Pounce would suit her well. Indeed Pounce loved my nana very much prior to this and loved her even more when she moved in with her.
Petro (Bo) 29th April 2007 - 8th April 2014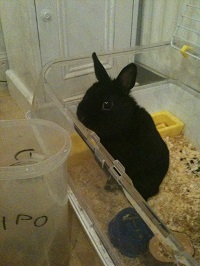 Petro was and probably always will be my favourite little bunny boy.
Petro or Bo (pronounced bow) was our the 'black rabbit'. He was honestly the most adorable little guy ever. Not only that, he clearly loved us all very much.
He was born on the 29th April 2007 and we got the little fella on the 9th June 2007. At first he lived outside, but we kept bringing him in and by the end of winter after he had been inside to keep warm, we decided to keep him indoors. After a while, he lived indoors all the time and was free to run around the downstairs of the house whenever he pleases.
He licked your face and fingers (and sometimes toes as well!) and used to lie out in front of you when you are watching TV. He also used to crunch his teeth also to show his happiness. I absolutely love the little guy! You can find photos of Petro here.
Petro passed away at 14.00 on Tuesday 8th April 2014. We all felt the pain when he left his loving family behind.
He will never be forgotten and will always remain a part of our family. He is dearly missed. As a family we wrote a tribute to him.
Henry - 10th December 2014 - 9th January 2017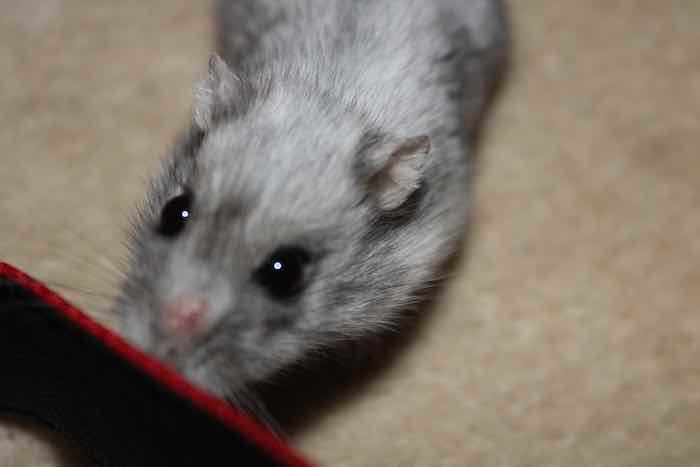 Henry was an adoreable, friendly little fella.
Henry was our hamster from 2014 to early 2017. He was a Russian dwarf and was one of the friendliest little pets we have ever had! I say this because he actually ran around the living room daily and when he did he would come running over to see you when you were on the floor in the middle of the room.
Also, when he was in his house he would stand up and try to reach for you in such a adorable way.
Henry passed away in early January 2017. On the day he passed away, we planned to get him out in to the living room for one last run. Unfortunately, he had already passed away. He is very missed by all of us, even though some would say that he was just a hamster, he was a huge chunk of our lives in terms of love and affection. He departed peacefully after we discovered two weeks before that he had a tumour.
Sweep - 24th December 2014 - 16th October 2019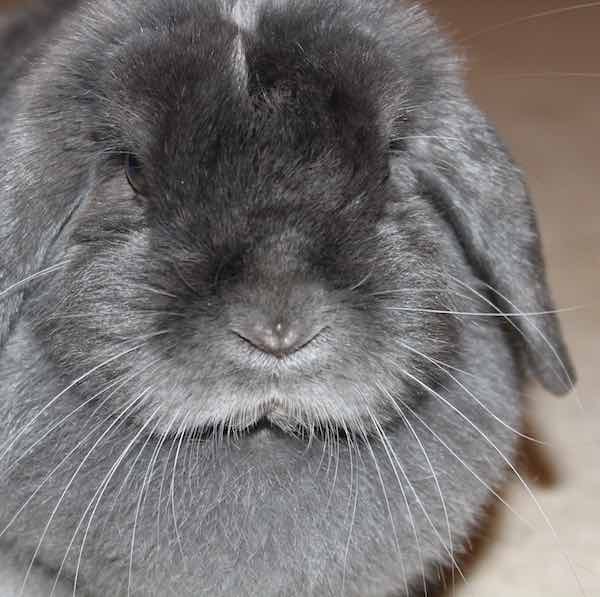 Sweep was a bit unfriendly to start with, but with time she became part of the family.
Sweep was our second little rabbit. She was a grey/blue mini-lop rabbit.
My brother Michael got Sweep as a Christmas present for my mum. She was delivered as a surprise to the front door on the 24th of December 2014 in a cardboard box. She took time to integrate into the family, and although she was always a nervous little girl, she grew to love us all.
She became a friendly little rabbit about a year or so after we got her and she went through a lot with the family.
Sweep was never intended to replace little Petro, despite joining our family less than a year after little Petro passed away.
There are photos of her in my photo gallery here.
Sweep passed away on the 16th of October 2019, peacefully in my mother's arms with me by her side, only a few hours before we had planned to take her to the vet.