My first SteelSeries product was a gaming mouse mat which served me well. Renowned for their gaming hardware, I've always thought of SteelSeries as being the second best manufacturer of gaming hardware after Logitech. 
This cheap gaming mouse appealed to me both as a gaming mouse for the future and as a mouse for my new office. In this review I'm going to look at this mouse, it's qualities and it's issues.
Design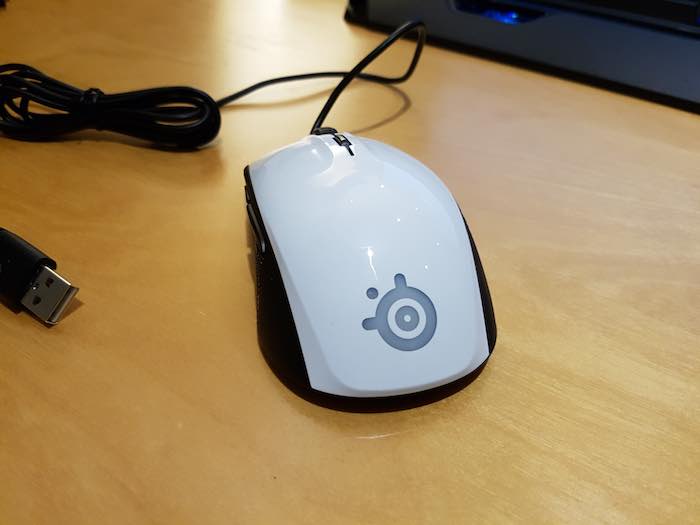 The mouse is very stylish
The design of the SteelSeries Rival 100 is one of it's key selling points. There are not many gaming mice out there for under £30 that feature LED lighting. This gimmicky feature is one that many gamers and design-centric users will likely appreciate however. 
The mouse comes in seven different colours and the LED on the mouse can be configured to the standard 16 million colours using the SteelSeries Engine software. The mouse I chose was the white model, although for comparison sake I also have a black model to compare it to. The Rival is made from plastic all over but it feels fairly light and still sturdy. Whilst the black model uses a matte design, the white model is very glossy and while it does not attract a lot of fingerprints it does get dirty from dust. 
The mouse is comfortable in either a left or right hand, but it particularly suits the right handed user.
My favourite feature in this mouse is it's simple and stylish design, since although this is a gaming mouse, I will not be using it with my gaming computer. I chose this mouse because of the back and forward buttons that my office mouse lacks. I also chose it for the LED colouring to bring a bit of colour to my office desk aside from highlighters. 
Features
The mouse features six programmable buttons. I found this to be mediocre compared with other gaming mice, but at the price range of £25 this seemed to be reasonable. The mouse can be configured with different DPI (dots per inch) settings to allow the user to configure it how they like it. The middle button by default acts as a DPI switch allowing you to quickly toggle between different DPI settings. 
The mouse also features built-in memory to store profile settings. Whilst this limits you only to the default profile it is very good if you are using it the way I do - I set it up on my computer at home and brought it in to my office and it immediately had the correct button layout. This is very similar to my Logitech G500 mouse as well as several others. The cable on the mouse is not braided however, like many gaming mice these days, including the G500. The mouse will store button configurations and LED colour settings for a single profile.
The mouse is not ambidextrous so left handed users will not be as able to use the back and forward buttons quite as easily as right handed users. SteelSeries does provide the more expensive Sensei mouse for those of us who are ambidextrous (including me, as I've recently discovered I actually really like using this mouse in my left hand).
All settings are configured using the SteelSeries Engine software. This control panel is quite basic and does all the stuff you need without overburdening with features.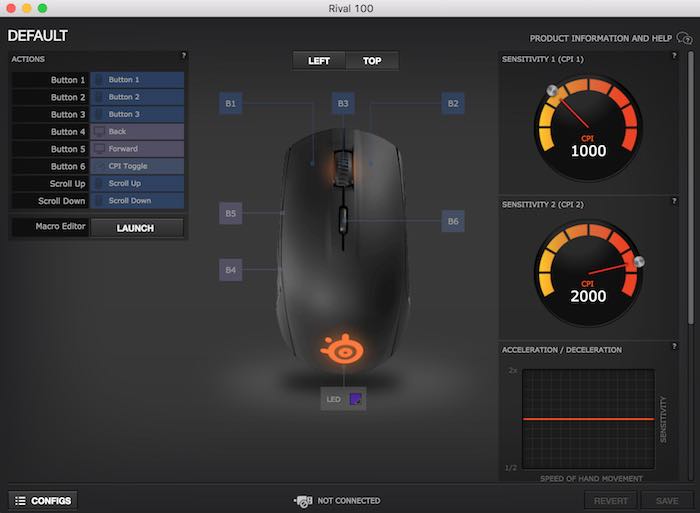 The SteelSeries Engine 3 software
Price
Whilst this mouse comes at an RRP of €39.99, I got my mouse for just £24, which seems to be a normal price across the web for this mouse. I feel it is definitely worth the £24 I paid for it, and it will do me well as a fancy mouse or even as a gaming mouse. I would definitely buy this mouse again at this price.
Conclusion
Whilst I've spoken very positively about this mouse in this review I would like to point out a few issues. 
The first issue I found with the mouse was the lack of buttons. Most gaming mice feature around 8 or 9 buttons, or in the case of the Logitech G500, 10 programmable buttons. For those of us who play Diablo II or Diablo III, extra buttons are very useful, allowing us to configure different buttons with different spells. Six buttons is not enough in most cases. The button I personally miss the most on this mouse is the middle side button - instead of just a back and forward button you have three buttons; back, forward and a third button. I found this button to be very useful with many games I play, in particular Diablo III since as a Wizard-class character I would assign Frost Nova to this and blast enemies around me as a last resort. It is an easy to access button and would have been great on this mouse too.
The second issue with this mouse is it's lack of weight. For me personally, this is not a huge issue, but when I'm gaming I like my mouse being a little heavier. This way the mouse does not slide around. The Rival unfortunately is too lightweight.
I would recommend this mouse to anyone who wants a really attractive mouse on their desk, but as a gamer, the Rival does not quite rival my G500.
Very cheap price for a gaming mouse
Ambidextrous design means that it can be used in either hand, albeit at the price of two buttons for left hand users
Built in memory
Comfortable design
LED can be configured to any colour you like
6 programmable buttons is just not enough
Limited to one profile stored on the mouse
Too lightweight for serious gaming
Powered by DASH 2.0 (beta)
Scan and keep for the latest article or review every time!