For at least the last four months I have been contemplating a Sony Android-based smart TV as a replacement for my ageing Samsung C750 (which by the way works perfectly still). I have been a Samsung fan for about 8 or 9 years now, at least for TVs, and would swear by them, but I thought seeing as the Sony Bravia range was moving to Android I should at least check them out. This review is going to look at the Sony Bravia X830C LED backlit LCD £650 smart TV.
The design
Whilst our previous Samsung B8000 television was very slim (in fact, it was overall slimmer than this), this TV boasts both a slim front to back and a very slim bezel. The TV still manages to retain a large chunk of the connectivity without the need for those annoying hanging adapters that a lot of Samsung's range feature whilst remaining slim. I also like the way that Sony has gone for zoned connectivity - so the modern connectors are all featured on the side of the display (including the HDMI and the USB ports) and the older connectors are found on the back of the display (including composite/component and so on). 
The buttons for controlling the TV are neatly concealed at the back, which is something I really like and is really only useful if you lose the remote control. Speaking of the remote, I'm not a huge fan of the design of the remote, especially the fact that there is a Football button as well as that large Netflix button (since although I do use Netflix, I'm more an Amazon user than a Netflix) and the square design of the remote. 
Android TV
Android TV is an open source operating system based on the already popular Android that has evolved from being a smartphone operating system to a much more general operating system. The same operating system that works on smartphones now works on smart TVs. This means that the operating system has been built on an already tested operating system. It also means that updates in the future are far more likely and that the operating system is free from proprietary influences. By not being a proprietary operating system, Android has no single owner and is made to serve the people, not the company. As a result of this, it will likely see better updates than if it were proprietary.
However, Android TV is in its infancy, that means that it's not quite perfect yet. This TV demonstrates the imperfectness of this operating system down to the wire since it is underpowered for running the operating system. This is my first criticism of the X830C. From the moment the TV is turned on, problems occur with the TV taking quite a while to start up - even compared with my 6 year old Samsung C750 which has fast startup turned off (I do this intentionally so that I get the lovely Samsung startup jingle!).
Since Android is only in its infancy and Sony have just made the switch to Android it makes perfect sense for the TV to be experiencing bugs initially, but for the end users, this is not a good thing. In fact, most companies use their first range as a demo range to see how it works. Sony will have learned that the current version of Android TV is pretty demanding and indeed requires better hardware to run it. The alternative is to improve Android for use on the smart TV and make it less demanding. 
On that subject, Android was supposedly receiving an update to make it perform better on smart TVs at some point in 2016 and whilst I have received all the updates, including the July 2016 update, I can verify that the Bravia X830C does not perform overwhelmingly better than it did before (as it happens I also set one of these up for someone in March, and it was slow then too).
Updates for Android are downloaded straight from the internet on to the Bravia's own storage and then the system is updated automatically - there's no need for an external drive to do this.
Specifications
My favourite part of any review is the technical stuff, so let's get started with that. First off, the display supports a maximum resolution of 4K which is 3840 by 2160. The CPU powering the Bravia is the Sony X1, a new CPU by Sony designed for 4K (UHD or Ultra HD) content. The CPU performs well in most cases, but as mentioned before, the bugs of the operating system can cause the system to slow down and sometimes even crash.
The TV is often slow at responding to commands given by the remote controller and it can be very slow at going into standby. Sometimes when going into standby the audio continues to run for a few seconds and the longest I've recorded with the audio running was a total of 6 seconds! That is astounding!
The TV features a plethora of different things, ranging from it's access to the internet directly through many apps - including the Opera web browser, YouTube, Netflix, Amazon Prime, BBC iPlayer and much more. And since the X830C runs the Android operating system it is easy to download more apps in the future.
The X830C can also pause, rewind (according to the expert at Currys, I've not found out how to do this though) and record live TV when given an external device to store it on. Since the device features three USB 3.0 ports, it's easy to connect an external hard disk drive, an external solid state drive or a large USB drive to the TV and enjoy easy recording of your favourite programmes without needing to have a huge external box such as a YouView box. In terms of capacity, I have opted for at least 128GB of storage to be able to record just a few programs but mainly for the ability to rewind and pause live TV. Also note, that although this TV features YouView, using YouView will not (currently) allow you to record TV. Finally, after using the TV for some few weeks, I was noticing every so often that I could not record. I found out exactly what it was almost immediately after the third time it did it. The recording system does not work properly and constantly corrupts the drive every so often. This is absolutely dreadful because you need to take it away and plug it into your PC and format it there, losing everything you have recorded on the drive. This really needs to be fixed before I can recommend this TV for recording to anyone.
The TV also features a DVB-T2 tuner which means that this TV can receive Freeview HD, which is currently broadcast across the UK at 720p or 1080i. 
The display
The display itself is a matte one - not glossy, so it shouldn't really reflect a lot of light. Under normal conditions however, I find that it does reflect a lot of light. This feature is something I like but also dislike. The reason I like it is obviously because it reflects less light and it's much easier to keep a matte screen clean of fingerprints and so on. The reason I dislike matte displays though is that they tend to produce less vibrant colours, and the Sony is no exception to this.
The colour reproduction on this display is not the best and feels slightly washed. In direct comparison to my non-LED backlit display the black level is low, meaning that the lowest black is a gray colour rather than deep black (LED displays are meant to be better at this too). Brightness is another thing that the TV slightly suffers with. When the TV becomes much brighter, it's colour quality degrades quite considerably.
In terms of colour and brightness Sony has gone slightly cheap here. Whilst they do have their own Triluminos technology (found in their Xperia smartphones) which provides much better colour reproduction, they have for some reason refused to include it in the X830C. 
Sony used an in-plane switching (IPS) panel in this particular model which means it has a viewing angle of 178°/178° which is very useful a living room television. IPS panels also tend to produce better colour quality than their competitors like twisted-nematic (TN) panels. I have noted however on the left and right that the panel does slightly loose it's colour just before about 160° which is still absolutely fine for everyday use. 
Watching my favourite Blu-Ray in 1080p and leaving the TV to upscale the quality to UHD, the TV does not disappoint. The Dark Knight looks absolutely stunning on this display, with colours being very accurate (as I say not as accurate as my Samsung C750) and the whole movie being very vibrant and stands out nicely. 
Audio
In terms of audio performance, the X830C provides moderately good sound quality - at least good enough for every day use. However, whilst watching some films including The Dark Knight, sound quality was lackluster. 
Again compared with my Samsung C750 or Samsung B8000 that this TV replaces, the sound was completely lacking in depth and definitely had no bass the way that both Samsungs did. 
In general, the sound was slightly disappointing.
Connectivity
In terms of connectivity, the Sony X830C is one of the best LED backlit displays I have been able to find. As more and more connections are being removed from modern LCD displays which are trying to become slimmer, the Sony does not disappoint offering the modern and the old. This is great for people who like to play older games consoles like the original NES or Nintendo 64 but also want their really advanced HDMI ports to plugin their Blu-Ray players (like me). I theorise that in a couple of years none of these older connections will exist on any TV in the same way as computers ditched the old connectors such as the original serial ports in favour of USB, leaving hundreds of devices unusable. On that note kudos to the Bravia for keeping us older gamers happy!
So the Bravia features a range of connectivity options including:
4x HDMI 2.0 ports (one with Audio Return Channel [ARC] enabled and another with Mobile High-Definition Link [MHL] enabled)
2x USB 2.0 ports
1x USB 3.0 port (for an external disk)
1x Ethernet RJ-45 connector (for networking the Bravia using wires)
1x S/PDIF optical audio connector
1x SCART
1x composite/component (shared) connector array with audio (shared)
1x 3.5mm headphone jack for audio out
1x RF connector
2x Satellite connectors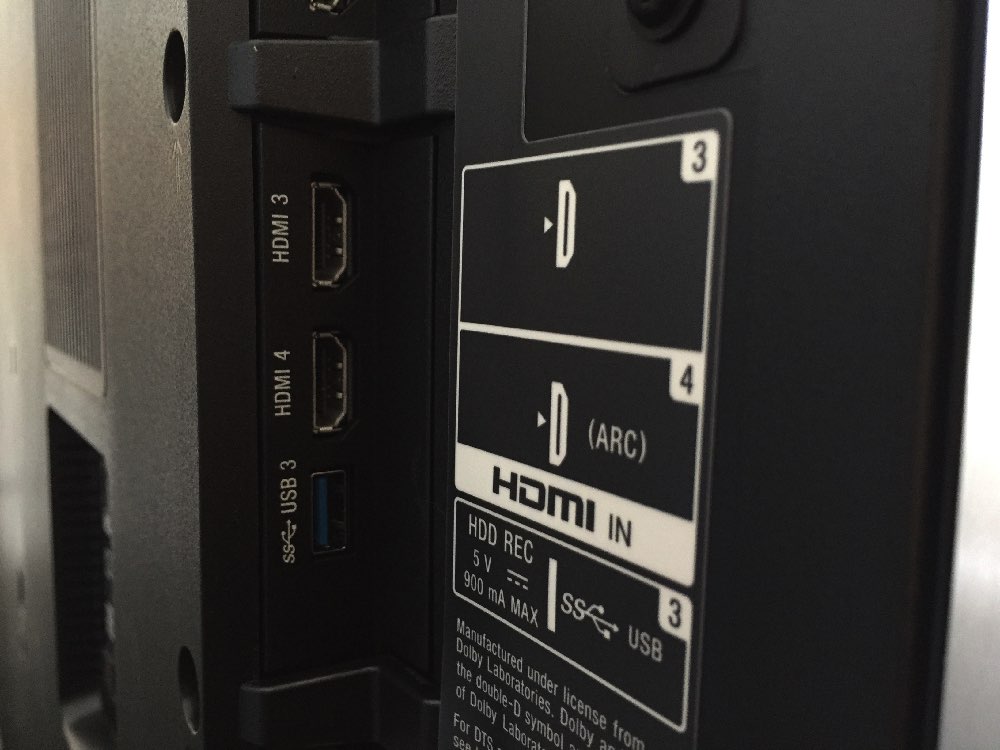 The TV features an HDMI port with Audio Return Channel so connecting to external audio systems is easy
For those who want to connect older computers to the display, you will need an adapter to connect a D-SUB VGA connection to this TV. It's a shame that it wasn't included, but at the end of the day VGA can be replaced whereas the other connectors such as SCART may be more difficult to find substitutes for. Sony has also ensured that one of the HDMI ports is PC-compatible, meaning most likely it is setup with the right configurations for use as a DVI connector. 
The MHL connector provides 1.5A of charging power back and is version 3 compliant. All the HDMI ports use HDCP version 2.2, so using 4K technology with these connectors will not cause any problems.
The Bravia features Bluetooth for connecting to devices such as the DualShockâ"¢ 4 controller (for those who do not know, this is the type of controller used with the Sony PlayStationâ"¢ 4). This allows you to game using the aforementioned controller on you Bravia. A nice little feature if you ask me.
Finally, the TV also features built-in Wi-Fi, a nice addition for me since I've been using wireless adapters if I needed wireless capabilities on my previous Samsung TVs. The TV also supports casting, so you can wirelessly display the screen of your computer on the TV provided they are on the same network. As with Bluetooth, I'm not entirely sure what version of Wi-Fi this is because Sony has not disclosed this information on their website, but I would assume it is 802.11n as opposed to the newer 802.11ac.
Conclusion
The Sony Bravia X830C is a remarkable 4K TV for it's price but it is let down by several small things that could have been avoided. I will start off by mentioning how the TV is one of the most interesting TVs I have used. 
Firstly, Android TV is a great step forward for openness on the smart TV market and I'm glad that Sony has decided to embrace it with their current range and new range of smart TVs. I also think that Sony has been very thoughtful with their connectivity options on this TV, leaving us our older SCART connectors and composite and component video connections without the need for annoying adapters found on some Samsung TVs. I really liked the way the connectors were grouped by what will be used most with the HDMI and USB connectors on the left hand side of the display and the older connectors on the rear of the TV. Built-in Bluetooth and Wi-Fi are very nice additions to the Bravia and certainly for me very useful. 4K content looks brilliant on this smart TV with good upscaling for older 1080p films. All of these features and an excellent price point of just £650. Finally, as with many smart TVs out there right now, there is an app to control the TV from a smartphone, however, the keyboard entry is very flaky and at times decides not to work at all and then other times just take a long time to input the data from the smartphone to the Bravia.
In general, Android TV is buggy and subpar for the majority of users. It will hopefully get better with time and hopefully not leave behind the current generation of smart TVs (since really that's the whole point of Android's design and why Android should really be used instead of proprietary designed software). Android is very resource-consuming which has left this TV with a range of problems. The X830C's colour reproduction is not brilliant either with a bit of a washed look to it and the lack of zone based LED backlighting is a bit of a disappointment. Audio quality is not the best, but it is rectified by Sony providing a HDMI port with ARC enabled on it and an optical audio connector to allow you to connect an external audio device. 
But let's remember that everything I've criticised here is reasonable since the price point for this TV outweighs all of it. Android TV will continue to get better and this TV will get better with it. Overall, I think this TV is still a great TV and it's only let down by one or two things. I particularly would point out that the fact that you cannot pause or rewind live TV when a USB drive is plugged in, even though my 6 year old Samsung C750 can and I would also point out that the recording feature is below par since the TV seems to format the drive every so often. This really needs fixed.
Android TV is a great move forward and whilst it's not perfect yet, it does open the world of apps to the smart TV.
Simple and well designed appearance
4K UHD content looks amazing
4K upscaling
Satellite connectors
Great selection of older connections such as SCART
Great price for a 4K display
HDMI 2.0 and USB 3.0
HDMI with ARC and HDMI with MHL
Bluetooth and Wi-Fi
Android TV is flaky, demanding and slow
Backlight bleaching and washout
No 3D option
Poor audio quality
System is underpowered
The recording system does not work properly and constantly corrupts the drive
Powered by DASH 2.0 (beta)
Scan and keep for the latest article or review every time!