As a long time Apple fan making the switch from iOS to Android was going to be tough. I'm attempting to make the switch from an iPhone 6 to a Samsung Galaxy S7. In this review I'm going to give my own view of this Android powered device.
My story
For me, Apple has been my company of choice for computers since 2011 and my phone manufacturer of choice since 2009. I made the switch to a Windows Phone in 2011 but switched back on the first possible occasion (in fact, it's the only phone contract I've paid to get out of early). 
As a Mac user (at least for the past 5 to 6 years or so) everything I've got has become more and more influenced by my use of OS X (or macOS now) so I ended up with an iPad, iPhone, iPod Touch, Apple TV. My family are all iPhone users bar my father who uses a Windows Phone since he believes that iPhone and Android are not 'professional' enough (which is absolute rubbish, but he has a bit of an ego and snobbery around him). We have three Macs and two iPads in the house too, so I think it's fair to say that our house is mainly Apple in the field of mobile devices.
All of this coupled with the fact that iOS devices and Mac OS X (macOS) devices work side-by-side in an effective way would suggest that I would be going for an iPhone 7, and indeed for a relatively long period of time this was my original plan. So what changed?
What changed?
Before I describe my change, I'd like to point out I'm a Samsung fan too. I own a Samsung smart TV, smart Blu-Ray, and use so many other things by them. I'm a huge fan of Samsung and as a matter of fact this will be my second Samsung phone.
Like many, I found Apple's latest update to the iPhone boring. The iPhone 7 and iOS did not make me fall in love with the iPhone again, unfortunately. And whilst iOS 10 is a really nice update, it does not bring many new features to the majority of users. 
I thought to myself that I would cope again with another few years of iOS but the truth was it was that time of my life again where I make the switch to another smartphone OS (I'm thinking a bit the same with my laptop, finally moving away from Macs again, but since they are great for my work it's more difficult).
When I considered switching, I always remember my Windows Phone disaster and the problems I had with that switch, further making it harder to warrant a switch again. However, staying the same throughout life is boring. I don't like to have one thing for too long as anyone who follows me on Twitter, YouTube or my website would know - I like having the latest stuff (I guess that's the nature of my profession). In the same way I like the latest stuff, I like new stuff, and that's what Android (at least on a smartphone, since I did have a Google Nexus 7 for a few years).
Anyway, the main point for me getting a non-Apple made smartphone was about change. I just couldn't bare any more looking at iOS. And I know more than anything that this time in two years time when my contract is up I will be back considering iOS again.
Introduction
This review will focus on the Samsung Galaxy S7, not the Samsung Galaxy S7 Edge, not the Samsung Note 7. No. Just the plain S7.
As an iPhone 6 user for the last two years, I will be comparing a few features of it to this year's Samsung Galaxy S. 
Galaxy Gate
Samsung became more famous than ever in the last month or so with Galaxy Note 7s catching fire and in some cases exploding. As a result, Samsung has lost a lot of it's former market. During this difficult time Samsung is trying to claim more and more customers from Apple and make them switch to the S7 and S7 Edge smartphone and keep them away from Apple. Unfortunately for Samsung, coupling the Galaxy Gate disaster and the release of the new iPhone 7, the timing could not have been worse for the Korean electronics giant.
Trust is a difficult thing for companies to earn, let alone earn back, and whether or not Samsung will lose and never regain trust again is completely unknown.
Design
The S7 is an attractive and well built phone
As far as design goes, I never thought much of the Samsung Galaxy S range until the S6. In my opinion, it was at that point the Galaxy began to take shape and actually look decent.
The S7 features an appearance very similar to the iPhone's generally square with curved edges look. It features a grey outline on the sides, a black front and a glossy black back. The back is a bit of a fingerprint magnet, so if you don't like smartphones that get dirty then this phone will not be for you. The rear-facing camera on the back is in the middle of the device as opposed to being offset to the left or right. There are two volume buttons on the left-hand side and a lock/power button on the right-hand side (something a lot of bigger smartphones do). There is no mute switch featured on iPhones (Android does provide this feature from the top 'control centre' thing). 
The front of the S7 is flat with no curving edges. The back, however, features a curved design from the sides. The splits between the antenna strips appear in pairs at the top and the bottom which I think looks miles better than the iPhone 6's attempt at this. Also on the top of the S7 is a SIM card tray. However, Samsung neatly also concealed the Micro SD card into this tray, so expanding the storage can be done from the same place as you would put your SIM card.
The device features the standard back and overview capacitive buttons, as well as a single physical home button. I came to Android in the first place because of the fact that it focuses on function over form (whilst not neglecting form completely, but I do believe that iOS is more polished), something I believe Apple seems to be doing with its closing of macOS and making life for us developers more difficult.
The large size makes it similar to a lot of other large smartphones like the iPhone 6 and iPhone 7 and less like smaller devices such as the iPhone SE. The Galaxy S7 also features a set of small speaker holes which allow sound to come out of the device. To the left of this you will find the Micro USB port for data, charging and for use with other devices. To the left of this is the infamous 3.5mm headphone jack that was one of a few things that deterred me from buying an iPhone 7. 
'Build quality' is normally a bit subjective in most cases, and I'm not going into a comparison here for that reason. Both the iPhone and Samsung phones have about the same level of build quality. I'm not going to say that Johnny Ive hasn't put any effort in to the new iPhone or that Samsung's engineers have done a better job - there's no comparison here. Both are equally as good.
Features
The S7 is a feature-rich smartphone. Featuring all the usual stuff like Wi-Fi and Bluetooth as well as NFC allows this phone to connect to many other devices very easily. The phone now features Android pay allowing you to pay for purchases in certain locations (including KFC, McDonald's amongst others) using your smartphone. 
The camera on the S7 is a particular feature that compares well with the iPhone 6 (and probably 7, but at the current time I cannot compare). A sample picture taken on the iPhone 6 is shown on the left and one on the S7 is shown on the right. Click them to see it in full resolution and uncompressed (they are large so I do not recommend viewing these over your data network).
It's clear that the S7 features a far more colour vibrant camera. The colours on the iPhone photograph seem slightly blue. The choice is entirely up to you, but I'd much rather the S7's camera.
The Galaxy S7 features Samsung's own implementation of the fingerprint authentication system, so you can use your finger to unlock your S7 or to reload passwords in websites or apps.
Battery life on the S7 is considerably better than the iPhone 6, and there are also many more features such as the Battery Saver and Ultra Battery Saver features that improve the battery life further.
Samsung chose to remove MHL (Mobile High-Definition Link) from the S6. A feature that many of us, including myself, always really liked since it meant that you could stream video straight from your smartphone to your projector or TV without relying on the slow speed of a wireless connection. This seems like a silly move by Samsung, but from their point of view, probably a good one since it acts as a means of marketing for the televisions since in their own range of TVs it apparently only works with their 2015 and 2016 TVs. 
The S7 supports inductive charging, better known as wireless charging. The wireless charging option does exactly as you'd imagine - lets you charge the S7 without plugging in a Micro USB cable into the bottom. Below is a picture of my S7 charging using a cheap (£8) charging pad that I obtained from Amazon.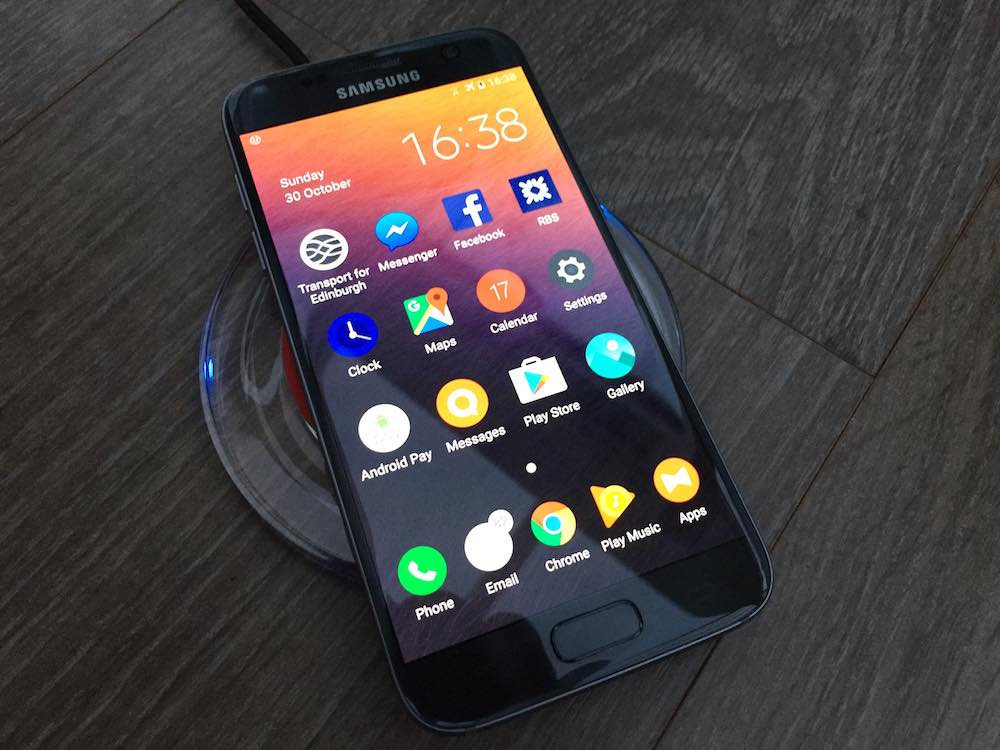 Wirelessly charging the S7
Specifications
In terms of specifications, the Samsung Galaxy is a very powerful smartphone. First of all, it features an Exynos 8890 2.3GHz octa-core (depending on your region but at least in the UK we have octa-core versions) CPU and 4GB of RAM. It features 32GB or 64GB of built-in storage but it also supports expansion via a micro SD card that can be up to 256GB in capacity.
I'm sceptical about drowning my S7 in water to test the water resistance
The S7's measurements come in at 142.4 x 69.6 x 7.9 mm weighing just 152 grams. Featuring a 5.1 inch Super AMOLED Gorilla Glass 4 touch screen with a resolution of 2560 by 1440 (Quad HD) gives the S7 a pixel density of 577ppi (pixels per inch). It also features IP68 (the IEC standard that specifies a 6 for dust resistance and an 8 for water resistance). This means that the phone can be submerged to up to 1.5m of water for up to 30 minutes - unlike the iPhone 7 which can only be submerged in up to 1m of water for up to 30 minutes.
The phone itself runs on Android 6.0.1 Marshmallow and runs Samsung's TouchWiz interface. This may not be to everyone's' liking, and certainly, I liked the stock Android OS interface a little more, but with time I'm sure I will learn to like TouchWiz. TouchWiz with the Orange theme is pictured on the right.
The S7 features a 12-megapixel rear-facing camera with an LED flash and a 5-megapixel front-facing camera. The camera can record video at 1080p, but it can also record at 2160p at 30Hz (4K@30Hz). Slow-motion videos and panoramic photographs can also be taken but as Android is more open to development, there is also the option to download more features from the Samsung store. 
Connectivity-wise, the Galaxy features what you'd expect on a high-end smartphone of today: 4G LTE, 802.11ac dual-band Wi-Fi, Bluetooth 4.2, GPS (with assisted GPS) and Near Field Communication. It also features a single Micro USB port and a 3.5mm headphone jack. The Micro USB port also supports the USB host feature, meaning that the phone can have any device plugged into it and it will act as the host (e.g. a USB flash drive can be accessed by the device).
In terms of speakers, the sound quality is not quite comparable to the iPhone's audio quality, especially when compared with the new iPhone 7's stereo speakers (which I have also tried and loved).
Features I miss from iOS
iOS is probably the better operating system in the smartphone environment. Android feels messy and slightly cluttered with features, settings and the Google Play Store feels cluttered with apps. 
However, the main things I miss from iOS are mainly Apple's own apps. I particularly miss Keynote, Pages and Numbers since all three of them are still my main apps for their respective purposes. Another app I miss is Find Friends. I use this to check where my family are in relation to me when they are meeting me somewhere to save phoning them and asking where they are. 
I also greatly miss iMessage and being able to text over the Wi-Fi. 
iMessage and Find Friends are two of the most used apps on my old iPhone. I will miss both of them greatly.
As a Mac user, I miss the fact that all my devices worked together from iPhone to iPad to Mac. The fact that I could reload a tab that I had open on my MacBook Pro or iPad in Safari was great (even though recently I've finally moved to Chrome on my Mac since it synchronises with my desktop at work which runs on Windows).
Conclusion
My decision to switch to this phone may not have been the best, but I simply could not put up with iOS for much longer. And like I said, not being able to bare iOS anymore only comes from four years of it. I like change, and change for me in the past involved changing to Windows Phone, something I regretted for a long time. I'm certain I will switch back to the iPhone again after this phone is up for renewal but for now, I need a change, and the S7 is my Android smartphone (but not my first Android device).
All that aside, for now, the S7 is the smartphone I will be using, and it is a fantastic smartphone. With the on going Samsung Note 7 debacle, it's a difficult time for Samsung and with the loss of millions of Samsung users, many people are turning away from their other smartphones including the Galaxy S7 and Galaxy S7 Edge and losing the market that they once (or twice) ruled.
The S7 is bundled with many features including an awesome camera, a decent battery life, fingerprint authentication for logging in, a powerful CPU, a lot of RAM and all the usual features you'd expect to see in a smartphone today.
The design is lovely, if not a bit of an iPhone rip-off but it's a bit of a fingerprint magnet, even when the iPhone is not. In general the phone feels great, but I can't shake the feeling that it's a bit of a cheap feeling iPhone.
Is this device an iPhone beater? If Apple had made the iPhone 7 a bit more interesting, would I still have gone for the Samsung Galaxy S7? Well let's put it this way, I may have spent more time considering it than I did. Will the iPhone 8 bring me back? Most likely. What I'm saying is if you are a happy iPhone user then this phone probably will not swing you to Android.
The phone feels sturdy and strong
Good design
I really like the capacitive buttons featured on a lot of Android phones including this. The Home button also feels great.
Great performance and great CPU and RAM
Decent battery life
The AMOLED display is amazing producing better colour and a much sharper screen
The great size of the screen (subjective)
Cheap compared with the iPhone
Android is open. As a result, you can do quite a lot more than you can on iOS such as browse files on the device
Android and TouchWiz seem to be a bit under-developed compared with Apple's iOS
The device is a fingerprint magnet
Audio quality is not on par with iPhone 7 or even iPhone 6 for that matter
Scan and keep for the latest article or review every time!