Logitech are renowned for their gaming hardware; ranging from mice to headsets, they cover all of the main equipment a professional gamer would need. But over the years, they have recieved a lot of praise and criticism for their products, leaving gamers like myself unsure as to whether or not they are a good brand.
For keyboards, Logitech's G19 was famous for it's built in LCD screen that some gamers found incredibly awesome. However, like many other gaming keyboards, this keyboard was plagued with the need for it's own dedicated external power supply since including the LCD screen required so much power. Logitech has since been developing new models however, and in 2010 released the G510.
Specifications
This keyboard is non-mechanical. It features membrane rubber dome keys. It also features RGB backlighting, although it is not a per-key RGB keyboard, unlike some of the competitors. The backlighting is weak but very stable, and does not disperse around the keys but through them - nice work Logitech (since many others don't manage this at all). RGB lighting, as the name suggests, means that any colour in the whole spectrum (that's 16,777,216 colours) can be selected.
As mentioned, Logitech has a tendency to add features to their keyboards like the GamePanel. Indeed the G510 does feature the GamePanel (and there is more on this later in the review). However, a single USB port is required for data and power (drawing a whopping 0.40A) and the G510 does not require an external power supply, unlike the G19.
The GamePanel
The first thing you will notice when you use the keyboard is the GamePanel. Like the G19, the G510 also features a small LCD panel that can be used to provide extra data to gamers.
The Logitech GamePanel LCD display is similar to that of the G19. The LCD is a monocrome display at a resolution of 160 pixels by 43 pixels, in comparison to the G19's coloured display with a resolution of 320 pixels by 240 pixels. I guess this works out okay since the majority of tools used on the display don't really benefit all that much from colour and higher resolution.
The GamePanel is great, and apps are developed for a wide range of games, including one of my absolute favourites, Command and Conquer 3: Tiberium Wars, and apps are apparently easy enough to develop, so more apps can be added easily.
By default, there are several different included GamePanel 'apps' including:
a clock
an RSS reader
a performance monitor
a timer
and much more.
Other popular apps include FRAPS, allowing you to watch the FPS rate whilst playing the game and removing the need for the FRAPS FPS overlay.
The startup logo can also be customised to your own choice - a nice little feature, but probably never going to be used.
Features
As well as featuring the GamePanel, this keyboard features 18 G-keys. These keys are just macro buttons (a macro is a specialised program or script that can run specific, short instructions, such as sending key presses to the system). As well as having 18 keys, it features three different modes for each profile which can be toggled by pressing the M1, M2 and M3 buttons at the top, allowing for a total of 54 different macros at any one time!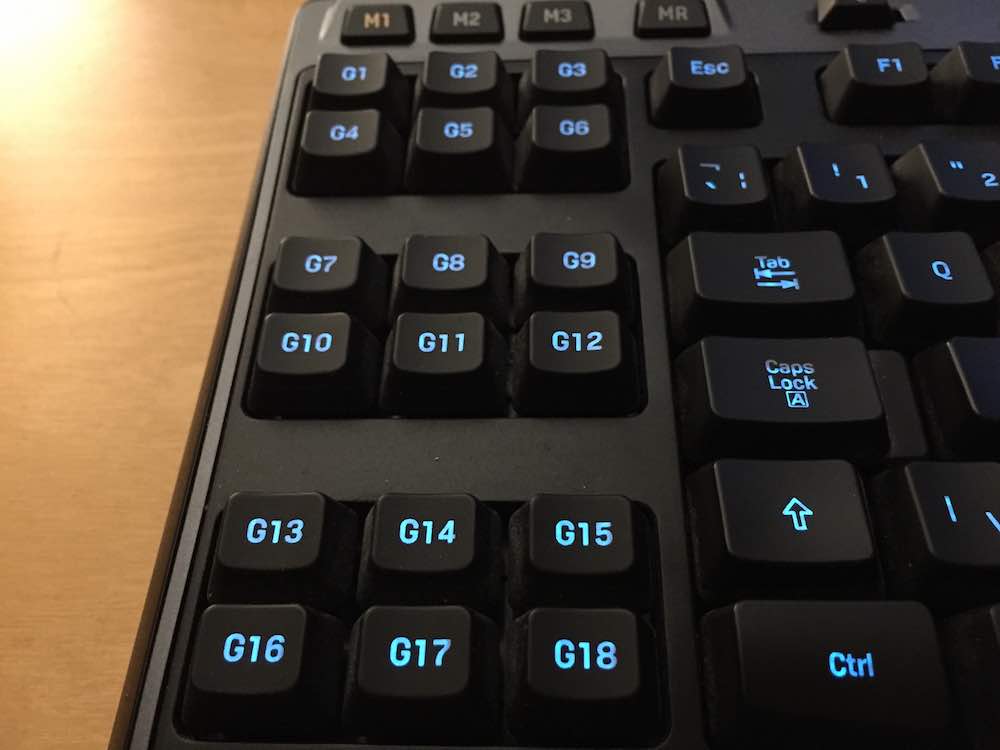 The 18 G Keys
Macros can be easily recorded too, by just pressing the MR button at the top, the keyboard begins to record the key presses made by the user until the MR button is pressed again.
The keyboard features a gaming mode switch, allowing you to disable the Windows key to prevent accidental pressing of the key when gaming.
Another awesome feature of this keyboard is the built in soundcard. Logitech decided to put a full soundcard in the keyboard, rather than just adding a USB port passthrough to it, which I and many others would probably prefer since this allows you to insert your own soundcard and headset. The soundcard makes the keyboard warm when it is used for prolonged periods of time but having said that, it's probably not doing any damage to any of the electronics inside, but it's worth noting.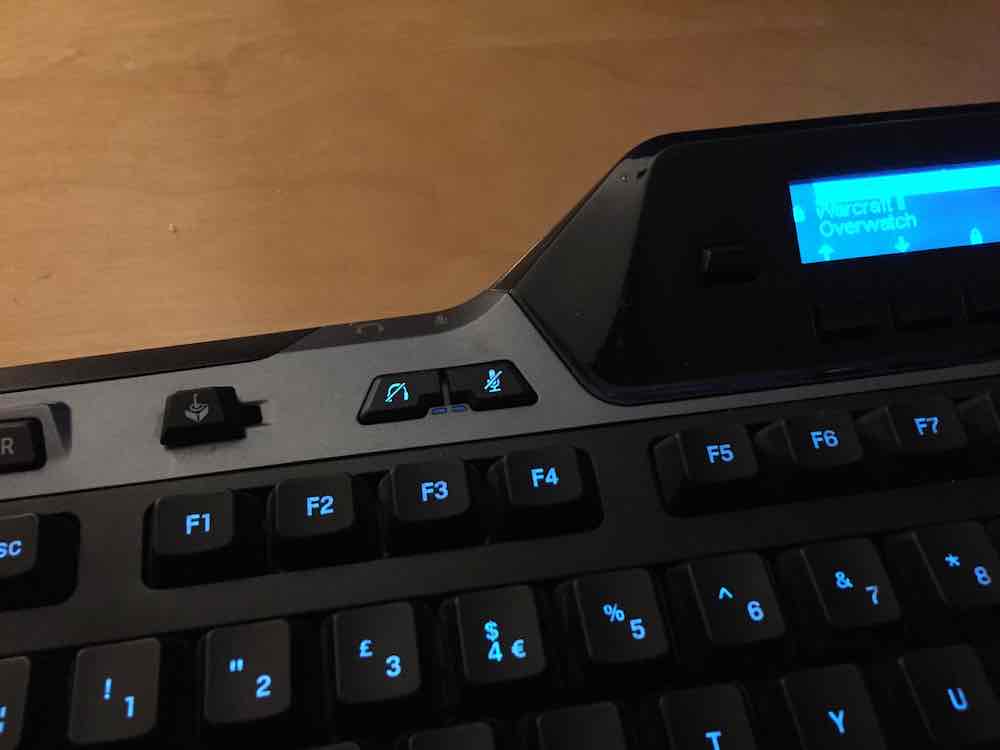 The soundcard can be controlled separately
The keyboard also features media buttons, so controlling any music or whatever is easy enough. It features a volume scroller, so changing the volume is even easier than having to press some volume up or volume down buttons. This is an incredibly nice feature of this keyboard.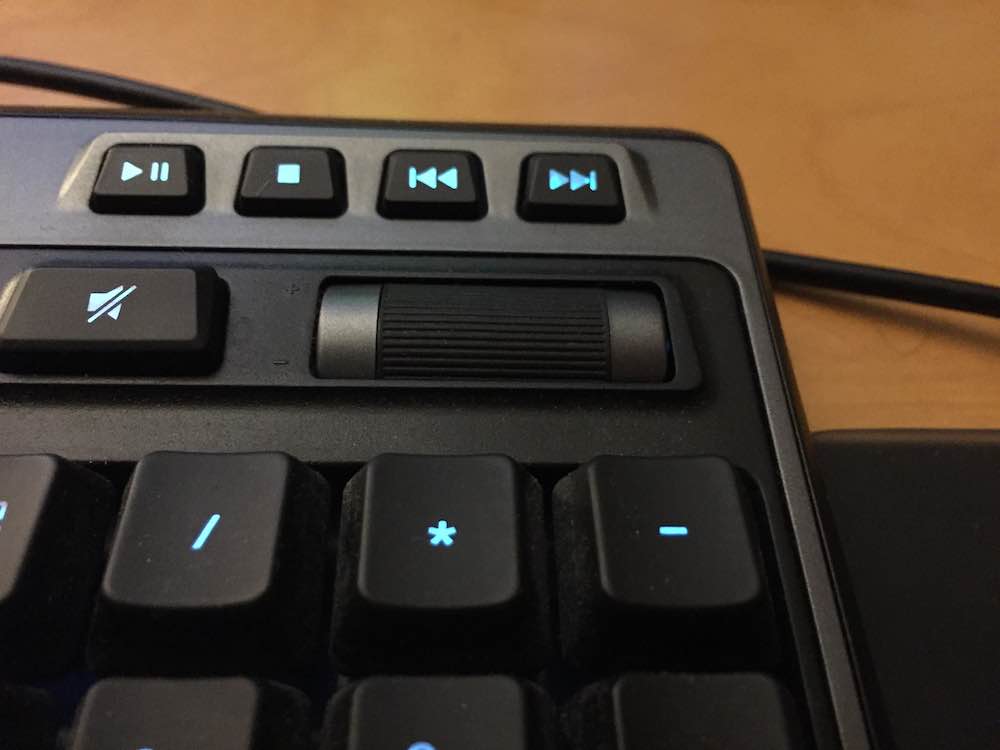 The media keys and scroller
One of the most significant features of this keyboard, which it's sibling mouse, the Logitech G500, also has, is built in memory. This means if you go to a LAN party without your computer or go to a friends, you can bring this keyboard with you and access your profiles straight from the keyboard. I like this feature since I connect two different computers to my keyboard through a switch, meaning both computers have access to the same profiles without me having to keep them in sync.
Many games are included and compatible with the GamePanel, and there are so many pre-defined keyboard macros and so on, so you may find that one exists for the game that you play already.
The problems
After using this keyboard for several weeks, I have come to realise one or two major problems with it. The first is the power drawn by the USB port. The standard USB 2.0 connector can provide a maximum of 0.5A at 5V across a single connector, meaning a maximum power rating of 2.5W. However, this would likely be a powered connector rather than a hub. As a user of two computer systems on my desk (a MacBook Pro and a desktop computer, The Zebra) I have a switch to switch my keyboard and mouse between the systems, unfortunately, my switch is not powered and the connection length between the desktop computer and my keyboard is around about 4 meters. This means that a considerable amount of energy is lost between the computer system and the keyboard due to the length of the cable. As a result, the keyboard occasionally disconnects. This does not happen with my Logitech Illuminated Keyboard. Note to self: I will need to get a powered hub for this.
After testing this with a powered hub, I have discovered my original assumptions were correct:- the length of cable means a lack of energy and in turn the drop out. 
The other major problem with this keyboard is more of a quibble than a problem. When you hold the left CTRL + V to paste into an application that uses a standard rich text box, the application will not repeat whilst the CTRL + V keys are held down. However, hold the right CTRL button and the V key and it will work as if any other keyboard would. I'm not entirely sure as to why this is, it may be down to the fact that it is a gaming oriented keyboard and designed to prevent repetition.
Compared with the G19
To some, the lack of coloured display and dual powered USB downstream ports will be the downside of this keyboard, but the fact that it draws less power and requires just a USB port to function could be seen as the upside of this. 
The G19 is a better, albeit far more expensive and older keyboard, that lacks some of the modern features of the G510.
Conclusion
It is fair to say that G510 is a perfect first gaming keyboard and one that really pushes out the boat on all of it's features. Personally, my main quibble is problem with the power across the long distance, but I cannot fault the keyboard for this. I am very happy with the fact it does not require a power supply, unlike the G19, and that it allows you to select any of 24 bit colour range for the backlight. My main disappointment in terms of anesthetics is the lack of brightness on the keys. However, this can also be forgiven, since increasing that would also require more energy than it already needs. 
Since this review was published, I've added new photos of the keyboard, replacing the old ones.
The keys have a great feel to them
Good price
Single USB port and no external power supply
Built in storage for profiles is excellent
Built in soundcard
GamePanel adds that extra information which is great for monitoring your PC or maintaining a good strategy against opponents
54 customisable macro buttons is the most I've ever seen on a gaming keyboard
Logitech's software for controlling the keyboard is well designed
The demand for more power means that running the keyboard over longer distances, for instance using extension cables, is not possible (it might be with powered hubs)
Brightness on the keys is pretty low
No USB downstream ports
Scan and keep for the latest article or review every time!