Introduction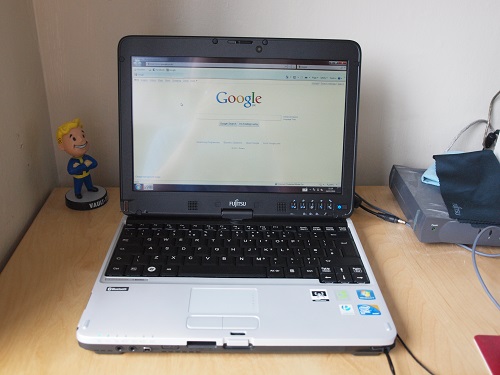 The front of the Fujitsu T4410
Whilst tablet PCs have not kicked off the way that they were expected to, Microsoft continues to support the endeavour to produce a tablet friendly operating system. Windows 7 pushes the tablet side of things one step further by adding support for capacitive displays and multi touch. All these features are pushing the boundaries of PCs and leaving room for some new designs of computers. Convertible tablets have existed since 2003 and the Fujitsu Lifebook T4410 takes the concept of multi touch to the tablet for the first time. But how good is Windows 7 with this notebook and it's touch technology?
The tablet
The term "tablet PC" was officially coined by Bill Gates of Microsoft back in 2003 when Microsoft released the newer version of Windows XP, Tablet Edition. Windows XP Tablet PC Edition brought different functionalities to Windows XP, such as an Input Panel and Windows Journal. Of course these features are welcomed; however, no such 64 bit edition came along of the Tablet PC Edition. With the release of Windows 7 in 2009, much more touch capability has been added such as multi touch and an improved input panel.
Design
The design is a bit of a flashback. It reminds me somewhat of that old post 2004 design, where laptops were looking better than before but not looking their best. For instance, almost every laptop from that era was a simple silver finish with black here and there. It wasn't until HP brought in their Imprint design in 2007 that we could clearly see there was no going back to this design.
Well business-oriented computer designers and manufacturers thought this statement was wrong. The design is somewhat stuck back in the days of simple designs. This is obviously to my disappointment slightly, as a nice piano black finish might have been nice with really nifty glossy silver. But Fujitsu has opted for a plain old post 2004 era design. Somewhat to my personal disappointment, but every time I do look at the notebook it does remind me of some good times with my older laptops in the past, bringing me back to high school again. However, the T4310 (home user version of this notebook) does have a glossy finish, but slightly worse feature set.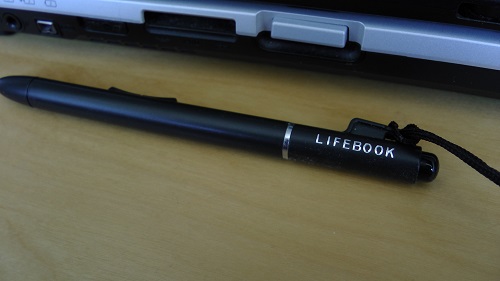 The digitizer by Wacom is a lovely feature
The structure of the design is obviously rather well thought out. To start with, the hinge is a very sturdy one -- one in which touching the screen in laptop mode will not push it back. It also has a very clever design in which accessing the hard drive, RAM and PCI-Express modules is very simple. One plate lies above everything but the RAM pretty much, and so replacing the hard drive is simple. Accessing the 3G card is simple. And upgrading the wireless card is simple. This actually makes this notebook very good in terms of future proofing. However, remember that the BIOS does have its limits. Some hardware will not be supported by this BIOS.
The touchpad is not perfect. It is a major let down for the notebook as I have noticed when you are typing it seems to go across the place. The multi touch features of the touchpad aren't particularly good either - but at least it sports them; I'd far rather that it included a Synaptics touchpad than the Alps touchpad that it features instead. The keyboard on the other hand is a very sturdy one, perfect for typists anyway. The keyboard is pretty quiet and doesn't make the screen jitter. Accessing the USB, HDMI, Ethernet and VGA is rather difficult compared with most notebooks as they are on the rear of the device rather than the sides. The VGA port however is neatly concealed behind a cover which is really good as it is not comfortable to hold a tablet near a VGA port. Although, here's a question; who needs VGA these days?
Performance
The performance is headed with the Intel Core 2 Duo. The Duo in my specific notebook is a T6570. This means it is clocked at 2.1GHz with an 800MHz FSB and 3MB of cache and the thermal design power of my CPU is 35W. Better options are available; P8700 is a 25W version which is clocked at 2.5GHz with 6MB of cache and a faster 1066MHz FSB. I'd definitely opt for the P8700 as it is a far faster performer in benchmarks, due to obvious improvements. Both models are still for sale currently, and all feature virtualisation technology (VT) which is a plus considering the notebook also runs on Windows 7 Professional x64. Windows 7 makes multi touch easy, and no interfacing software is provided by Fujitsu to enable it on this tablet which makes it simple to use. Windows 7 is provided but for those who want to dual boot or downgrade entirely to Windows XP Tablet Edition that is also provided on DVD.
Specifications
In terms of memory, the system is provided with just 2GB DDR3-PC8500, but it is expandable to a very good 8GB with the correct memory modules. 2GB is adequate for Windows 7 but I would recommend upgrading to at least 4GB which has become the norm for laptops of today. Still, with the two gigabytes, it still manages to pull through and show impressive performance, especially when compared with a similar AMD model. The fact that it is a DDR3 system is also an impressive plus for the Lifebook, as DDR3 modules are becoming increasingly cheaper and faster than DDR2 memory, we can clearly see this is the way to go in terms of memory.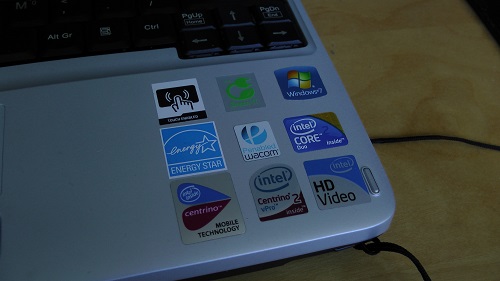 Featuring a Core 2 Duo and more
The hard drive provided really is a big let-down. I upgraded my drive to a solid state drive, 120GB. I definitely would go as far as saying that the solid state drive is worth the money. I received a far better start up time on both Windows XP and Windows 7 and feel that the whole system runs much better. Originally, the hard drive found in the Fujitsu Lifebook T4410 before I upgraded it however is a simple Western Digital Blue 160GB 5,400RPM hard drive.
I have definitely improved performance a few levels by installing a solid state drive, plus it doesn't matter so much when you unnecessarily shake it around when in tablet mode. The integrated graphics are of course, minimalistic, providing just a basic level of performance. Fujitsu opted for integrated graphics for three key reasons: weight - it keeps excess weight off the notebook; size - it also allows for thinner notebooks; and battery life - it is an obvious contender in the modern professional worker to ensure that the notebook being carried around by themselves is able to store charge for all of the tasks that need to be completed on it. This notebook really achieves most of these, but it still would have been nice to have had ATI as the provider of the card, and maybe just having a dedicated GPU would have been nice.
Running NovaBench, the card itself gets a reasonable 50FPS on the graphics test, which is reasonable for this business oriented tablet. The tablet itself can run some low graphic games, such as Warcraft III and all that but would never run Crysis without problems. The adapter takes it graphics memory from three places; dedicated: 32MB, shared system memory: 32MB, and then as Windows 7 feels necessary up to 712MB of the DDR3 memory.
For the chipset, it use the PM45 integrated into the GM45 (the integrated graphics version of the PM45 chipset). This means it has full support for up to 8GB DDR3 SODIMMs, Blu-Ray support, Intel Active Management Technology (AMT) and a 1066MHz system bus. Although it has Blu-Ray support, the drive is only a DVD-RW and it cannot have a custom drive installed.
It also features a Modular Bay, which allows the interchanging of the DVD-RW drive for a second battery, hard drive or weight saver, although the latter options are far harder to find online.
Connectivity
Wireless connectivity wise, this laptop is more than equipped; featuring an Intel 5300 AGN card - which is a Draft N card which makes it ideal for today's Wireless-N based routers and A and G for complete backward compatibility. It also features Bluetooth 2.1 EDR which is a lovely little add-in. Bluetooth is one of the most useful features of this notebook if you have a Bluetooth mouse or keyboard as it really simplifies things with no more dongles. It also features UMTS/HSDPA through the Sierra Wireless Gobi 2000, although this is only available in the premium end versions of this notebook.
Physically, this tablet is more like a notebook; featuring 3 USB ports, one HDMI (a very useful addition), a four pin FireWire connector (the reason I choose this over other tablet PCs), a microphone jack, a headphone jack, a VGA connector (nicely hidden behind a flap), Gigabit LAN connector, a docking connector and an ExpressCard 54 slot. The majority of the connectors are on the back as to make it more comfortable to plug devices in when in tablet mode and to make it look neater in laptop mode. It also features an SD/Memory Stick/Memory Stick Pro (although XD and MMC both function fine on it) card reader on the front next to the wireless switch.
There are no physical Bluetooth or 3G buttons on the notebook, if the user wishes to switch between Wi-Fi and Bluetooth for instance; they must do this using the Fujitsu Wireless Selector application, which is a shame.
Features
In terms of features the Lifebook T4410 is jam-packed with them. At the bottom left of the display you will find a finger print scanner that can be used with the software provided by Fujitsu on the SmartCase Logon+ disk. It can also be used to scroll through documents. At the opposite side is a very neat sensor that determines the correct screen brightness for the environment that you are working in.

As stated before, it features a DVD-RW drive but this can be removed to allow the user to insert another battery, a hard drive or a weight saver module. Something that I pointed out earlier but didn't really expand on is the inclusion of an ExpressCard slot. The ExpressCard hasn't really been seen on many computers released circa 2009 but there are still loads of uses for it. So this is a welcome addition in my opinion.
Tablet mode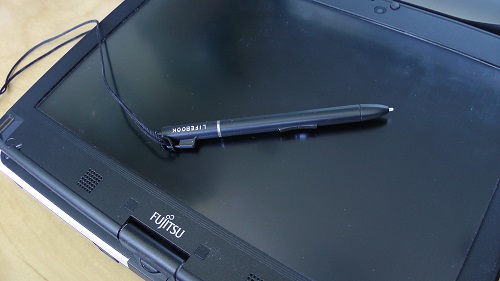 Tablet mode is near perfect, but the screen is hard to see in portrait
The tablet has been discussed, but only from the point of view of features. In tablet mode, the notebook is very comfortable to carry in tablet mode, and that makes a change. The design of the hinge that holds the notebook in tablet mode is a nice basic one, yet a sturdy one. The hinge that acts as the hinge in notebook mode goes through the back of the display and then becomes the tablet PCs own hinge. This design, although very basic, is in my opinion a very good design. However, unlike the HP TM2 and the HP 2710p and 2730p notebooks, the hinge means that the display does not sit flush with the bottom part of the tablet and so it is not as sturdy. Another not-so-good feature is the fact it does not have an edgeless display, unlike the HP 2710p which has a sheet of glass going from edge to edge, meaning every pixel of the display can be touched with a finger (similar to Apple's iPhone which was released two and a half years ago).
The tablet has buttons around the bezel which allow certain elements of tablet PC use to become far easier. They can be customised, unlike HP tablets for instance. The webcam on the bezel is a 2.0MP one and it can still be used when in tablet mode, as can the dual microphones. The tablet comes in at 1.8kg or 1.6kg if the drive is removed and replaced with the Modular Bay weight saver. Also, it features an ambient light sensor on the bezel of the display which means it can operate in tablet mode as well. The resolution on the display is 1280 x 800 capacitive touchscreen which is great for a 12.1" design and gives adequate room for Microsoft OneNote 2010 for taking notes. The pen that comes with it comes with a basic lanyard for attaching it and it uses the Wacom Digitizer technology which means that it doesn't require batteries. The digitizer display is very sensitive and accurate which is great, although it is not so good at the edges of the display, where the sensitivity drops substantially.
Conclusion
The conclusion I have come to is that this is the best tablet PC I have ever reviewed, although that is only two to date. Nonetheless, the tablet PC is a fantastic invention and this specific model is no exception from this. The Fujitsu Lifebook T4410 features everything.
Upgrade the RAM to 8GB and upgrade the hard drive to 500GB or a nice solid state drive and you have a very powerful and awesome machine. The keyboard is perfect for typists as I can vouch for as I had to use it every day in hospital for 6 months. The touchpad takes a bit of getting used to but it's the only major let down of the notebook.
As a tablet, it's great for taking notes and for video conferencing. Even browsing the web is a lovely experience with multi touch and I often find myself viewing photos and videos in tablet mode. The tablet deserves a moderate score for it's excellent specification, losing only the one point for the graphics card and design.
Well built
ExpressCard
Capacitive touchscreen and digitizer are very responsive
Windows 7 Professional x64 is installed by default, but Windows XP Tablet Edition is included
Up to 8GB of DDR3 RAM
Modular Bay makes it easy to switch to an extended battery
Very cool and quiet
3G, Wi-Fi and Bluetooth
Tablet mode is very easy and fun to use
Business-oriented style isn't to everyone's taste
Intel refreshed its line-up of CPUs to the Core i5 and i7 this year, yet it still features a Core 2 Duo CPU
No Blu-Ray option, but the chipset does support Blu-Ray
BIOS seems to be very secure, meaning you can not install new hardware
SmartCase Logon+ is rather a mess
Adding components such as the port replicator costs a lot (£150)
Hard drive performance is poor and its capacity is relatively low for today
Speakers are relatively poor
Integrated graphics give low performance
This article was updated last on 28th July 2014 with new pictures and the new site design.