My display history
In 2010, I purchased my first monitor (prior to this monitor, all the monitors I owned were bought by my father and handed down). I put a lot of time in to choosing a monitor that suited my needs in every way. All of my decisions were based on the idea of trying to get features as close as those found on a HP W2248hc LCD monitor. Unfortunately, this wasn't easy. The HP2448hc was way ahead of it's time featuring a webcam, speakers, a microphone, HDMI, DVI and VGA and a USB hub all in the one display.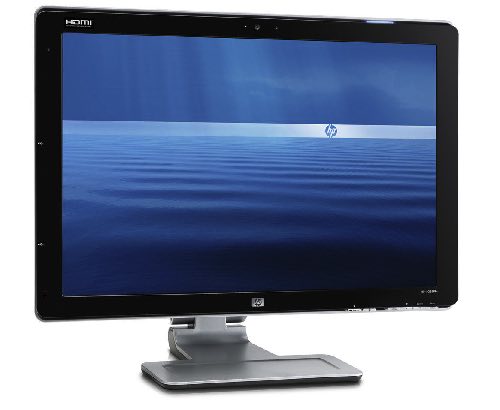 Years ago, about the year 2008 I planned to buy this monitor due to it's excellent range of features
As a result, I bought my first 1080p desktop monitor when I finished with the building of my PC in April 2010. The Dell P2310h monitor was the first monitor I bought as well as the longest lived monitor I have owned (it did only last a year and a half however).
In November 2011 I bought myself an Asus PA238Q IPS display which had brought great colour improvements over the Dell P2310h TN display. The Asus monitor also featured HDMI and audio out support. Ultimately, I had problems with the speakers that I used with this monitor due to the fact it did not have built in speakers.
My next monitor had to have built in speakers as I wanted a tidy desk and speakers that did not receive interference from other devices around the room (that's bad build quality anyway). I found the Dell S2340T monitor which was a touchscreen monitor. I was very happy to be returning to Dell's monitor range for my next monitor. I did not buy it however but my parents must have noticed I was looking at it and received it as birthday present from them. This monitor was perfect in every way and came with the bonus of a touchscreen. It also acted as a dock for my laptop. The problem was the picture quality on it was absolutely awful.
The next monitor I purchased was the Dell UZ2315h monitor. This monitor looses the touchscreen and the docking capabilities that I will admit I loved on the Dell S2340T as well as two USB 3.0 ports, but it was a neccessary move in order to attempt to get better picture quality. Now I am reviewing this monitor to see whether or not this has been achieved or not.
Introduction to the Dell UZ2315h
Dell release a range of displays known as the UltraSharp range. These monitors are aimed at consumers and professionals - mainly those who work on applications which focus on colour. These displays have colour and fine quality images at the core of their design.
Dell released the UZ2315h into this line of displays as a multimedia model which was designed mainly for conference calls. The monitor is designed to work with Microsoft Lync as well as Skype. The monitor can be purchased for around £170.00.
In the box you get:
The monitor
The stand
The DC transformer for the monitor
A driver CD
A USB 3.0 cable
A HDMI cable
A DisplayPort cable
A Mini DisplayPort to DisplayPort cable (nice addition here)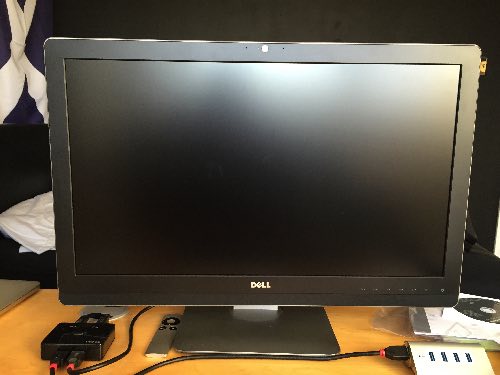 This photo was taken in the morning when the sun is at it's brightest on my display. You can clearly see how well this monitor does not reflect light back
Dell's naming conventions for monitors follows U for UltraSharp, Z for multimedia (I think), 23 for 23 inches and 15 for the year. Similarly with the P2310h the P is for professional, 23 for 23 inches, 10 for 2010.
Design
The front of the monitor features an array of capacitive touch-sensitive buttons for turning the monitor on/off, turning the microphone on/off, volume up, volume down and mute. It also features an LED to inform you when you are in a conference call.
At the top is a webcam and two microphones with an LED indicator to inform you when the webcam is in use. On the left hand side is a headset jack which is a really nice feature that means it works with iPhone-compatible headsets similar to the headset jack found on Macs. As a result you do not need to use an adapter to use a standard headset with this display.
The Dell UZ2315h monitor is similar in appearance to the rest of the range of the Dell 2015 edition displays. The back of the display has a plastic silver-coated stand that allows the monitor to rise up and down and tilt forwards and backwards.
As with all Dell monitors, this monitor features a very simple cable management system that allows cables to be pushed through and routed directly to the monitor so they do not hang below and works well.
The stand uses Dell's very clever system for mounting the monitor which just snaps onto the stand. This means that the monitor can also be VESA mounted using an appropriate bracket. The monitor can also swivel on the base.
As with all Dell displays the monitor also features the Dell logo on the back. The back is black-grey coloured and is very appealing to the eye.
The display can be rotated 90 degrees so that it can be used in portrait mode.
Finally, one more comment I have about the design of this monitor is how few screws are visible on the monitor. This is a really nice feature of this monitor that makes it feel like it's been built with design in mind and on par with Apple's design of no screws. I would go as far as saying that next to Apple's Thunderbolt Display this is the best looking display in this sense.
The display
The Dell UZ2315h monitor features a 1920 by 1080 resolution in progressive scanning, that is, 1080p at 60Hz. The display uses IPS or in-plane switching technology to produce an outstanding image which allows it to qualify as an UltraSharp monitor.
The display has a response time of 8ms which means that it is not particularly well suited to fast-paced gaming or films. IPS displays on the whole tend not to get a particularly good response rate compared with the less colour vibrant TN (twisted nematics) based displays so this should be noted.
IPS does however mean that not only does the display have better colour reproduction but it also can be viewed from any angle (178° horizontal and 170° vertically) and still appear visible and is not subject to colour distortion like TN displays are.
As mentioned, the display can be rotated so that it is in portrait mode. With an TN display it is pretty much pointless because the colour becomes distorted when the display is in portrait mode. With an IPS display like this monitor the colour is absolutely fine in portrait mode.
The display is also LED backlit and provides a full colour gamut of 16.77 million colours. It is rated at 1000:1 contrast ratio and compared with the S2340T it is much closer to this contrast ratio.
One thing with the display that made me buy it was the matte anti-glare coating. This coating is actually rather thick compared with other matte monitors (such as the Dell P2310h or the Asus PA238Q that I have compared it to) and it is slightly grainy because of this.
Features
This monitor is aimed at both home users and professionals with its conference features as well as featuring HDMI and speakers.
The monitor features a 1080p webcam with omni-directional microphones as well as built in speakers that make it ideal for conference calls, FaceTime or Skype. The speakers are not the most immersive speakers and really only designed for very simple tasks such as calls. Even listening to music on these is not that incredible. For someone like myself this is not such a big issue as I mainly do web development and programming on my system and would probably plug in headphones if I was gaming on it but for those who are looking for a monitor gaming I would suggest a seperate set of speakers.
The monitor features two USB 3.0 ports on the back which can be used as part of the hub. This is less than most monitors feature and neither of the ports are in a convienient place to be able to access them on a regular basis (I use my ports for my keyboard and mouse anyway). The USB 3.0 upstream port is required to utilise the webcam, speakers and microphone in the monitor as well as being able to use the two USB 3.0 ports on the display.
As mentioned, on the left hand side is a headset jack which is compatible with TRRS-type headsets.
The monitor also sports two HDMI ports both of which feature MHL (Mobile High-definition Link) which allows compatible smartphones and tablets to be hooked up to the display using a micro USB to HDMI adapter. The two HDMI ports can also provide audio to the monitor if the device does not provide USB audio.
As well as this, as with most Dell monitors (including my original P2310h), Dell includes a DisplayPort connection on the monitor. This can also take audio over a single cable like HDMI. You can read about my preference of DisplayPort over HDMI here. It is rather strange that Dell chose to include only one DisplayPort ports yet two HDMI ports but as this is more of a multimedia monitor it may well make sense.
Finally, Dell also includes a VGA port for those who do not have a digital connector on their system. VGA however does not provide audio and to use audio you absolutely must use the USB connection on the monitor. Whilst VGA is something I do not use, some monitors have completely phased out this connector introduced over 20 years ago but it is still the most used connector for monitors in business because of it's cheapness.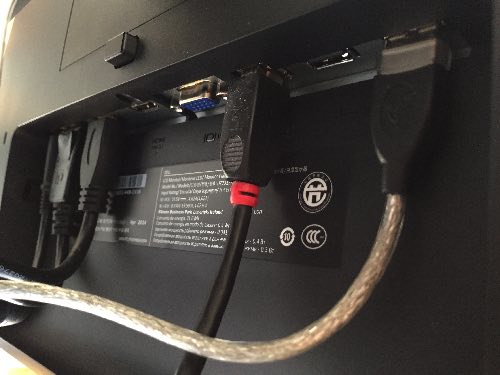 The Dell UZ2315h features a plethora of different connections
Mac and Linux compatibility
This monitor is 100% compatible with Mac OS X, unlike the S2340T. The webcam, microphone, USB speakers and USB 3.0 hub are all fully compatible with both Mac OS X and Linux. I have tested this monitor with Windows 8.1, Mac OS X 10.10 and Debian Linux 7.
Conclusion
I would go as far as saying this monitor ticks all the boxes for me except one. I would really have liked this monitor 100% if it had better speakers. To me, it is very important that I have a monitor with built in speakers as I try to keep my desktop clear (it's also much more attractive this way). I can live with the speakers the way they are but it really would have been the absolute perfect monitor for me if the speakers were better.
The matte coating is heavy and makes the screen slightly grainy but it's going to be fine for most users, including myself. Perhaps the reason I notice this so much is because I use a retina MacBook Pro which has perhaps the most amazing display ever.
Another thing that I keep mentioning with monitors out there is they all feature multiple inputs but only feature one USB upstream port. Would it not be more ideal to feature more than one and map each one to a specific input? Just a suggestion so that you don't have to have a USB switch as well. Also the DisplayPort standard features USB so it would have been a nice addition to have seen USB over DisplayPort as well but these do not put me off the monitor, just something I'd have liked to have seen.
One final feature that I'd have really liked in this display was DisplayLink which to me is one of the best alternatives to Apple's Thunderbolt connection for docking a laptop but I guess you can't have it all.
Professional and attractive looking
Excellent amount of connectivity
USB 3.0 hub
Speakers are digitally connected using USB
Very sharp image
IPS technology
DisplayPort, VGA and 2 HDMI connectors
Headset connector is a really nice features
Fantastic stand and easy to wall mount
Webcam and microphones are high quality
Speakers are below average but fine for every day use
Heavy matte display makes the display slightly grainy
Powered by DASH 2.0 (beta)
Scan and keep for the latest article or review every time!