Introduction
When I saw that there were monitors out there which had all of their connectivity in the base of the display, I thought to myself, I want one of those. This was about 2009. In 2013 I was eyeing up such a monitor and found myself looking at another Dell display; the Dell 2340T. Without even being interested in what else this display had in store for me, I was set to purchase it. In the end, it was a birthday present that was purchased for me (which I found out cost around £450). The display combines lots of great technologies such as a fold-down touchscreen display, a docking station and state-of-the-art connectivity. I am now going to give a review of this display.
Design
As mentioned in the introduction of this review, the monitor is designed with a much more intuitive design compared with older monitors where the base is the centre of operations for the display. Processing, connectivity and electrical energy come from the base. The base is a lovely glossy black as pictured.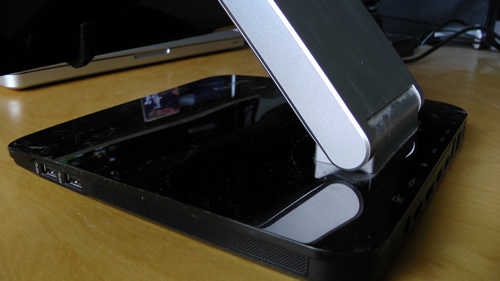 The key part of the Dell S2340T is the base.
The back of the base includes most of the connectors including DisplayPort, HDMI, 2 SuperSpeed USB 3.0 upstream ports, a downstream USB 3.0 port and a Gigabit Ethernet (RJ-45 style) jack.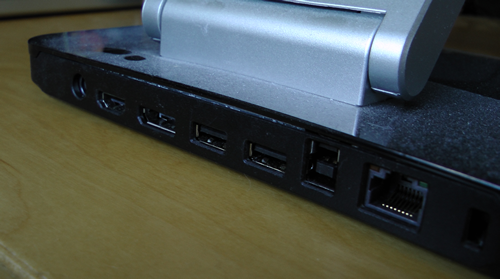 This is what makes the Dell S2340T
On the left-hand side, it has the standard two audio connectors; microphone and headphone, both in the standard 3.5mm jack style.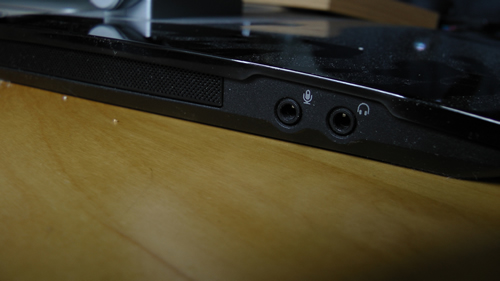 Nice and easy-to-access audio connectors.
On the right are two more USB 3.0 upstream ports.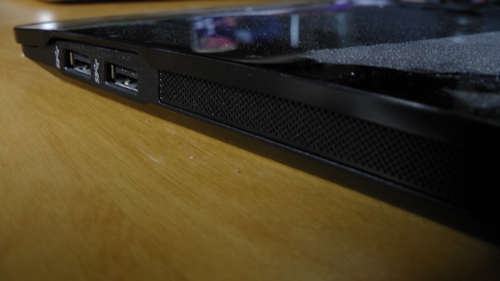 Nice and easy-to-access USB 3.0 ports.
The base also includes built-in speakers, so you can enjoy audio over USB which leads to less interference and better sound quality than a 3.5mm jack would provide. However, the speakers do not feature much bass and nor do they have a high maximum volume certainly if you are intending to edit audio, a set of external speakers would be necessary (although I tend to use high-quality headphones for this task).
The display
The display is fairly glossy and difficult to see in sunshine.
The Dell display has a maximum resolution of 1920 by 1080, that is, 1080p when at a refresh rate of 60Hz. The display uses IPS (in-plane switching) technology which makes for an incredible 178-degree viewing angle and higher-quality colour. Some say that the depth with blacks on the display is lacking a bit, and it is noticeable on my display as well, but if you like me would prefer to have vibrant reds, greens and blues as well as all of the other features, then that should not put you off.
The major flaw with the actual display is the 8ms response time. 8ms makes fast-paced films look less fast-paced when you get big lines across the display whilst it refreshes. Again, if like me, you will not be using the display for fast-paced films then an IPS display like Dell's S2340T is fine, but if you are looking for a movie buff's dream display then a TN (Twisted Nematics) display, albeit with its lower colour, lower viewing angles yet faster response times would be better suited to you.
The display has a claimed contrast ratio of 1000:1, but according to PC Pro, the display only achieved a contrast ratio of 267:1.
Docking station
The docking station feature within the display is ideal if you like me carry around a notebook most of the day but love to type on your gaming or comfort keyboard at night. I use my MacBook Pro most of the time when I am out and about as most of the stuff I need is synchronised between my desktop and my portable computers.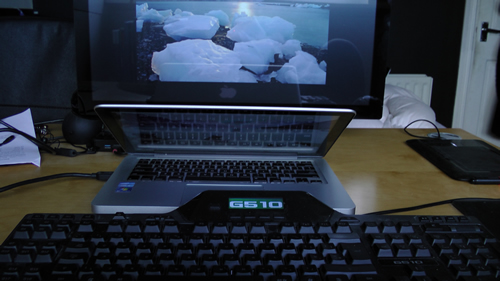 One cable to do it all. My MacBook is docked by a single cable without needing a Thunderbolt display
However, I have certain applications (such as Mind Genius) installed on my MacBook Pro that I only have one license for and need to use occasionally on it. With my previous monitor, an Asus PA238Q monitor, I would dock up by using a USB cable and a mini DisplayPort cable which would both go into the MacBook Pro and the monitor. Then I would use my USB switch to switch my keyboard and mouse through the monitor's built-in USB hub, from my desktop computer to the docked one and I would be docked. If I needed to transfer large amounts of data between the computers I would plug in a wired Ethernet cable. The last step of the process was to turn the monitor to the DisplayPort input and I would be docked. There were lots of different stages to this process, albeit not very complex ones.
With the new Dell S2340T monitor, all I do is connect the USB cable and switch the hub from my desktop to my docked computer and then change the input on the monitor to USB. Now I have speakers, a webcam, stereo microphones, a keyboard, a mouse, a touchscreen display, Ethernet and a Full HD display, all through one cable.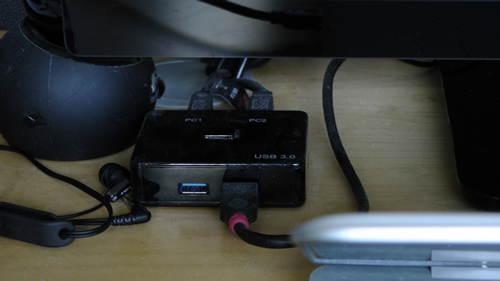 I recommend getting a USB 3.0 switch as well
A USB 3.0 switch like the one pictured will be very useful here. It will permit the changing of USB inputs on the fly, rather than disconnecting it from a desktop computer, you can now share the connection between them.
I have been known for disliking USB for a variety of reasons, but when it is used to produce such an excellent end product such as the dock for my 3 mobile computers all in one, I can turn a blind eye. Sending video over the USB connector on a computer is not exactly something new. It is known as DisplayLink technology and there have been adapters that I have been using for a few years now that exist to do exactly this.
The clever part of the Dell display is that it has an adapter built-in to it. You do not need an adapter hanging out of your computer, all you do is connect the monitor up with the USB cable and ensure that you have the DisplayLink software installed on the computer. For a less attractive way of doing this, get a monitor with a built-in USB hub, connect a DisplayLink adapter to one of the USB ports and plug it into the appropriate video connector (VGA, DVI, HDMI or DisplayPort) and then use the downstream connector as your docking mechanism.
One of the less clear important features that are not mentioned in the specifications is whether or not the USB 3.0 hub is powered. Previous monitors I have owned (Dell P2310h and Asus PA238Q) have not had powered hubs, and on the basis that my keyboard (Logitech G510) remains underpowered, I would assume that this is not a powered USB 3.0 hub, a bit of a disappointment.
USB 3.0
This monitor is evidence of the future of USB - USB 3.0. I've never liked the slow speed of USB 2.0 and generally only use it for small tasks. All of my external hard disk drives have been FireWire 800 and/or eSATA enabled, thus giving me the speed that I need for transferring data. Now that USB 3.0 is out, I have got myself into the USB technologies again with USB 3.0, owning a flash drive and external hard disk, and now a monitor.
This monitor features a built-in USB 3.0 hub (with DisplayLink technology as well) which features the SuperSpeed USB 3.0 ports. A few other monitors, such as the refreshed version of the Asus PA238Q monitor I used to own, now feature USB 3.0 hubs. Most do not feature DisplayLink as well, however.
Whilst I am very much a fan of USB 3.0, it is struggling a bit more to take over from the market that USB 2.0 left. Tablet computers have not seen USB 3.0 kick off the way it has on desktop and notebook computer systems, and without this push, the future of USB 3.0 may be limited. Not only that, there is a lot of strong competition out there, and whilst FireWire was slightly behind USB 2.0 as its main competitor, Thunderbolt and wireless technologies seem to be somewhat ahead of USB 3.0.
Touch
Whilst some people have reported problems with the touch on the display, I have found that this monitor is perfectly responsive to almost all Windows 8 gestures. By providing a glass sheet on the display, Dell has simplified the interaction with the gestures supported by Windows 8 such as the opening of the Charms bar. You can see how it works in the YouTube review found at the bottom of this page.
Touch can be used with a variety of gestures including swiping, pinching and pivoting. All work well, and being able to browse the web for instance on the touch display works well.
The monitor folds down and also allows you to play games like Angry Birds, Cut the Rope or a more interesting game of chess. As the display is IPS with 178 degrees of viewing, it is incredibly easy to play with two players around the display.
Conclusion
To conclude, the monitor is an incredible buy. Now what I mean is, it is something everyone would want. But with a price tag of £650, it seems like it is well overpriced. My parents got my one from eBay (brand new) for £450 after winning a bid, I would say it is worth that price, but no more than that. I would recommend a price drop before it becomes something that I would fully recommend. For those who don't mind spending a lot of money on a display, then this may well be the perfect touch display for Windows 8. But for those looking for a high-quality display at a good price, I would recommend the Dell S2340L, basically the no-touch version of this display.
What else I'd have liked to have seen on the display includes multiple USB downstream ports, so you can leave the cable connected for DisplayLink and the dock, and use the other one for a DisplayPort or HDMI computer system. I'd also really have liked to have seen one more connector; DVI-I. It would be a perfect display if it featured both of these. DVI-I is great because, with a simple converter, you can access analogue connectors such as VGA through one connection.
I originally gave the monitor 9/10, which would be 90%, but since doing this review on my website I have thought much harder about this rating.
A lot of my criticism comes from the fact I was put off by the poor image quality which becomes more apparent when you use other displays with better colour reproduction and better sharpness.
The monitor I purchased managed to get a
corn fly/harvest fly
inside the screen between the display and the glass when I was in the process of getting a new monitor. Dell very kindly replaced the monitor within a day and collected the old one promptly. The new one I have received seems different - the edge of the glass hangs slightly over the edge of the display and the buttons feel harder. Sadly, the new monitor will not get much use as it has been replaced by a new Dell monitor (I had to replace it due to the glare from the sun in my room).
Very stylish
Decent amount of connectivity
USB 3.0
Lovely display
IPS and touch technologies
DisplayPort, HDMI and Ethernet connectors
Audio in and out connectors make it easy to connect devices
Fold down display
Touch works well
Cheap docking station compared with alternatives such as Apple's Thunderbolt display
No USB 3.0 switch for multiple inputs
No DVI-I or VGA for analogue inputs
Very glossy screen making it difficult to position in the sunlight
Expensive
Scan and keep for the latest article or review every time!