Let's get one thing completely straight - I love a tidy, well organised desk top. My desk is one of the places I spend the most time at and it's very important that it remains a tidy, easy to use and clean place.
For years I have used Ikea's cable management mixed with some standard trunking and many cable ties to manage my cables to and from the desk.
Since I now have a few different computers - a Mac mini, desktop and a MacBook Pro I opted for a desktop monitor with multiple inputs. Because of the multiple inputs, there are loads of cables going to and from the front of the desk to the back.
I wanted to really neaten this whole system up, and to date I have managed one side of my desk but not the other. On top of that, the cables that are on the top of my desk are not neatly managed going to the back of my monitor.
I have been looking for an ideal cable management system for this for some time and think I have found a perfect, or almost perfect solution from one of my favourite companies in the organisational department - BlueLounge's Soba.
Soba is a cable management that pushes form over functionality
Uh...what? Soba?
Yes Soba. It sounds like an Ikea product in itself but the truth is, it's probably no where near an Ikea design, particularly because it's expensive at £19.99.
Soba is a cable management system that comes with all the extras to make it look the part. Couple Soba with your monitor, TV or computer and you've got the full cable management system that adds things like stick bits and cable endings.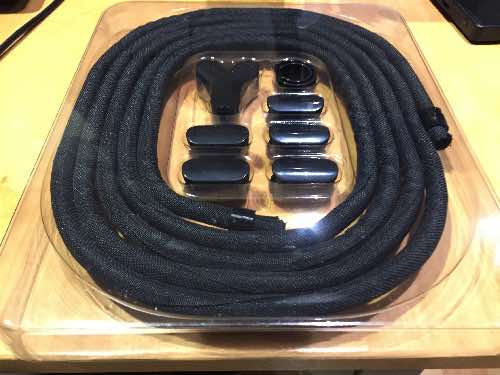 Soba comes with all the little things that make it unique
Each pack includes 10 feet of tube (known as Vortex tube), a Y-splitter, two cable endings and three sticky cable mounts. As well as this you get a piece of plastic used to 'zip' and 'unzip' the cabling. This technology is known as simply Vortex.
My story with Soba
I have pretty much outlined how Soba could be useful but I suppose you may want to evaluate how effectively you feel it has tidied up my wiring:
Make the call yourself, does it make it look that much nicer?
You may notice that there is one cable less in the second picture. This is because no more cables could fit into the Vortex tube so I used a 2 port USB hub instead of the two cables.
What is good about Soba
The best thing about Soba is the design. Soba has a very simple yet very sleek design that makes it attractive anywhere you choose to put it.
Soba includes all of the end points so it's easy to cut the Vortex tube at any point and then fix an end point to the end to ensure that it looks neat.
The Y-splitter is a fabulous idea: not only does it look incredibly neat, by using multiple Y-splitters you can have infinitely many cable splits on your cables (a bit like a Binary Tree).
The Vortex technology makes it easy to insert and remove the cables.
The problem with Soba
Soba is not without problems however. The first problem is the price. No man would pay £20 for what is essentially a bit of braiding for their cables with some fancy bits, would they?
The second problem is the fact you will likely end up with bits of it you cannot use. I've used about 60cm of Vortex tube, the two end points and the Y-splitter, leaving all three mounting caps and the majority of the Vortex tube. On top of that, I'd like to be able to use more of my Vortex tube as well as the mounting caps, but unfortunately you have to buy the whole set again so if you are like me and dislike waste, you will not buy this product.
Finally, the biggest problem of all is that there is just the one size of it. The Vortex tube is often too small/thin to put for instance DVI or IEC cables through. BlueLounge will need to make a second much thicker Vortex tube for those of us who use a lot of cables or just use thicker cables (I also had to replace the HDMI cable I was using to a thinner one in order to get it through the Vortex tube).
Conclusion
Very smart looking
Vortex technology makes it easy to insert new cables and remove old ones
The Y-splitter makes splitting tubing much neater
The end points mean you can cut the tube anywhere and still make it look nice
An expensive cable management tool
There is a large amount of waste generated because of the lack of additional parts for it
Too thin for larger cables and no option to choose a larger cable
Front photo from bluelounge.com accessed 25/02/2015.
Powered by DASH 2.0 (beta)
Scan and keep for the latest article or review every time!