Introduction
Netbooks have been a thing that have had their highs and lows. They have been going since 2009, when I got my first netbook - an Acer Aspire One A150X. Since then the netbook has been somewhat superseded by the tablet, and more so the Ultrabook. Whilst this is the case, some companies still endorse the netbook market and continue to produce new models, one of which is the Asus 1015CX.
Introduction
My second netbook that I will review is a dual-core, Hyper Threaded Intel Atom based computer. This netbook is slightly larger than the previous one I review, being 10 inches in size as opposed to my previous one's 8.9 inch display. The Acer Aspire A150X, i.e. my previous netbook, was considered one of the first and one of the smallest netbooks. Nowadays, most netbooks are about 10 inches, and although it sounds like it should be a lot bigger, it does feel like a netbook size rather than a laptop.

Performance vs mobility
This diagram here is for those of you who do not quite know where netbooks exist in the computing infrastructure. The diagram goes from left to right with the left being the most mobile devices (better battery life, smaller), but generally being considered a device and not incredibly powerful or capable whilst on the right the devices are less mobile but considerably more powerful. Although tablets are now getting more powerful, the netbook is still that bit more powerful, running a desktop operating system.
Who said the netbook was dead?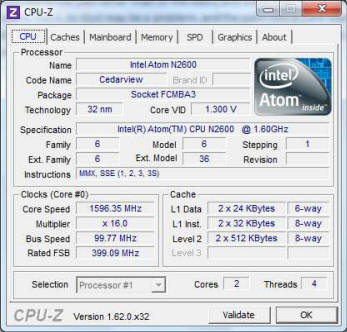 CPU-Z specifications
Officially, I suppose I'd agree the netbook is now dead in the water, and therefore it has become much harder to find a decent netbook these days. To me this seems like a shame, and perhaps one of the most short-lived products of the computer industry. Tablet PCs may have attempted to destroy the desktop operating system based computers altogether, but it has not fully achieved it.
Laptops still grow strong and tablets still, in most cases, complement PCs and nothing more, although Windows 8 seeks to change this. The Asus 1015CX is one of the last netbooks by Asus (maybe even the last and was released in March 2012). Although they have been out of date for a while, I still opted to get one for university. They are so compact yet they have something tablets do not; a keyboard and Windows. Yes you could argue that as I have a convertible tablet, a Fujitsu Lifebook T4410, I could perform all the tasks of a netbook and more on it. But the convertible is just not light enough and compact enough, whilst being cheap enough to take around with me. The netbook is.
Design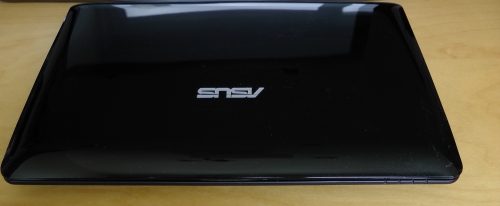 The black gloss may attract dust
The design of the netbook is why I chose this one over my Acer. Most netbooks, including my Acer Aspire One A150X (one of the first netbooks to exist), have a huge bit where the battery goes that sticks inside, leaving a gap if there is no battery installed. This was something I really did not like. The Asus 1015CX does not have this problem.
It features a chiclet or island keyboard and small trackpad (unlike the previous netbook which had side buttons, this has a single button below the pad) and some front status LEDs.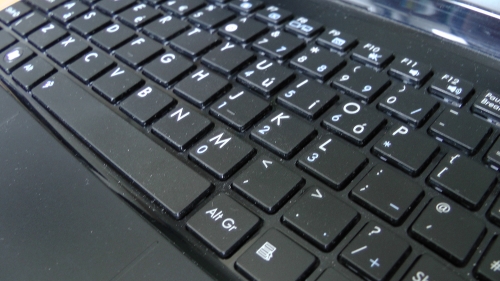 The keyboard is a nice little island keyboard
The design of the netbook is piano black, so dust may be a problem, and the palm rest is slate black. The netbook is incredibly light, weighing about one kilogram and the battery life is close to 5-6 hours, making it very portable.
The netbook slants up the way slightly so the top of the keyboard is higher than the bottom of the keyboard.
Over the design is compact and quite rugged, meaning that this netbook can be carried around all day.
Specifications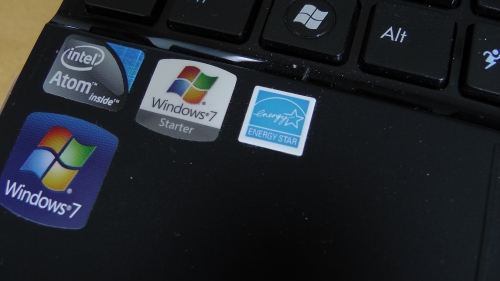 Featuring an Intel N2600 processor really ups the performance
This netbook is a 10.1 inch netbook, ideally designed for someone who needs portability whilst does not need an Ultrabook (especially based on their pricing).
This netbook features a 4 threaded CPU utilising dual core technology and Hyper Threading technology, 1GB or 2GB of RAM and a 320GB hard disk drive. The graphics are integrated into the board and the netbook features an Intel GMA 3600 graphics processor. The chipset is an Intel NM10.
The RAM cannot be upgraded.
The display is LED backlit. The netbook features an Intel Atom Cedarview N2600, which is a considerable improvement on my previous N270. The N2600 is clocked at 1.6GHz and it runs on Windows 7 Starter by default, but Ubuntu is fully supported on the system.
One more point; the Intel GMA 3600 is based on a PowerVR SGX 545, which makes it harder to find a Windows XP driver.
Connectivity
The Asus 1015CX is perhaps the most connected netbook I have seen. It features 3 USB 2.0 ports, an RJ-45 port, an HDMI port, a VGA port, a headphone-microphone combo port and an SD/MMC card reader.
On the left you will find a power jack, VGA port, one USB 2.0 port and a very nice HDMI port.
On the right you will find the SD card reader, two USB 2.0 ports and the Ethernet jack as well as the audio combo port.
Conclusion
To conclude, I am happy with the netbook but Windows 7 is not running as it should due to the low specification hardware. I have decided to install Ubuntu or maybe openSUSE on it as well and having Windows 7 as a backup operating system for Windows only applications. The RAM cannot be upgraded as it is soldered onto the board, so you cannot have more than the configured RAM. This does not matter if you have 2GB already though!
However, it is fit for purpose as a netbook is only designed for small tasks and if it were to run on Windows XP or a Linux distribution, it might run much more smoothly.
Compact design
320GB hard drive
Long battery life
3 USB 2.0 ports
Island keyboard
A HDMI connector
Still very expensive as a netbook
Really bad performance in Windows 7
Lack of replaceable parts
There are some missing Windows XP drivers
Scan and keep for the latest article or review every time!