When I was finishing hospital last week, I decided that to I should go out and get myself an iPad to 'cheer myself up' after a long few weeks in hospital. Now I have already got a Windows 7 tablet, a Fujitsu Lifebook T4410, but there is a huge difference between it and an iPad. The iPad is a cut down system, which performs no where near as well as a PC. But of course, being that way round, it gets a much better battery life and is much more mobile. Therefore it is true to say that the iPad still has it's purpose and uses. In this review, I am going to take a serious look at the iPad, which by the way, is not able to be used as a phone like the iPhone. I will not be looking at iPhone OS 4.0.
Introduction to the iPad
The iPad is an excellent concept - take a phone and a computer and mix them together a bit. Give yourself a desktop web browser, access to your music, videos, photos and more on a portable device that is light enough to carry around. This is exactly the feature set of the iPad.
The iPad is not designed to replace a PC (although Apple say it does and if not it will) as it cannot perform all of the tasks a PC can. For instance, complex photo editing becomes harder on a touch screen as you try to get pin-point accuracy (trust me, I have been using a tablet PC with a digitizer stylus for about a year now).
The iPad however has options to make it much more mobile than a computer running on a desktop operating system, such as a netbook or laptop. It has support for dimming displays right from the system settings, 3G built in and no need for drivers. This will be it's key selling point.
Whilst the need for no drivers is great in essence, it also shows that the system is fixed, with no further improvements to be added. Apple will ensure that the latest drivers to come to the device are sent via their paid updates (as I would assume they would be paid updates considering the iPod touch has to pay in order to update iPhone OS still). This makes things so much easier for those who are more computer illiterate. So how perfect is the iPad? We will take a look at a few features of it, but not all.
Appearance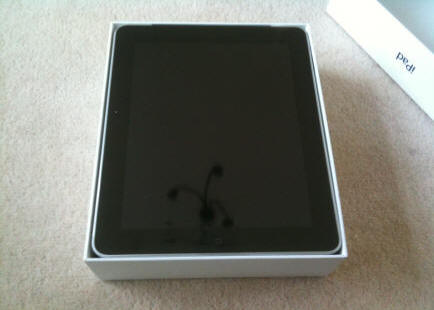 The iPad in the box
Opening the iPad for the first time, you can see that it is a tall tablet device, which features a 10.1" display (for those who talk metric that's 25.6 centimeters corner to corner). It has a 4:3 resolution of 1024 by 768, which was a standard resolution back in the days of smaller desktop monitors known as XGA (Extreme Graphics Array).
The display resolution is a bit disappointing for a display as big as this, as most notebook PCs at this size have about 1280 by 1024 pixels as their display resolution.
Apple have opted for the aluminium design that the MacBook Pro range (not the standard MacBook range) have. This gives the iPad a sturdy and strong feeling and makes it one of the nicest devices to hold.
Connectivity
Now we come to my favourite part of the review, connectivity. However, with the iPad it is a bit skimpy, in fact very skimpy. All we have on the iPad is a Dock connector (which by the way, Apple have now released a so-called camera 'connector', which allows you to plug in an SD card and take photos from it) and a 3.5mm headset jack. It also features b/g wireless LAN and Bluetooth. All in all, it was a bit disappointing since there are no standard connectors like a full USB 2.0 port.
Conclusion
To conclude, I like the iPad and can see where Apple are going with it - but I do not feel that it is there quite yet. There is a lot more needs done to it. For a start, the resolution is awfully low for a 10 inch tablet, 1280 by 1024 would be better. Secondly, a few USB ports would be nice as well. Going for the same tactic as the iPhone and minimalising connectors is a disappointment on Apple's so called PC replacement. However, the design on the iPad is what makes it nice - the aluminium is perfect for a tablet like this.
Slim design
The new iOS is quite well designed for it
Great battery
Very mobile
3G options
Quite light
Lacking any USB connection
Not cheap for what it is
Lack of replaceable parts
Powered by DASH 2.0 (beta)
Scan and keep for the latest article or review every time!