The games of 2014 that are still to be released that excite me!
The next few months and the remainder of 2014 will see some really awesome games being released!
Nintendo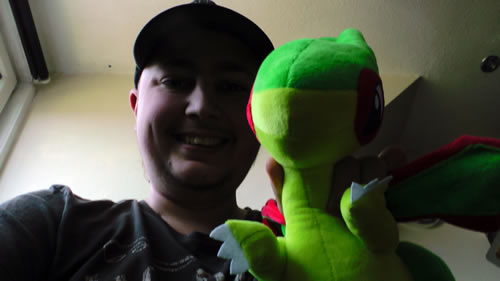 My Flygon plush Pokemon and I are so happy with the list of Nintendo games!
Nintendo are releasing the best games in my opinion.
Super Smash Bros for 3DS has got to be the biggest portable game release for me ever (other than Pokemon games). On 3rd October 2014, Nintendo will release the long awaited Super Smash Bros 4. The release will be the debut for Smash Bros on a portable console and hopes to gain more of an audience this way (albeit they have always been reasonably popular games on the whole).
Also on it's way to the portable Nintendo console are my favourite generation of Pokemon games remastered; Ruby and Sapphire. The games will be named Pokemon Omega Ruby and Pokemon Alpha Sapphire. Generation III was by far my favourite generation of Pokemon because of it's fluid story and the fact that Dragon Pokemon finally took off, particularly Flygon. The game is incredibly exciting for me personally, and I'm sure other Generation III fans feel the same. We're going to see that in stores on November 28th 2014.
Then there is Hyrule Warriors as well. The Zelda game that changes the idea of Zelda a bit and goes for a 'hack and slash' approach looks incredibly good fun. With stunning graphics and excellent visuals, this game looks like it will stand out as one of those excellent Wii U games (I'm so glad I bought a Wii U at the very start). That is to be released on 19th September 2014.
After all of that, there is still Super Smash Bros for Wii U to be released! It looks even more exciting than the previous bunch of already exciting games. The Wii U version with it's absolutely awesome graphics is set up for one of the best launches for the Wii U. Nintendo surely can't go wrong with this - there are already three generations of this game that have been best sellers on their respective console.
PC
For the PC, there are two games that took my interest, namely GTA V and Middle-earth: Shadow of Mordor. GTA V is also being released on PS4 and Xbox One on the same day, although there is still no confirmed date for either game.
PS4
This is as far as I go with next generation gaming, as I may get a PS4 in the future.
For the PS4, The Last of Us: Remastered is the remastered version of the PS3 release that already looked awesome enough. But anyway, this is a remake of a game thats not even all that old (now why didn't they wait and release it on PS4 in the first place?)
I've definitely left some games out so feel free to comment.
Powered by DASH 2.0 (beta)