I'm maybe going to have to make a category dedicated to tributes to people on my blog as this is now the second tribute in the last month.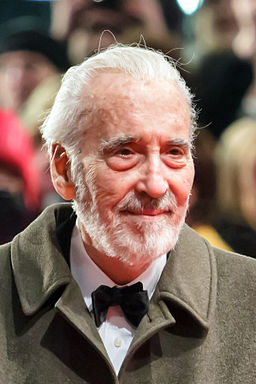 By Avda (Own work) [CC BY-SA 3.0], via Wikimedia Commons
Anyway, Christopher Lee passed away on the 7th June 2015 at the age of 93. Whilst I'm obviously upset about this, Christopher Lee being my favourite actor of all time (as many of you will know), I'm not as upset as would be with someone younger. Christopher Lee was a happy man, who lived a long life and starred in some of the most icon films of the last century. He made his mark and had a good long life.
He starred in some amazing films including, James Bond: The Man with the Golden Gun, Star Wars, The Lord of the Rings and The Hobbit, Dracula, Sleepy Hollow (albeit brief) and so much more.
A rather interesting fact about Christopher Lee's family is that his mother married James Bond writer Ian Fleming's uncle making them 'step-cousins'. This is a nice little link between Lee and James Bond in which he starred in.
Interestingly, one of my mother's friends accommodated him whilst he was golfing at Muirfield in Gullane, Scotland.
I have known this day would come sooner or later as Lee had not been in good health several times over the past few years and it lead me to expect it at some point.
I would like to pay my respects to Christopher Lee as being one of the world's best actors (and one of my favourite of all time, if not my favourite, and will likely remain that way indefinitely).
Powered by DASH 2.0 (beta)